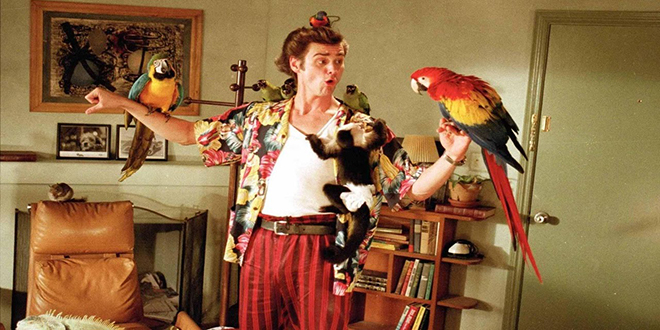 Warner Bros. Home Entertainment has announced that they are adding Ace Ventura: Pet Detective to their slate of Blu-ray releases later this year. The film was directed by Tom Shadyac and stars Jim Carrey, Courteney Cox, Sean Young, Tone Loc, and Dan Marino. The comedy hit will be available online and in stores everywhere beginning on September 3rd.
He's the best there is at what he does, even though he's the only one there is. He's Ace Ventura, pet detective, and he's on the case to find the Miami Dolphins' missing mascot, as well as the team's kidnapped quarterback, Dan Marino. Ventura goes eyeball to eyeball with a man-eating shark, stakes out the Dolphins and woos and wows the ladies. Whether he's undercover, under fire or underwater, he always gets his man… or beast.
Ace Ventura: Pet Detective was released in February of 1994 and grossed over $107 million in worldwide box office.
Warner Bros. Home Entertainment has not released any details concerning the exact tech specs and special features that will be included with the disc.
Theatrical Trailer for Ace Ventura: Pet Detective  courtesy of 90zlaya
Source: Blu-ray.com
---
---