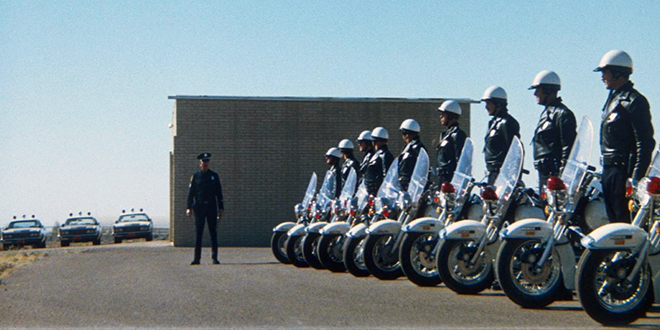 Independent distributors Shout Factory have announced that they will bring to Electra Glide in Blue to Blu-ray this summer. The film is directed by James William Guercio and starred Robert Blake, Billy Green Bush, Mitch Ryan, and Jeannine Riley. Electra Glide in Blue will be available for purchase online and in stores across the nation on June 4th.
In the film, the only thing good-hearted motorcycle cop John Wintergreen (Blake) wants is to become a detective…to wear a big Stetson, smoke fancy cigars and be paid to think. So when he stumbles upon a dead body, he takes on the case-and proves his stuff! But as soon as he's promoted, the corruption he must tolerate makes the Stetson not fit so well and the cigars not taste so good. Forced to confront his own disillusionment, Wintergreen heads out on his bike, the Electra Glide, where he makes another shocking discovery that could cost him his life.
Electra Glide in Blue was released in October of 1973 and was nominated for one Golden Globe Award for Best Actor (Robert Blake).
The Blu-ray will include several special features, including: an audio commentary by director James William Guercio; an introduction by director James William Guercio; and the theatrical trailer.
Theatrical trailer for Electra Glide in Blue courtesy of Shootingin24p
Source: Blu-ray.com
---
---