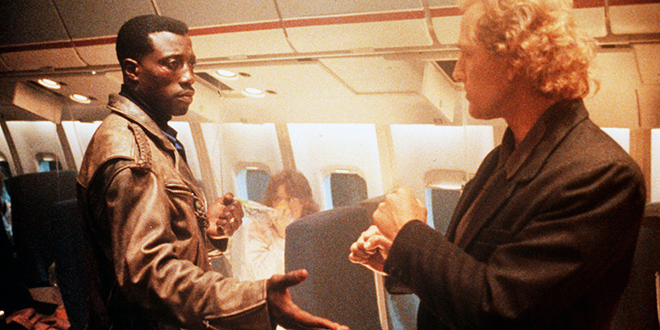 Warner Bros. Home Entertainment has announced the Blu-ray release of the 90's action thriller Passenger 57. The film was directed by Kevin Hooks and starred Wesley Snipes, Bruce Payne, Tom Sizemore, Bruce Greenwood, and Elizabeth Hurley. Passenger 57 will be available for purchase online and in stores beginning on August 6th.
In the film, an ordinary flight from Florida to L.A. turns into a nightmare when a master international terrorist named Charles Rane (Payne) escapes his captors and takes control of the airplane. The only one who can stop him is former police officer and anti-terrorist expert John Cutter (Snipes), who happens to be one of the passengers on the hijacked plane.
Passenger 57 was released in November of 1992 and grossed over $44 million at the box office.
Warner Bros. Home Entertainment has not revealed any of the technical specifications or special features for the Blu-ray as yet.
Theatrical trailer for Passenger 57  courtesy of ActionFan2000
Source: Blu-ray.com