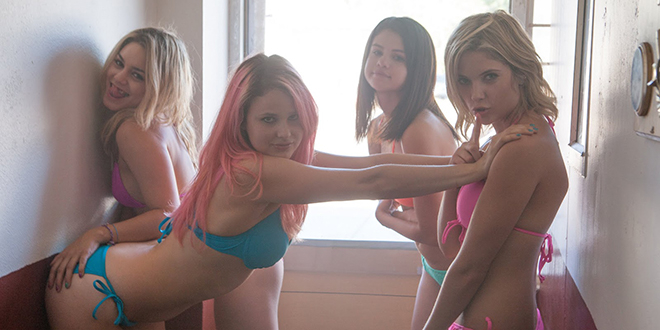 Lionsgate has officially announced the release date and details of the Blu-ray for Spring Breakers. The film is written and directed by Harmony Korine and stars James Franco, Selena Gomez, Vanessa Hudgens, Ashley Benson, and Rachel Korine. Spring Breakers will be available online and in stores beginning on July 9, 2013.
Spring Breakers tells the story of four sexy college girls as they plan to fund their spring break getaway by burglarizing a fast food shack. But that's only the beginning… At a motel room rager, fun reaches its legal limit and the girls are arrested and taken to jail. Hungover and clad only in bikinis, the girls appear before a judge but are bailed out unexpectedly by Alien (Franco), an infamous local thug who takes them under his wing and leads them on the wildest Spring Break trip in history. Rough on the outside but with a soft spot inside, Alien wins over the hearts of the young Spring Breakers, and leads them on a Spring Break they never could have imagined.
Spring Breakers was released in March of 2013 and has grossed over $16 million at the box office to date.
The Blu-ray will include several special features, including: Breaking It Down: Behind Spring Breakers – a 3-part behind-the scenes documentary; deleted scenes/outtakes; Harmony's Ear Candy featurette – an insightful look at the music of Spring Breakers; an audio commentary with writer/director Harmony Korine; VICE featurettes – An Inside Look at the ATL Twins and Real Life Partying in Panama City Beach; theatrical trailer; and TV Spots.
Here is the theatrical trailer for Spring Breakers, courtesy of Fresh Movie Trailers .
Source: Blu-ray.com
---
---