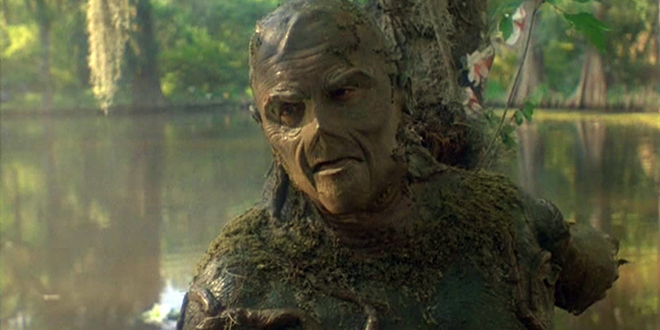 Scream Factory has announced the addition of the horror/sci-fi classic Swamp Thing to their upcoming slate of Blu-ray releases. The film was directed by the legendary Wes Craven and starred Louis Jourdan, Adrienne Barbeau, Ray Wise, and David Hess. Swamp Thing will be available for purchase online and in stores in a combo pack edition beginning on August 6th.
Deep in Florida's darkest everglades, a brilliant scientist, Dr. Alec Holland (Wise), and a sexy government agent, Alice Cable (Barbeau), have developed a secret formula that could end world hunger and change civilization forever. Little do they know, however, that their arch nemesis, Arcane (Jourdan), is plotting to steal the serum for his own selfish schemes. Looting the lab and kidnapping Cable, Arcane douses Holland with the chemicals and leaves him for dead in the swamp. Mutated by his own formula, Holland becomes Swamp Thing – a half human/half plant superhero who will stop at nothing to rescue the beautiful Cable and defeat the evil Arcane…even if it costs him his life!
The Blu-ray will include several special features, including: a new audio commentary with writer/director Wes Craven; new interviews with actress Adrienne Barbeau, makeup effects artist Bill Munn, co-creator Len Wein, and actor Reggie Batts; the theatrical trailer; and photo galleries.
Theatrical trailer for Swamp Thing  courtesy of Scream Factory TV
Source: Blu-ray.com