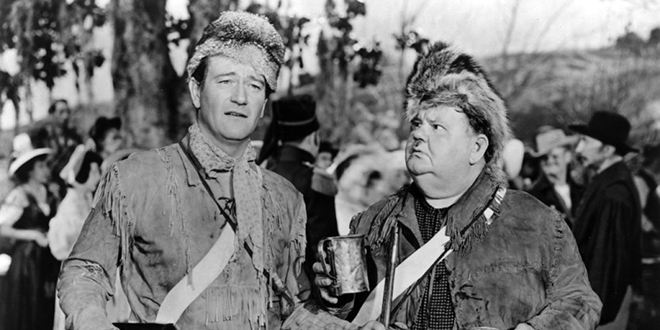 Olive Films has announced that addition of the western The Fighting Kentuckian to their upcoming slate of Blu-ray releases. The film was written and directed by George Waggner and starred John Wayne, Vera Ralston, Philip Dorn, Oliver Hardy, and Marie Windsor. The Fighting Kentuckian is currently available for pre-order online and will be available in stores everywhere beginning on September 24th.
Wayne sets the wild "frontier" ablaze in this thrilling romantic adventure! Leading a regiment of Kentucky's riflemen, Wayne passes through a settlement of depatriated French families, all wealthy refugees of war from Napoleon's court. When there, Wayne's heart is captured by the French general's daughter. But a rich and powerful rival, Blake Randolph (John Howard), also has his heart set on her. As the two suitors lock horns, Wayne discovers his rival has a nefarious scheme up his sleeve, and soon the courtship battle escalates into a full-scale war. It's "The Duke" at his best as the fighting Kentuckian battles for his love and the land of the free! The Fighting Kentuckian was released in September of 1949.
Olive Films has not released any details concerning the exact tech specs and special features that will be included with the disc.
Theatrical Trailer For The Fighting Kentuckian  courtesy of Paramount Movies
Source: Blu-ray.com