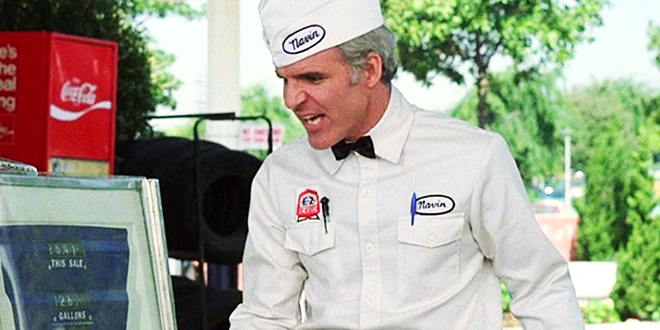 Universal Studios Home Entertainment has announced that they are adding The Jerk to their upcoming slate of Blu-ray releases. The film was directed by Carl Reiner and stars Steve Martin, Bernadette Peters, Catlin Adams, and M. Emmet Walsh. The Jerk will be available in stores and online July 9, 2013.
That wild and crazy guy, Steve Martin, makes his film-starring debut in the wacky comedy hit The Jerk. Martin portrays Navin Johnson, the adopted son of a poor black sharecropper family, whose crazy inventions lead him from rags to riches and right back to rags. Along the way, he's smitten with a lady motorcycle racer, survives a series of screwball attacks by a deranged killer, becomes a millionaire by inventing the "Opti-grab" handle for eyeglasses, and shows why Martin is one of the finest comic performers in film history.
The Jerk was released on December 14, 1979.
The Blu-ray release of The Jerk features 1080p video, a DTS-HD Master Audio 5.1 surround track, and both a DVD and UltraViolet digital copy (expires 4/30/2015). Special features have yet to be revealed.
Theatrical trailer for The Jerk courtesy retrowhiztv
Source: Blu-ray.com