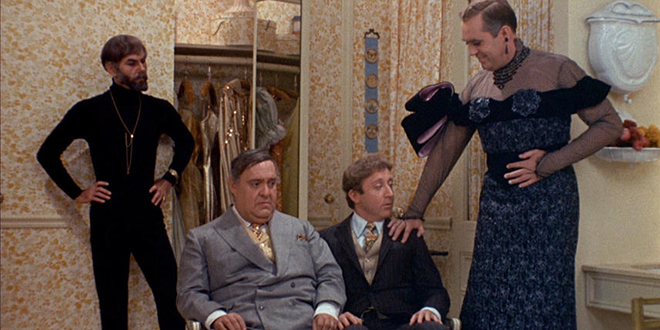 Shout Factory has announced that they are adding The Producers to their upcoming slate of Blu-ray releases. The film was directed by Mel Brooks and stars Gene Wilder, Dick Shawn, Zero Mostel, Kenneth Mars, Andréas Voutsinas, and Estelle Winwood. The Producers will be available in stores and online July 2, 2013.
From the endlessly funny mind of filmmaker Mel Brooks comes this triple-Oscar-winning explosion of pure comic lunacy about low-rent Broadway producer Max Bialystock (Mostel) and his high-strung accountant Leo Bloom (Wilder). They discover that, with the help of a few gullible investors, they can make more money on a flop than on a hit. So armed with the worst show ever written – Springtime For Hitler – and an equally horrific cast, this double-dealing duo is banking on disaster. But when their sure-to-offend musical becomes a surprise smash hit, they find themselves in the middle of a Broadway blitzkrieg.
The Producers was released on November 10, 1968.
Special Blu Ray Features Include:
"The Making Of The Producers" Documentary
Mel And His Movies: The Producers
Theatrical Trailer
Photo Gallery
Theatrical trailer for The Producers courtesy Ernests Ābiķis
Source: Blu-ray.com
---
---