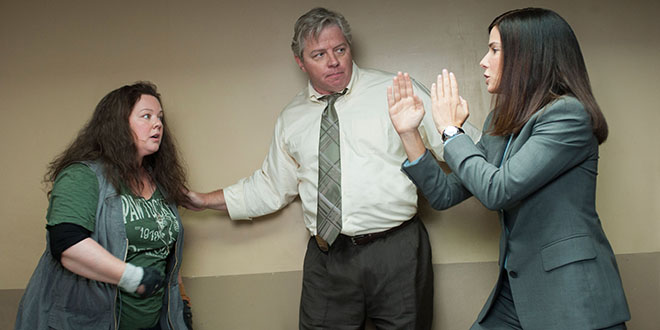 20th Century Fox has released three new clips from their upcoming action comedy The Heat. The poster can be seen to the right, while the clip from the film can be seen below.
The film is directed by Paul Feig and based on a screenplay written by Katie Dippold. The Heat stars Melissa McCarthy, Sandra Bullock, Tony Hale, Marlon Wayans, Taran Killam, Kaitlin Olson, and Michael Rapaport. The film will be released in theaters everywhere on June 28th.
In the film, uptight and straight-laced, FBI Special Agent Sarah Ashburn (Bullock) is a methodical investigator with a reputation for excellence–and hyper-arrogance. Shannon Mullins (McCarthy), one of Boston P.D.'s "finest," is foul-mouthed and has a very short fuse, and uses her gut instinct and street smarts to catch the most elusive criminals. Neither has ever had a partner, or a friend for that matter. When these two wildly incompatible law officers join forces to bring down a ruthless drug lord, they become the last thing anyone expected: buddies.
Source: 20th Century Fox
---
---