Film noirs are one of our favorite genres here on the MHM Podcast Network, and we've comprised a list of thirty essential films we think you should see in your lifetime.
Here are our picks for the 30 Essential Film Noirs
(arranged by year)
Stranger on the Third Floor (1940)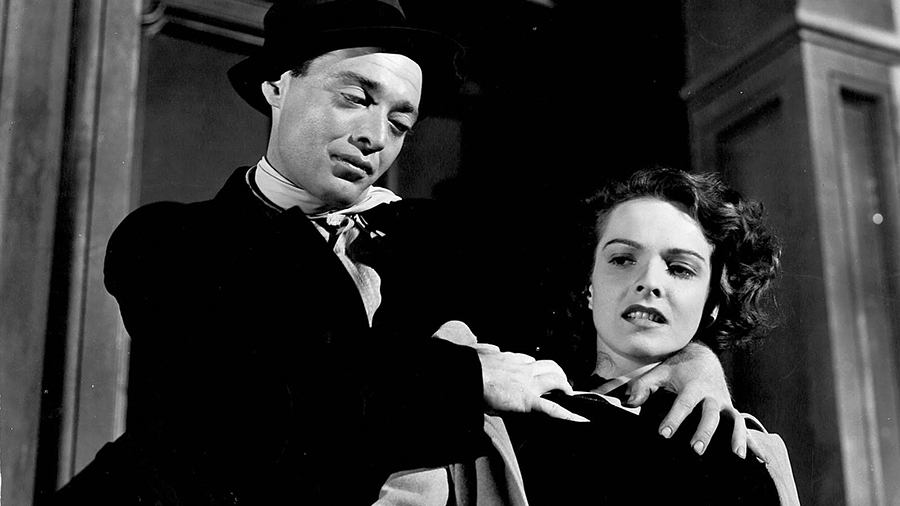 Reporter Michael Ward is the key witness of a murder. His testimony helps find Joe Briggs guilty. Once the trial ends, Ward's fiancée, Jane, wonders whether or not Ward was correct with his testimony. After Ward's neighbor dies under similar circumstances, and Ward finds that body, the police arrest him for murder. Jane sets out to clear her boyfriend by finding an odd-looking stranger spotted at the scene of the crime.
Director: Boris Ingster
Starring: Peter Lorre, John McGuire, and Margaret Tallichet
Running time: 64 min
Rent or Buy on Amazon
I Wake Up Screaming (1941)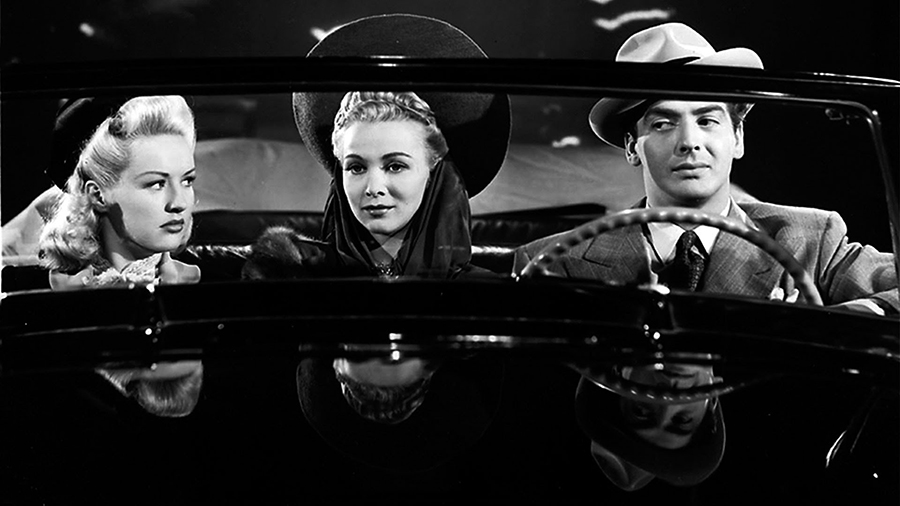 When model Vicky Lynn turns up dead in her New York City apartment, sports promoter Frankie Christopher becomes Suspect Number One. Inspector Ed Cornell interrogates Christopher, and he reveals he promoted Vicky's career when she was a still a waitress. Once she hit the big time, she planned on leaving him for Hollywood. Vicky died the next day. When the Inspector frames Christopher, only Vicky's sister, Jill, believes him. Watch the film to see who killed Vicki!
Director: Bruce Humberstone
Starring: Betty Grable, Victor Mature, and Carole Landis
Running time: 82 min
Buy on Amazon
The Maltese Falcon (1941)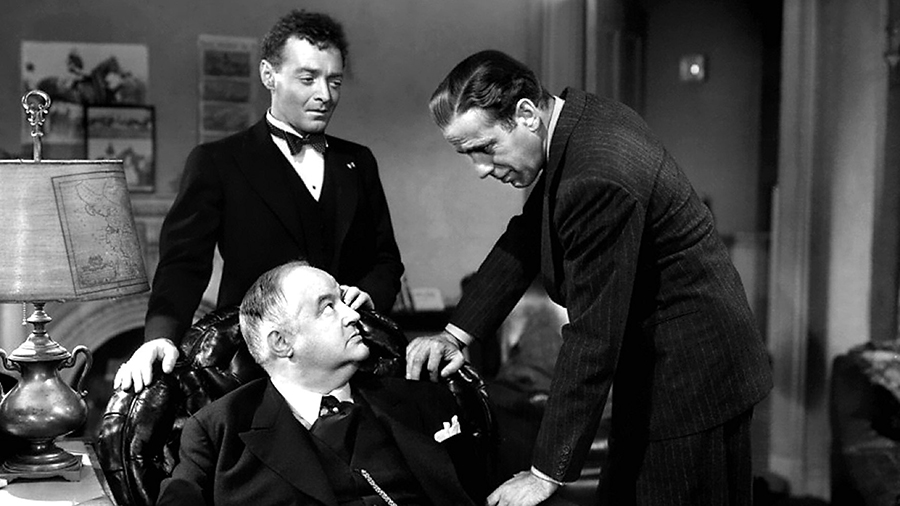 Sam Spade and Miles Archer run a detective agency in San Francisco. While the two men are partners, Sam doesn't care too much for Miles. One day, a dame named Miss Wonderly, saunters into their office looking for help. By the end of the night, Miles winds up dead as well as another man, Floyd Thursby. Apparently, Miss Wonderly attracts a rough crowd, and Joel Cairo and Kasper Gutman are two of them. The cops suspect Sam of the murders even though Joel and Kasper are behind them. As Sam tries to protect Miss Wonderly, he soon learns that the object of everyone's desire is a statuette of a bird called the Maltese Falcon.
Director: John Huston
Starring: Humphrey Bogart, Mary Astor, and Gladys George
Running time: 110 min
Listen to our review
Rent or Buy on Amazon
This Gun for Hire (1942)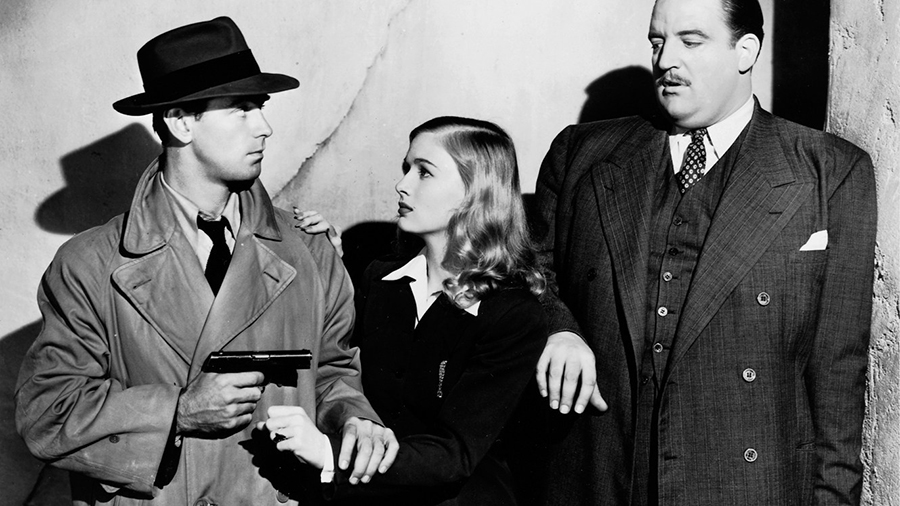 When hit man Philip Raven kills a blackmailer, Willard Gates pay him for the job with marked money. He then reports Raven to the Los Angeles Police Department. They assign Detective Lieutenant Michael Crane to the case which interrupts his vacation with girlfriend and nightclub singer, Ellen Graham. When Gates hires Ellen at one of his clubs, Senator Burnett recruits her to spy on Gates who's a suspected traitors. Raven tails Gates in a revenge plot, and he sees Ellen is in danger, so he rescues her. The two form an uneasy alliance to take out their common enemy…Willard Gates.
Director: Frank Tuttle
Starring: Alan Ladd, Veronica Lake, and Robert Preston
Running time: 81 min
Rent or Buy on Amazon
The Seventh Victim (1943)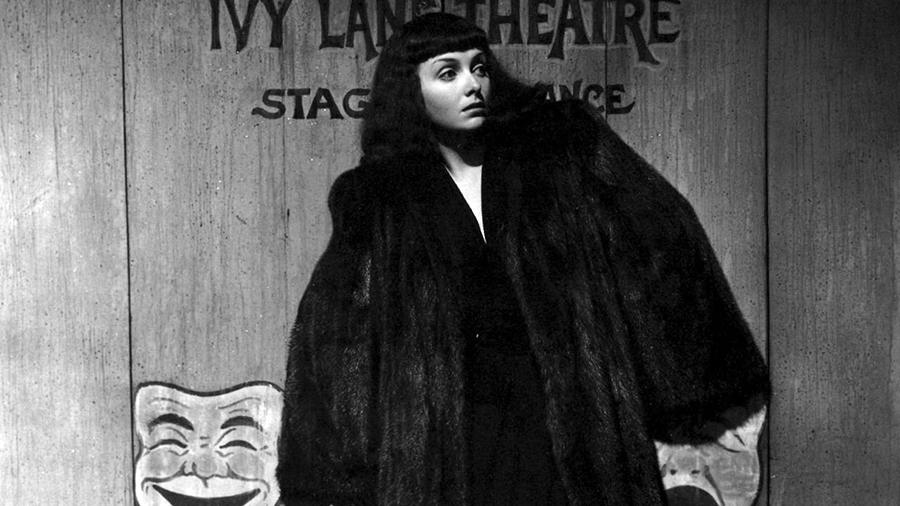 The dean of Highcliffe Academy, a Catholic boarding school, tells Mary Gibson her tuition is late because her sister Jacqueline, a New York cosmetic mogul, has disappeared, and thus hasn't paid Mary's tuition. Mary travels to the Big Apple to find her. Mary meets Jacqueline's secret husband, Gregory Ward, and psychiatrist Dr. Louis Judd. He's treated Jacqueline for depression, and he seems to know her whereabouts. However, when Mary learns her sister's joined a cult, and they have sentenced her to death, the cult's seventh victim, things look dire for both women. Will Mary save her sister in time?
Director: Mark Robson
Starring: Kim Hunter, Tom Conway, and Jean Brooks
Running time: 71 min
Rent or Buy on iTunes
Double Indemnity (1944)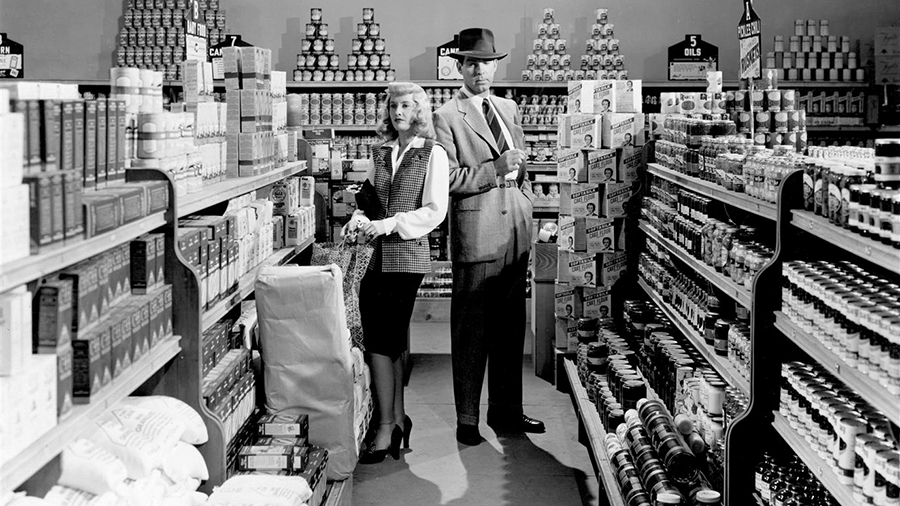 In 1938, salesman extraordinaire, Walter Neff of the Pacific All Risk Insurance Co. meets the seductive Phyllis Dietrichson. She's his client's wife, but that doesn't matter. The two have an affair anyway. Phyllis convinces Neff to kill her husband and make it look like an accident so she can get his insurance money. Walter plans a scheme so that Phyllis can receive twice the amount based on a double indemnity clause. Eventually, Mr. Dietrichson winds up dead on a train track, and the police determine the death to be accidental. However, Neff's boss and best friend, Barton Keyes, who suspects foul play, and investigates further.
Director: Billy Wilder
Starring: Fred MacMurray, Barbara Stanwyck, and Edward G. Robinson
Running time: 107 min
Listen to our review
Rent or Buy on Amazon
Laura (1944)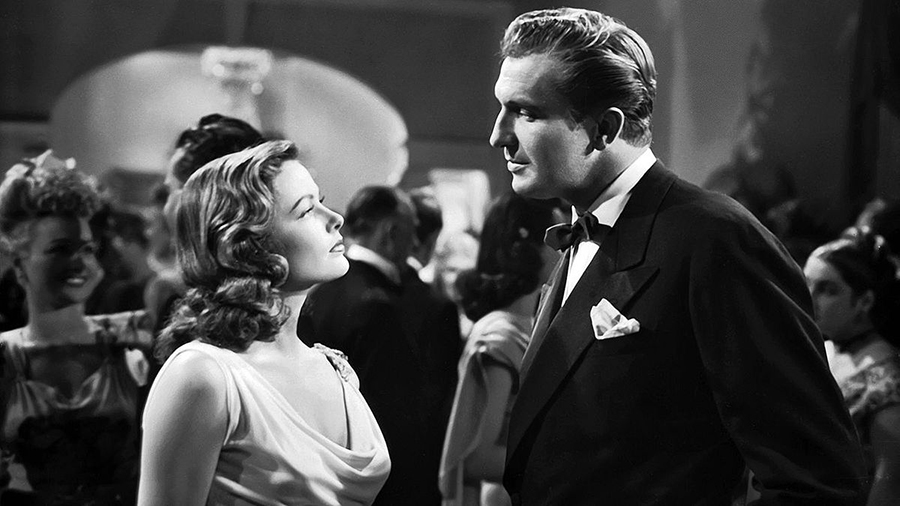 Someone killed Laura Hunt, and left her body on her apartment floor. Detective Mark McPherson investigates her murder, and builds a dossier of the dead girl. However, he finds just about every man she met fell in love with her, so who'd want her dead? Over the course of the investigation, the good detective falls for Laura too, but then one night, an unexpected witness shows up, and turns the investigation on it's edge. Now more than ever, Detective McPherson needs to find the killer.
Director: Otto Preminger
Starring: Gene Tierney, Dana Andrews, and Clifton Webb
Running time: 88 min
Rent or Buy on Amazon
The Woman in the Window (1944)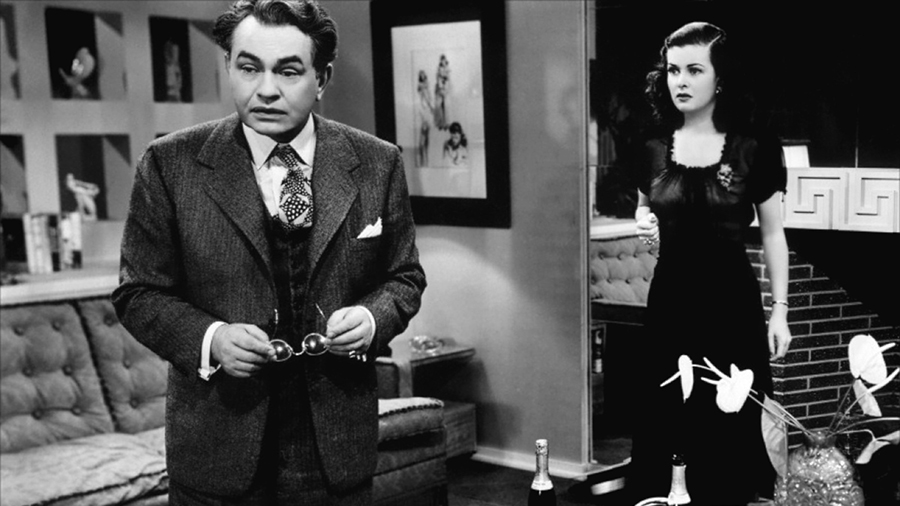 A portrait of a woman, Alice Reed, hangs in a window next to a men's club. Gotham College professor Wanley and his friends obsess over it. Wanley eventually meets Alice while admiring her portrait. He ends up sharing some stories and champagne in her apartment, but then her boyfriend bursts in. Thinking some hanky panky is a foot, a scuffle erupts, and the hot-headed boyfriend winds up dead. Wanting to protect his good standing at the college, Wanley agrees to cover up the death, but he becomes the main suspect with the police anyhow. Things unravel when a crooked ex-cop blackmails Alice.
Director: Fritz Lang
Starring: Edward G. Robinson, Joan Bennett, and Raymond Massey
Running time: 107 min
Listen to our review
Buy on Amazon
Mildred Pierce (1945)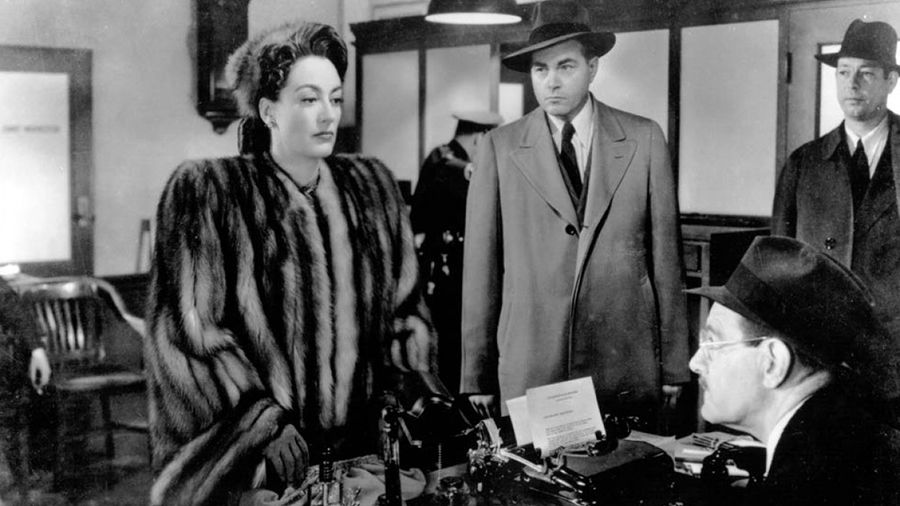 Monte Beragon, the second husband of Mildred Pierce, is shot and killed. The police tell Mildred they suspect her first husband, Bert, for the murder. Mildred tries her best to convince them otherwise with a flashback of her life story, and reveals who the real murderer is.
Director: Michael Curtiz
Starring: Joan Crawford, Jack Carson, and Zachary Scott
Running time: 111 min
Buy on Amazon
The Big Sleep (1946)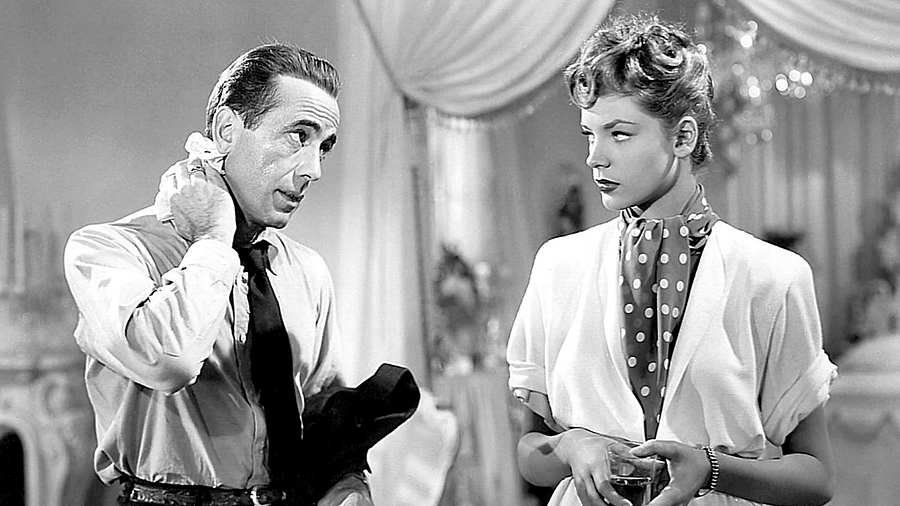 A wealthy general hires Philip Marlowe, Private Eye to find out and stop the person who's blackmailing his youngest daughter, Carmen. As Marlowe digs deeper and deeper, he finds himself in the midst of love triangles, decet, and murder. Marlowe, with the help of the General's eldest daughter, Vivian, looks to free the family from this situation, and trap the main guy behind all the intrigue.
Director: Howard Hawks
Starring: Humphrey Bogart, Lauren Bacall, and John Ridgely
Running time: 114 min
Rent or Buy on Amazon
Gilda (1946)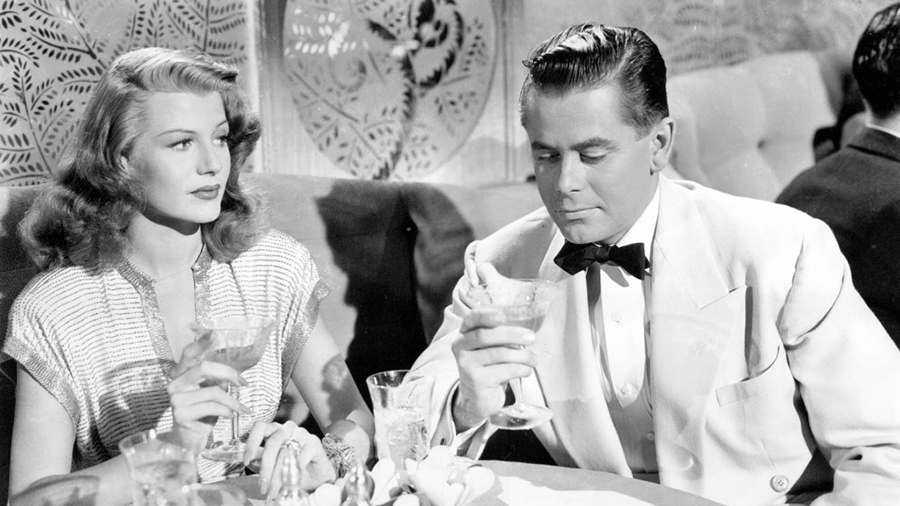 Johnny Farrell is a small-time gambler in Buenos Aires. After winning it big at craps by cheating, Ballin Mundson rescues him, and Johnny becomes his right-hand man. Things get complicated when Ballin marries Gilda, Johnny's ex. Gilda has lots of affairs, and Johnny is left covering them up so Ballin doesn't find out. Meanwhile, Ballin's illegal activities cause him to leave Argentina. To make it looks like Ballin's dead, he fakes his death. Johnny immediately marries Gilda out of spite for her faithlessness. Due to some other illegal things Ballin does, he has to leave Argentina in a way that he seems to be dead for everybody. After this Johnny marries Gilda, but not because he loves her, but because he wants to punish her for not being faithful to Ballin. Once married though, things do go the way Johnny planned.
Director: Charles Vidor
Starring: Rita Hayworth, Glenn Ford, and George Macready
Running time: 110 min
Rent or Buy on Amazon
Nightmare Alley (1947)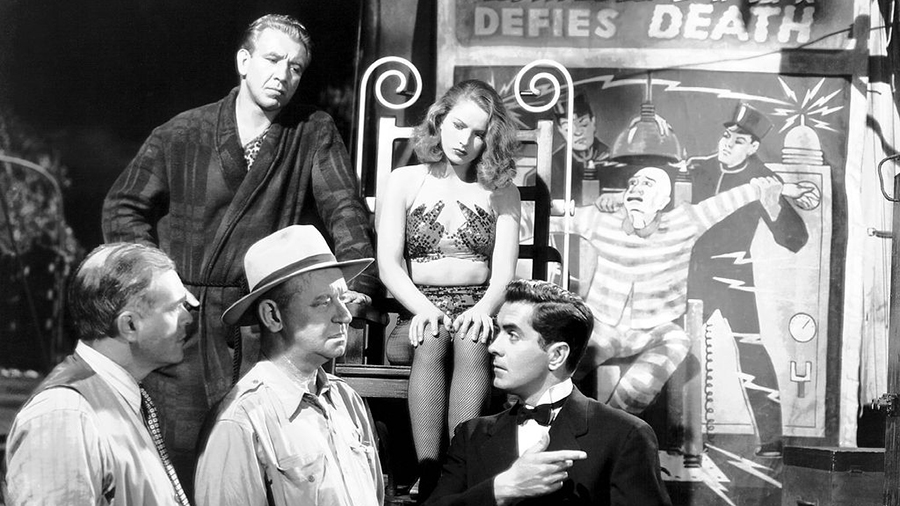 Stan Carlisle works in a sideshow as carny. The mentalist Zeena Krumbein and her alcoholic husband, Pete, have developed a secret code to pretend to read minds. Stan's plan is to learn their racket, and make is big as a mentalist in Chicago. Stan finally learns it, and takes a hot coworker named Molly with him; leaving the carnies behind, but as usual, things don't go as planned from there.
Director: Edmund Goulding
Starring: Tyrone Power, Joan Blondell, and Coleen Gray
Running time: 110 min
Listen to our review
Rent or Buy on Amazon
Nora Prentiss (1947)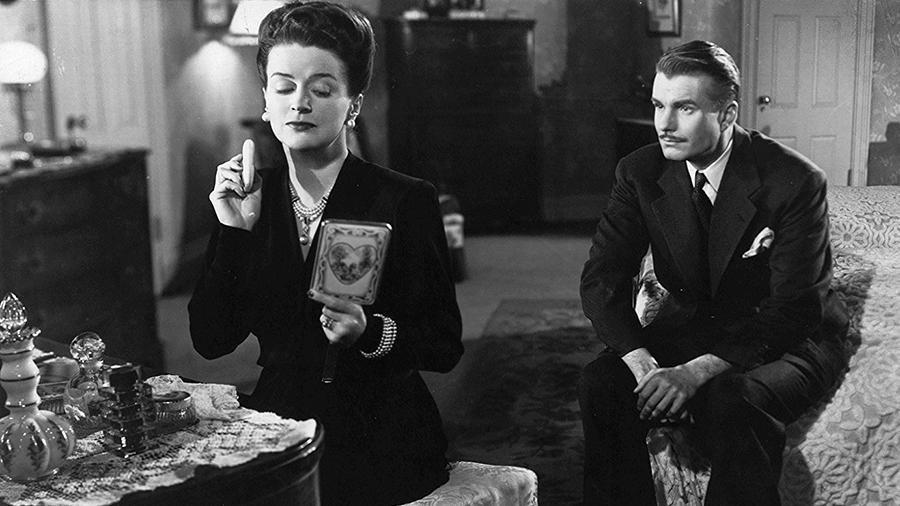 The unhappily married Dr. Richard Talbot tends to a young woman, Nora Prentiss, after a car hits her near his office. While he aids her, he falls for the girl. Because he can't come to ask his wife for a divorce, he fakes his death to run off to San Francisco with Nora. After the move, Talbot becomes paranoid, and falls apart.
Director: Vincent Sherman
Starring: Ann Sheridan, Kent Smith, and Bruce Bennett
Running time: 111 min
Rent or Buy on Amazon
Out of the Past (1947)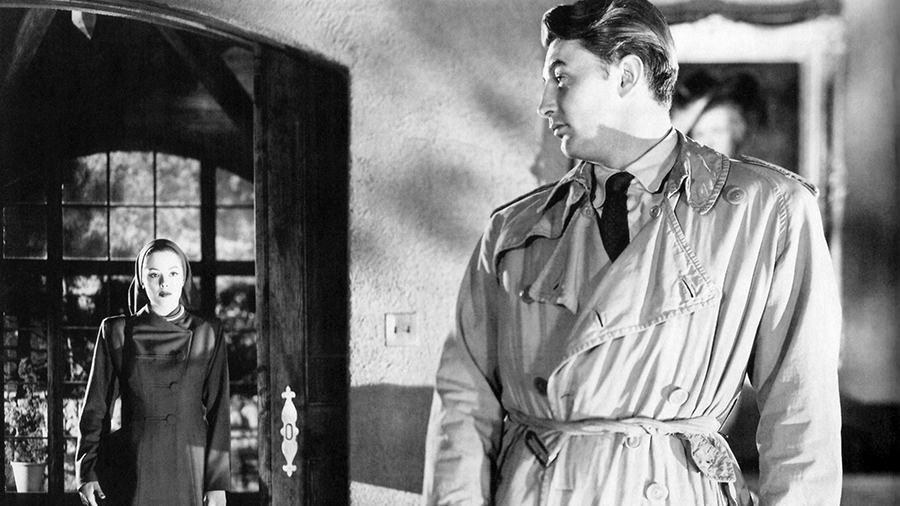 Jeff Bailey owns a gas station in Bridgeport, California. A stranger arrives in town, and orders Jeff to meet with the shady criminal, Whit Sterling. Before leaving, Jeff calls Ann, his small town girlfriend, and tells her the story of when he was a private eye Whit hired for $5,000.00 to find his former mistress Kathie. Jeff finds Kathie in Acapulco, but they fall in love with each other, and escape from Whit. When Jeff's former partner, Jack Fisher, finds the two living in an isolated cabin, Kathie kills him, and Jeff buries him. Jeff eventually finds a receipt of deposit in Kathie's purse in the amount Whit claims she stole from him, and dumps her. Back in the present, Jeff meets Whit, and finds Kathie living with him. Whit asks Jeff one last job, but it leads to murder…many more murders.
Director: Jacques Tourneur
Starring: Robert Mitchum, Jane Greer, and Kirk Douglas
Running time: 97 min
Listen to our review
Rent or Buy on Amazon
Drunken Angel (1948)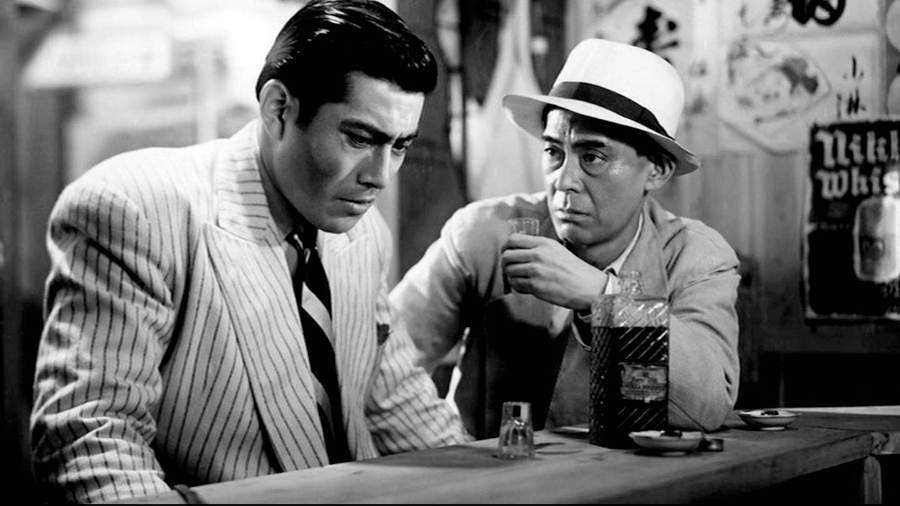 Set in the post-war WWII Tokyo, the gangster Matsunaga seeks Doctor Sanada to remove a bullet from his hand. The Doctor tells Matsunaga that he has tuberculosis, and needs to seek treatment. Instead, Matsunaga stays and remains Yakuza's leader. However, he does follow the doctor's recommendation and quits the drinking and smoking. Eventually, Matsunaga's former boss Okada leaves prison, and Matsunaga starts drinking and smoking again. His illness becomes worse. In time, the doctor wants to report Okada to the police, and Okada threatens the doctor and his nurse, but Matsunaga intervenes; invoking their code of honor in the process. Unfortunately, this leads Matsunaga to find that he's just as expendable as everyone else.
Director: Akira Kurosawa
Starring: Takashi Shimura, Toshirô Mifune, and Reizaburô Yamamoto
Running time: 102 min
Drunken Angel (1948)
Criss Cross (1949)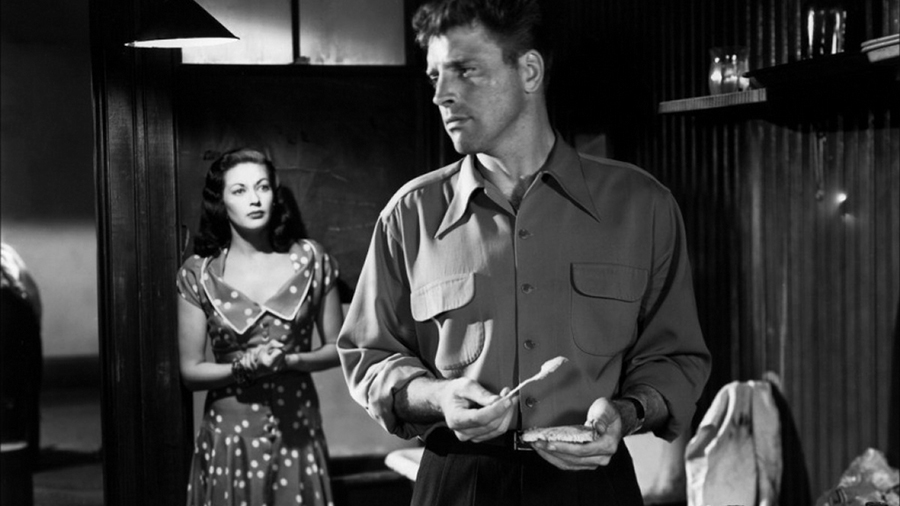 Steve Thompson drives his armored car down a road, and recalls his life. He divorced his wife Anna, and began working all around the US until he moved back home to Los Angeles a few days ago. However, he still obsesses over Anna. She marries the gangster Slim Dundee. Steve and Slim plan the theft of the armored car, and Steve expects to double-cross Slim, and then escape with Anna to another city, and begin a new life. You can guess what happens from here…things do not go according to plan.
Director: Robert Siodmak
Starring: Burt Lancaster, Yvonne De Carlo, and Dan Duryea
Running time: 84 min
Rent or Buy on Amazon
The Third Man (1949)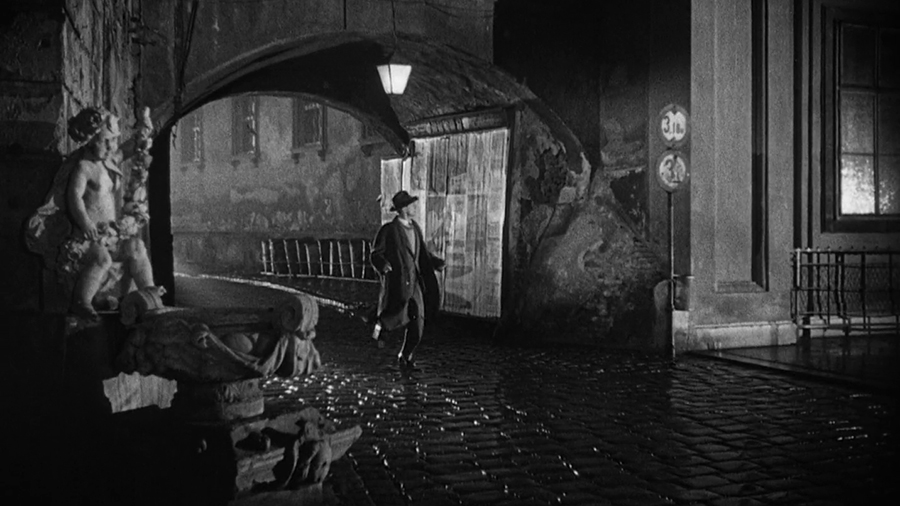 Holly Martins arrives in a post war Vienna that the allies have divided into sectors. Due to a shortage of supplies, there's a prosperous black market in the town. An ex-school chum, Harry Lime, invited Holly, and offered him a job. However, when Holly arrives, he finds Lime's dead from an odd car accident. With nothing else to do, Holly questions Lime's friends and associates. He quickly finds inconsistencies in their stories, and eventually figures out what really happened to his pal, Harry Lime.
Director: Carol Reed
Starring: Orson Welles, Joseph Cotten, and Alida Valli
Running time: 93 min
Read our review
Rent or Buy on Amazon
The Asphalt Jungle (1950)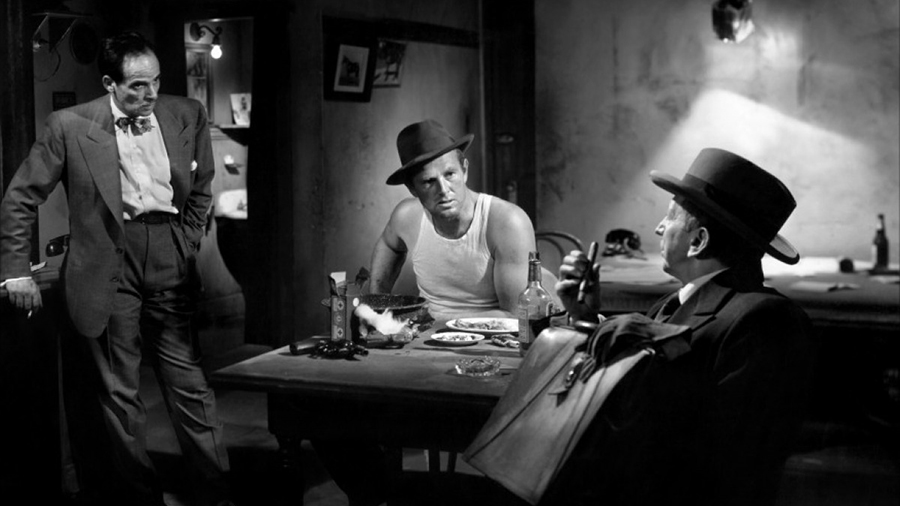 Erwin "Doc" Riedenschneider leaves prison after seven years, and gets a $50,000 investment from a bookie named Cobby. He uses it to recruit a small gang for a heist of jewels worth $1,000,000. Doc meets with attorney Alonzo D. Emmerich who offers to finance the whole operation, and also buy the jewels immediately after the burglary. Doc hires a safecracker, a driver, and a gunman to complete the heist. His plan goes off without a hitch, but unfortunately, many betrayals afterwards leads to the thieves fleeing the cops.
Director: John Huston
Starring: Sterling Hayden, Louis Calhern, and Jean Hagen
Running time: 112 min
Rent or Buy on Amazon
In a Lonely Place (1950)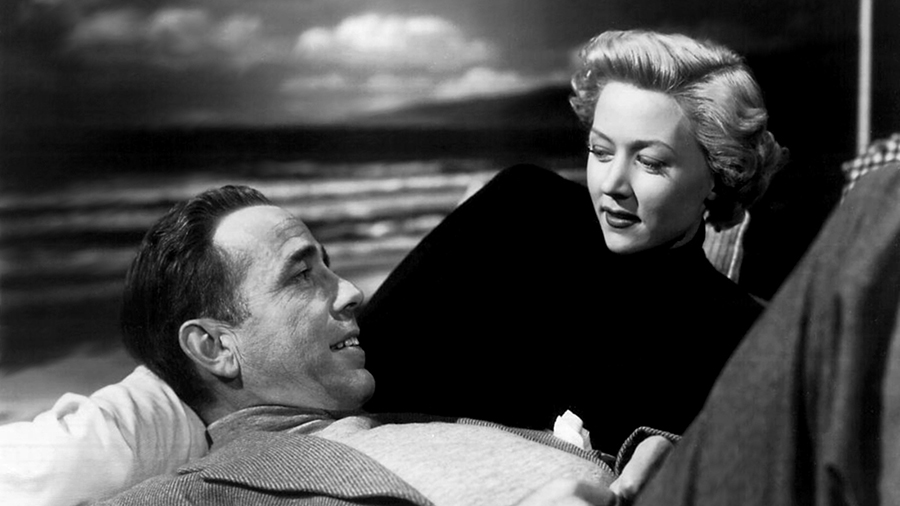 Screenwriter Dixon Steele, must write a script based on a trashy bestseller. He enlists a hat-check girl named Mildred Atkinson to tell him the story. Later that night, someone murders Mildred, and Steele is the prime suspect due to a history of belligerence, anger, and a macabre sense of humor. Luckily for him, his neighbor, Laurel Gray, gives him an alibi. Their friendship eventually turns into love, but will Steele's past come back to haunt him?
Director: Nicholas Ray
Starring: Humphrey Bogart, Gloria Grahame, and Frank Lovejoy
Running time: 94 min
Rent or Buy on Amazon
Sunset Boulevard (1950)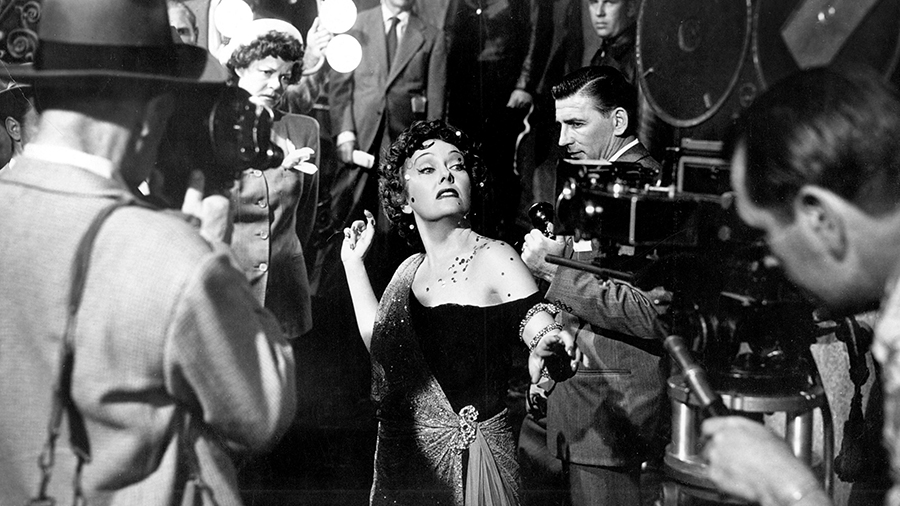 Screenplay writer, Joe Gillis, can't sell his work to the studios. He's wracked with debt, and contemplates returning to his hometown to work an office job. While fleeing from some creditors who want to repossess his car, he gets a flat tire, and hides his car in the garage of a large mansion on Sunset Boulevard. There, he meets its owner and former silent-movie star, Norma Desmond. Norma is quite eccentric, and believes she will be a big movie star once more. She lives in her mansion alone with her butler and driver, Max. Max, who at one time was her director and husband, protects her from the outside world. Norma convinces Joe to move to the mansion with her so he can help her write a screenplay for her comeback. Eventually Gillis also becomes her lover and pipe cleaner. However, when Joe falls in love with another writer, Betty Schaefer, Norma goes completely insane, and her jealousy leads to a tragic end.
Director: Billy Wilder
Starring: William Holden, Gloria Swanson, and Erich von Stroheim
Running time: 110 min
Read our review, and the full summary
Rent or Buy on Amazon
The Prowler (1951)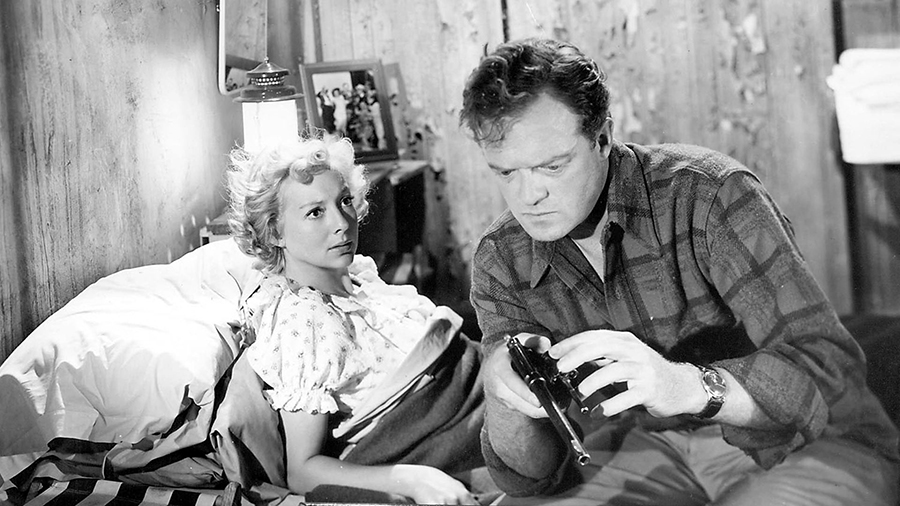 Susan Gilvray finds a prowler outside her house late one night, and she calls the police. Officer Webb Garwood and his partner answer the call, but they do not find anyone lurking. Webb later returns to Susan's house under the pretext of checking to see if everything is fine. Susan invites him in for coffee, and Webb learns Susan is married to John Gilvray, a broadcaster on a late night radio show. Webb puts the moves on Susan. She hesitates at first, but eventually, the two start a romance. Soon, John becomes suspicious, and Susan ends her affair with Webb. Although Webb stays away, he plots to get rid of John without Susan's knowledge. After John is accidentally shot dead, his murder is ruled as unintentional. Webb quits the police-force, and he and Susan get married. Webb learns that Susan is four months pregnant, and that John could not have children, so John's death becomes suspect once again. Eventually Susan's premature labor leads to the unraveling of Webb's perfect crime.
Director: Joseph Losey
Starring: Van Heflin, Evelyn Keyes, and John Maxwell
Running time: 92 min
Scandal Sheet (1952)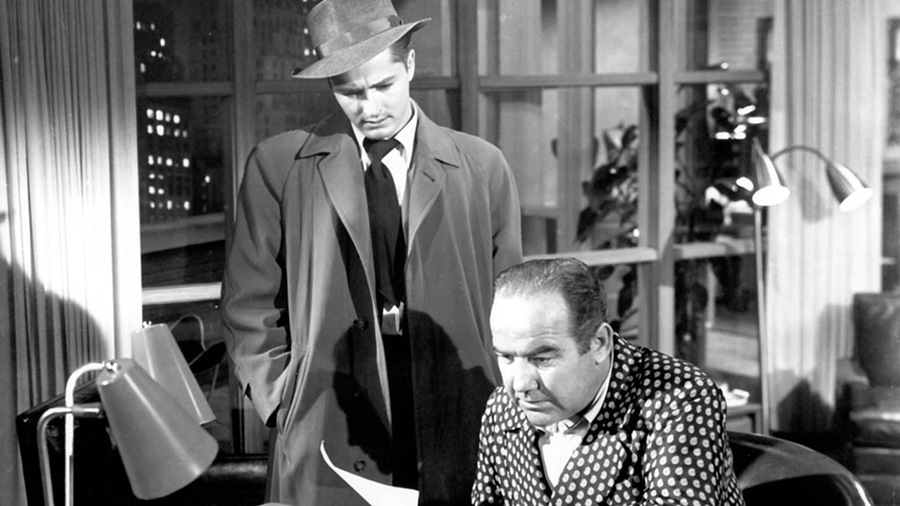 When Mark Chapman takes over as editor of a New York daily newspaper, his wife, whom he left penniless years ago, shows up, and threatens to expose him as a wife-beater, deserter, and impostor. Chapman accidentally kills her in anger, and tries to cover it up. Later, the paper's star reporter, Steve McClearly, investigates her unsolved death. From that point on, Chapman can only watch as his reporters unravel the murder mystery.
Director: Phil Karlson
Starring: John Derek, Donna Reed, and Broderick Crawford
Running time: 82 min
The Big Heat (1953)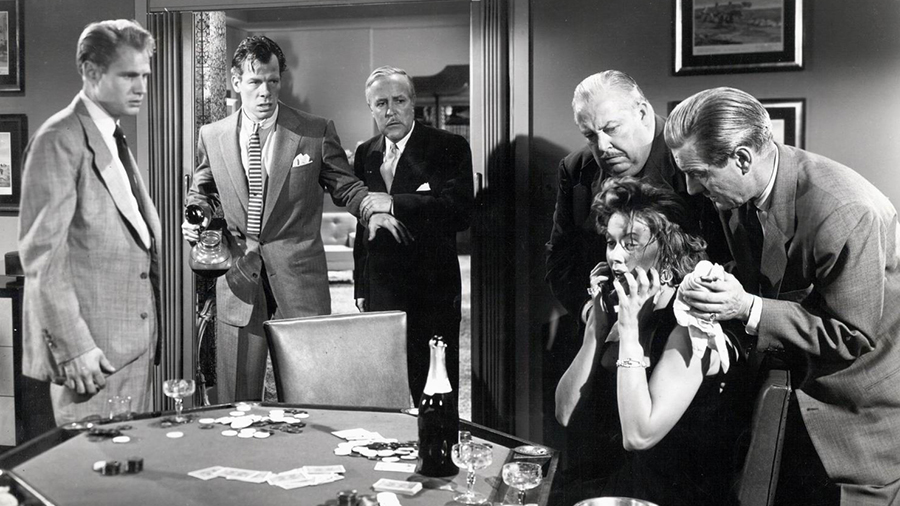 Detective Dave Bannion investigates a police sergeant's suicide which seems to be an open and shut case, but when the late cop's mistress, Lucy Chapman, claims he was murdered, and is then winds up murdered as well, things get complicated. Bannion's superiors remove him from the case, but Bannion refuses. Soon the mob gets involved, and the lives of Bannion's family members are in jeopardy. Does Bannion have what it takes to stand up to the mob, and bring them to justice?
Director: Fritz Lang
Starring: Glenn Ford, Gloria Grahame, and Jocelyn Brando
Running time: 89 min
Rent or Buy on Amazon
Crime Wave (1954)

'Crime Wave', also known as 'The City Is Dark', begins when 'Doc' Penny and his gang rob a gasoline station. During the robbery, a cop and a gang member die, and another gang member is wounded. Meanwhile, ex-con Steve Lacey tries to start a new life, but the wounded gang member shows up, and demands Steve call a disreputable doctor for help, but the doctor arrives too late. After that death, Lacey calls his parole officer, Detective Lieutenant Sims for help. However, the remaining gang members show up at Lacey's apartment, and he begrudgingly lets them stay. Penny forces Lacey to rob a bank with them, but Lacey alerts the police, and they ambush the robbers. Who survives the following gun battle?
Director: André De Toth
Starring: Gene Nelson, Sterling Hayden, Phyllis Kirk
Running time: 73 min
Rent or Buy on Amazon
New York Confidential (1955)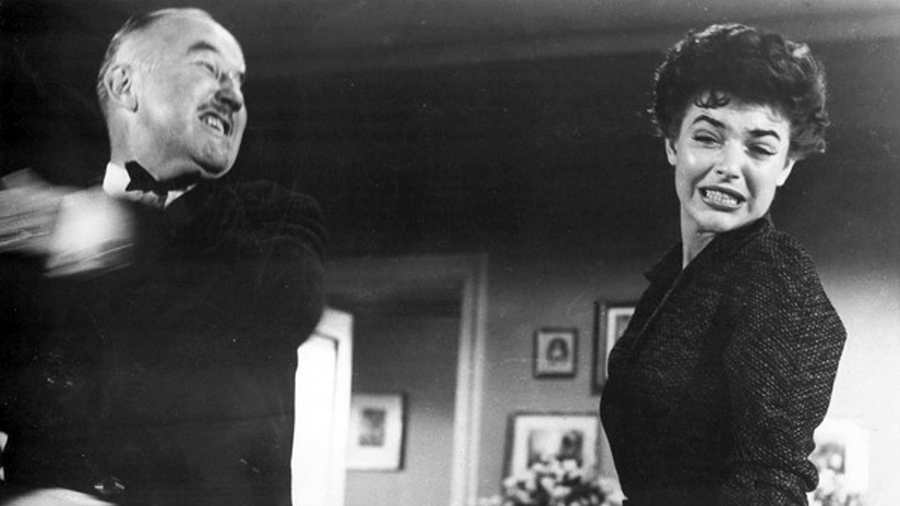 Chicago hit man, Nick Magellan, works for Charlie Lupo in Manhattan, NY. Charlie heads a crime syndicate there. His daughter, Kathy, has fallen in love with Nick, but he refuses her advances. When a lobbyist interferes in Lupo's plans, he sends three men to eliminate him. Nick is then tasked to take out those three men, but only kills two. The third rats Lupo out to the cops, and Lupo decides to cooperate with them. The syndicate then sends Nick out to kill his friend, Lupo. Can he go through with their order?
Director: Russell Rouse
Starring: Broderick Crawford, Richard Conte, and Anne Bancroft
Running time: 87 min
Rent or Buy on Amazon
The Killing (1956)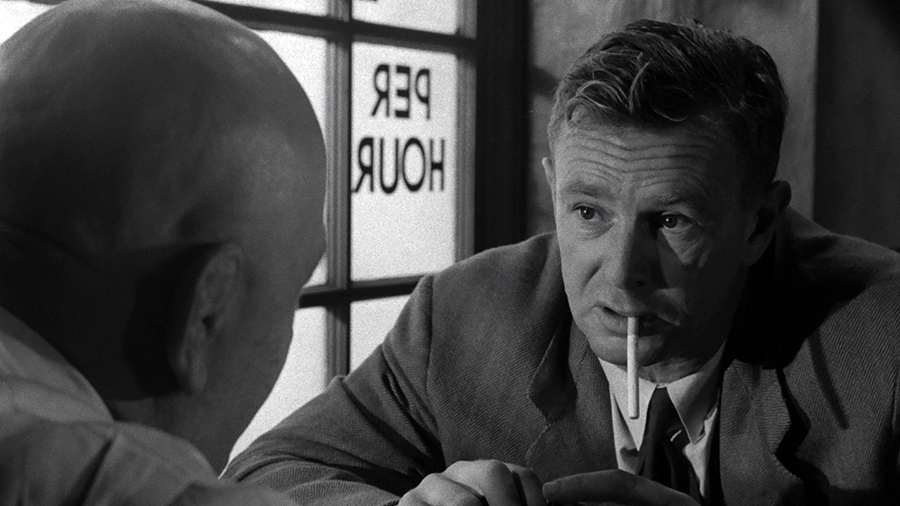 Johnny Clay is the man with a plan. After spending 5 years in Alcatraz, the state releases him. Johnny plans to do one more robbery, and then retire. He masterminds a scheme to steal $2,000,000 from a local racetrack, and not get anyone hurt in the process. Everything is closely calculated, but never takes into consideration the lengths one of his recruited member's wives will go to with her shady boyfriend to steal their stolen racetrack booty. From there, things goes wrong.
Director: Stanley Kubrick
Starring: Sterling Hayden, Coleen Gray, and Vince Edwards
Running time: 85 min
Listen to our review
Rent or Buy on Amazon
Sweet Smell of Success (1957)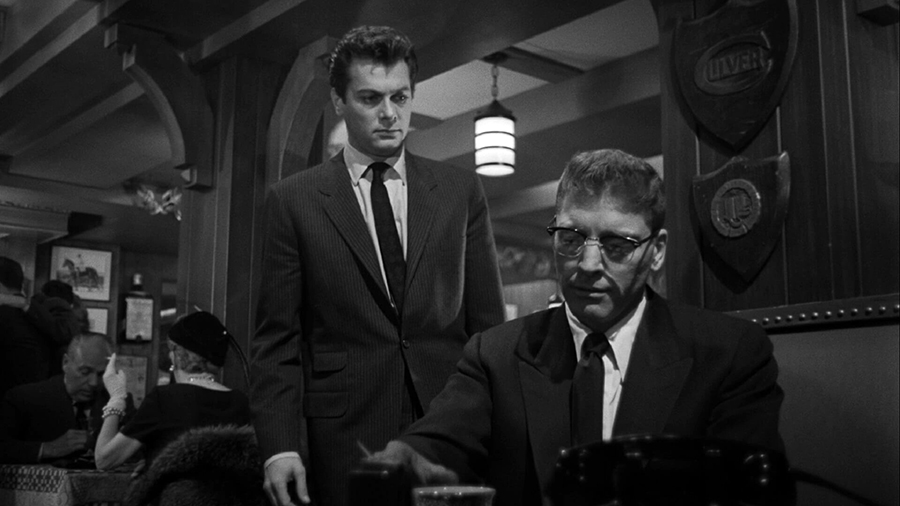 Newspaper columnist, J.J. Hunsecker, wants to prevent his sister, Susan, from marrying jazz musician, Steve Dallas. He hires press agent, Sidney Falco, to break them up any way he can, and refuses to mention Falco's clients in his paper until Falso does. Falco succeeds, but in doing so, Dallas hurls a flurry of insults at Hunsecker which angers him tremendously. Hunsecker devises another plan to ruin Dallas, which Falco wants no part of. From there, Hunsecker loses control of the situation until his very sister's life is in danger.
Director: Alexander Mackendrick
Starring: Burt Lancaster, Tony Curtis, and Susan Harrison
Running time: 96 min
Rent or Buy on Amazon
Touch of Evil (1958)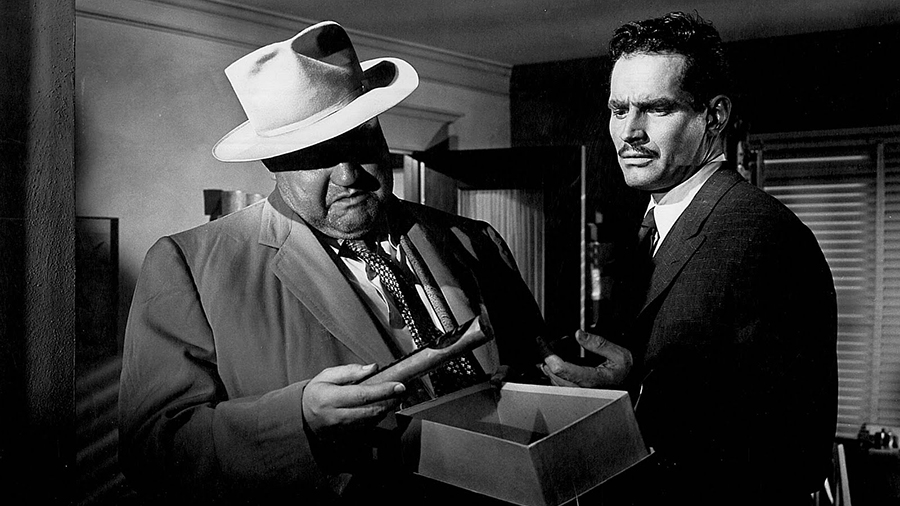 An automobile explodes as it crosses into the United States from Mexico. Mexican narcotics official, Mike Vargas, on a honeymoon with his bride, Susie, witnesses the explosion, and realizes there's going to be a problem because the car originated in Mexico. American police captain, Hank Quinlan, comes to the scene on the U.S. side. He serves his style of justice even if he has to plant evidence to do it. Quinlan's law bending is never questioned until Vargas confronts him over it. This pits the two men against each other as they try to find out, in their own way, who blew up that car.
Director: Orson Welles
Starring: Charlton Heston, Orson Welles, and Janet Leigh
Running time: 95 min
Rent or Buy on Amazon
The Crimson Kimono (1959)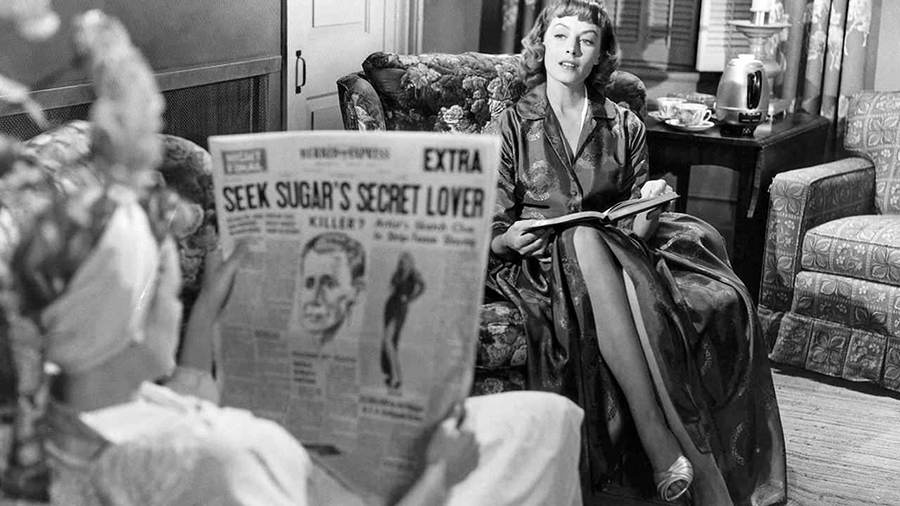 A masked killer shoots Los Angeles stripper, Sugar Torch, in the neck. Homicide detectives and for some reason roommates, Charlie Bancroft and Joe Kojaku, investigate it. Their investigation leads them to Little Tokyo in Los Angeles, and to Chris Downs. This leads to a love triangle that threatens the men's friendship and case.
Director: Samuel Fuller
Starring: Victoria Shaw, Glenn Corbett, and James Shigeta
Running time: 82 min
Rent or Buy on Amazon
Shoot the Piano Player (1960)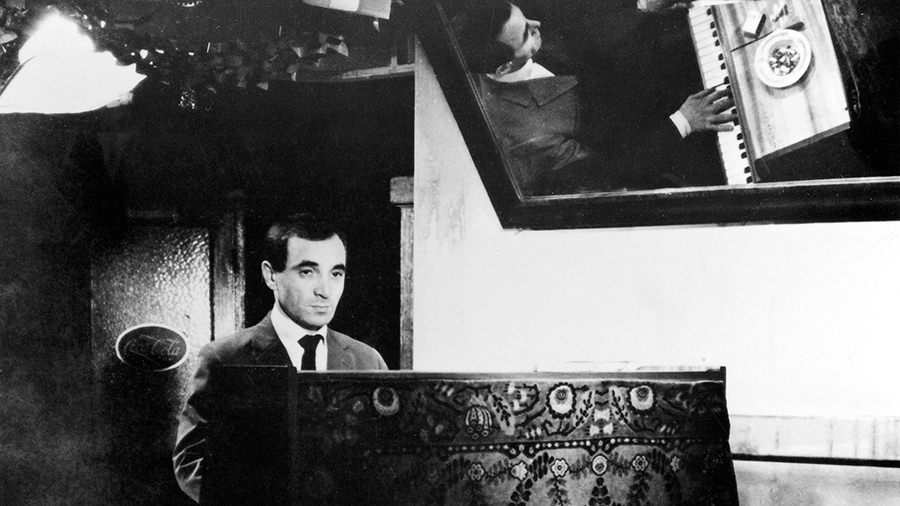 Chico Saroyan approaches his brother, Charlie Kohler, while he plays at a bar. Some gangsters chase Chico, and Charlie helps him to escape. Of course, this angers the thugs. While they keep an eye on Charlie, he recounts his tormented past to a waitress names Lena who's in love with him. Back in the day, he was known as Edouard Saroyan, and he quit his career after his wive's suicide. The gangsters soon kidnap Charlie's little brother, Fido, and Charlie sets out to help his family, but his involvement has grave consequences.
Director: François Truffaut
Starring: Charles Aznavour, Marie Dubois, and Nicole Berger
Running time: 92 min
Rent or Buy on Amazon
That does it for our list of 30 essential film noirs you must see in your lifetime. Are there any film noirs we missed that you love? Let us know in the comments below.
Disclaimer
Affiliate links contained in this post will take you to Amazon.com or iTunes. This means when you click a link, and purchase an item, the MHM Podcast Network will receive an affiliate commission. Advertisers and Affiliate Partnerships do not influence our content. See our Terms of Use about the inclusion of affiliate links on this site for more information.