Film and Plot Synopsis
A Bad Moms Christmas follows our three under-appreciated and over-burdened women (Amy, Kiki, and Carla) as they rebel against the challenges and expectations of the Super Bowl for moms: Christmas. And as if creating a more perfect holiday for their families wasn't hard enough, they must do all of that while hosting and entertaining their own mothers. By the end of the journey, our heroic moms will redefine how to make the holidays special for all and discover a closer relationship with their mothers.
Buy the Film
A Bad Moms Christmas [Blu-ray]
5 new from $7.99
19 used from $3.11

as of November 29, 2023 11:36 am
*As an Amazon Associate we earn from qualifying purchases.
'A Bad Moms Christmas' Movie Summary
The summary below contains spoilers.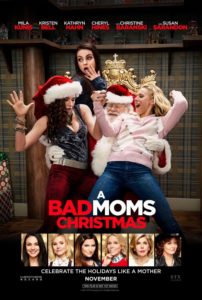 Since the first Bad Moms film, Amy (
Mila Kunis
) is in a happy relationship with Jessie (
Jay Hernandez
) and is looking forward to having a simple Christmas at home with her kids and her new love. However, her plans go out the window when she receives a text message from her mother Ruth (
Christine Baranski
) informing her that she is coming for Christmas. Ruth is a meticulous planner for Christmas and expects certain traditions and decorations to be followed.
Meanwhile, Kiki (Kristen Bell) is still suffering from being overworked from her four kids. Although her husband Kent (Lyle Brocato) is more helpful, she still barely keeps her head above water. She is surprised when her mother Sandy (Cheryl Hines) shows up three days earlier than expected and plans on spending three weeks with Kiki and her family. Although Kiki knows her mother loves her, she feels smothered by Sandy and all the attention that she heaps on Kiki.
At the same time, Carla (Kathryn Hahn) returns home to find her mother, Isis (Susan Sarandon), in her home. Isis tells Carla that she has come to spend some time with her daughter, something she hasn't done in years. Appreciative, Carla is happy to spend time with her aloof and often absent mother.
Sometime later, Amy, Kiki, and Carla go to the mall together and commiserate over their holiday seasons. The three friends vow to take Christmas back for themselves. Amy wants to have a simple Christmas while her mother wants to make a spectacle out of the holiday. To counter her mother's plans, Amy takes her family to the indoor playground Sky Zone to meet up with Kiki, Carla, and their families. At Sky Zone, Ruth, Sandy, and Isis all meet and discuss their frustrations with their daughters who are busy having fun with their kids.
Later, Carla encounters a stripper named Ty (Justin Hartley), who is competing in a Sexy Santa Claus competition. Ty asks Carla to be his date for the event, which she wholeheartedly accepts. Meanwhile, Kiki continues to be smothered by her mother and decides to bring Sandy to Dr. Karl (Wanda Sykes) to discuss their issues. The counseling session ends with Kiki yelling at her mother who abruptly leaves the session.
Sometime later, Amy and Kiki join Carla at the Sexy Santa show. All three of the ladies are impressed with Ty's dancing. However, they are all shocked when Isis gets up on the bar and begins to dance with Ty. Carla charges the bar to get Ty back which leads to a fight. After the fight, Carla takes her mother home where Isis asks her daughter for money for a new investment. Carla knows her mother and speculates that Isis will just gamble the money away and once again disappear from her life. Nevertheless, Carla gives her mother the money she is asking for.
On Christmas Eve, Sandy tells Kiki that she put up a cash offer for the house next door to her daughter so that she can live nearby. Shocked, Kiki lashes out at her mother and tells her that she cannot live next door. More importantly, Kiki tells Sandy that she needs her space. Sandy ends up leaving the room in tears at the end of the conversation.
Meanwhile, Amy gets angry at her mother when she discovers that Ruth has invited a large group of strangers over to Amy's house for an elaborate Christmas party, which is exactly what Amy did not want to happen. Amy loses her temper and orders everyone out of her home. Amy fights with her mother and orders Ruth to leave her home and to stay out of her life forever. Amy's kids, Jane (Oona Laurence) and Dylan (Emjay Anthony), witness the fight and become angry with their mother. At the same time, Carla returns home to find a note from Isis indicating that she was leaving with the money. Kiki is also alone at home as well, having chased off her mother.
A saddened Ruth goes to church for Midnight Mass and is joined by Sandy and Isis. The three mothers criticize each other for their efforts as mothers, which results in each of them realizing their flaws for the first time. Meanwhile, Hank Redmond (Peter Gallagher), Amy's father, visits his daughter to talk about her fight with her mother. Hank provides insight to Amy that although Ruth is often difficult to deal with, she is really a tremendously insecure person who is afraid that she was not doing a good job as a mother. Hank concludes their conversation that despite her insecurities Ruth has always had the right intentions and loved Amy unconditionally.
Amy goes to the church where Ruth is attending to patch things up with her mother. The two women finally have a meeting of the minds and apologize to each other while confessing their love for one another. Ruth tells her daughter that she is a wonderful mother, something Amy desperately needed to hear from her mother. As the clock strikes midnight, Amy realizes that she needs her mother's help in order to save Christmas for her kids. United, the two women rush back to Amy's house to decorate the home properly.
The next morning, Jane and Dylan awaken to find that Ruth has returned to their home, which has been beautifully decorated for Christmas morning and includes many gifts. Meanwhile, Kiki makes up with Sandy. Kiki's mother informs her daughter that she has put the neighboring house back on the market and confesses that she has always felt lonely on Christmas since Kiki's father died years before. Carla also receives a surprise visit from her mother. Isis tells her daughter that she is serious about turning her life around and has acquired a new job at Sky Zone.
As the film ends, all the families get together and Ruth, Sandy, and Isis announce that they have become friends themselves and are planning to take a trip to Las Vegas together.
Additional Film Information
Rate the Film!
STXfilms released A Bad Moms Christmas on October 30, 2017. Jon Lucas and Scott Moore directed the film starring Mila Kunis, Kristen Bell, and Kathryn Hahn.