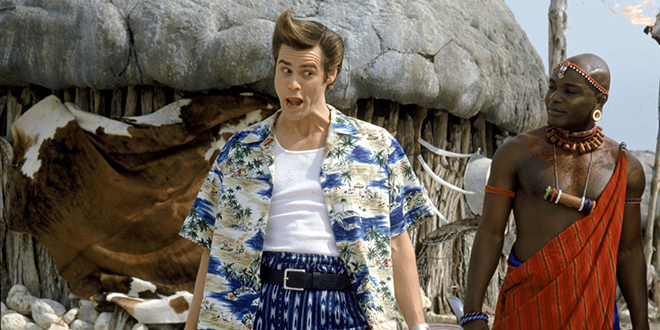 MHM Mart
Ace Ventura: When Nature Calls (1995) Swings Onto Blu-ray
Ace Ventura: When Nature Calls [Blu-ray]
2 new from $25.00
5 used from $12.97
Free shipping
as of October 2, 2022 2:07 am
Warner Bros. Home Entertainment has announced that they are adding Ace Ventura: When Nature Calls to their slate of Blu-ray releases later this year. The film was directed by Steve Oedekerk and stars Jim Carrey, Ian McNeice, Simon Callow, Tommy Davidson, and Adewale Akinnuoye-Agbaje. The comedy is currently available for pre-order online and will be available in stores everywhere beginning on September 3rd.
In this sequel, Africa's the place and Ace is on the case, setting out to rescue an animal he loathes: a rare white bat which is prophesied to avert a war between two tribes. Carrey returns as the alligator-wrasslin', elephant-calling, monkeyshining, loogie-launching, burning coals-crossing, disguise-mastering pet detective.
Ace Ventura: When Nature Calls was released in November of 1995 and grossed over $212 million in worldwide box office.
Warner Bros. Home Entertainment has not released any details concerning the exact tech specs and special features that will be included with the disc.
Disclaimer: Affiliate links are contained in this post. This means when you click a link, and purchase an item, Movie House Memories will receive an affiliate commission. Advertisers and Affiliate Partnerships do not influence our content. See our
Terms of Use
about the inclusion of affiliate links on this site for more information.