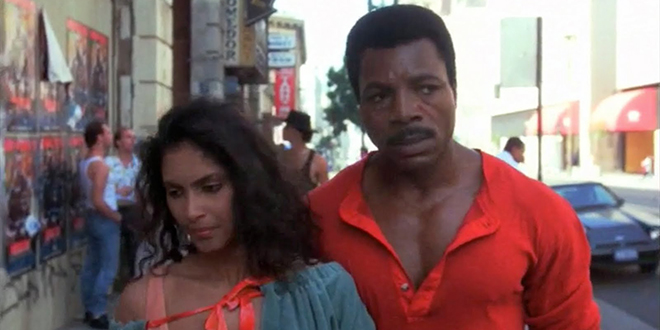 MHM Mart
Action Jackson (1988) Explodes Onto Blu-ray
Action Jackson (BD) [Blu-ray]
4 used from $37.65

as of December 5, 2022 11:28 am
Warner Bros. Home Entertainment has announced the Blu-ray release of the 80's action comedy Action Jackson. The film was directed by Craig R. Baxley and starred Carl Weathers, Craig T. Nelson, Sharon Stone, Vanity, Thomas F. Wilson, Bill Duke, and Robert Davi. Action Jackson will be available online and in stores beginning on August 6th.
In the film, Jericho "Action" Jackson (Weathers) is a Detroit police sergeant demoted from lieutenant for almost tearing the arm off of a violent sociopath, whose father is successful car manufacturer Peter Dellaplane (Nelson). But Dellaplane is violent as well. Dellaplane kills his own wife, Patrice (Stone), and plants her body in Jackson's apartment. Dellaplane won't miss Patrice very much, though, because he has a drug-addicted mistress named Sydney Ash (Vanity) hooked with a free supply of heroin. When Jackson also begins to suspect the businessman of masterminding a murder spree against local officials from the auto workers' union, he enlists the help of Dellaplane's heroin-addicted mistress, Sydney, to take Dellaplane down.
Action Jackson was released in February of 1988 and grossed over $20 million at the box office.
Warner Bros. Home Entertainment has not revealed any of the technical specifications or special features for the Blu-ray as yet.
Disclaimer: Affiliate links are contained in this post. This means when you click a link, and purchase an item, Movie House Memories will receive an affiliate commission. Advertisers and Affiliate Partnerships do not influence our content. See our
Terms of Use
about the inclusion of affiliate links on this site for more information.