Film and Plot Synopsis
Antonio Salieri recounts the life, success and troubles of Wolfgang Amadeus Mozart. The contemporaneous composer was insanely jealous of Mozart's talent, and confesses to a priest that he murdered the man 30 years ago.
Buy the Film
Amadeus: Director's Cut [Blu-ray]
11 new from $15.00
12 used from $10.98
Free shipping
as of January 29, 2023 7:25 pm
*As an Amazon Associate we earn from qualifying purchases.
'Amadeus' Movie Summary
The summary below contains spoilers.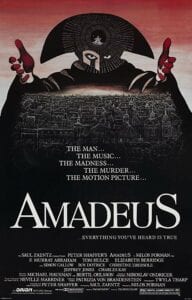 Amadeus
begins in the waning years of the failed composer Antonio Salieri. We meet him in an insane asylum after authorities commit him because he attempted a not-so-Christian suicide circa 1823.
From there, he recounts the life and times of Wolfgang Amadeus Mozart to a local priest. While he's not a terribly reliable narrator, he goes on to say that he's responsible for Mozart's death. His rambling account goes something like this…
For forty years, Salieri has held a deep grudge against God for making Mozart—whom he describes as a boastful, lustful, smutty, and infantile boy—a musical genius. Salieri talks up his upbringing as a devout, God-fearing man. He went so far as to pledge to God he'd be celibate in return for a life as a composer. However, even though he claims to be chaste, his heart is cold and cruel!
A loss of faith
Salieri's faith in God diminishes the more he grows to know Mozart, his short comings, and his musical talent. He both simultaneously adores Mozart and resents him. Salieri soon comes to believe that God is mocking his mediocrity. He begins to undermine Mozart every chance he can.
One time he tricks Amadeus' wife into showing him her bosoms, another, he gets Mozart job to teaching dogs to howl. Salieri goes as far as to prevent Mozart's operas from being performed for more than five shows.
Salieri presents Mozart is being as much an infantile boy as he is a musical genius, and even more as a drunk. Mozart struggles tremendously, even without Salieri's devious efforts—either from a lack of money or common sense—the guy overspends at every turn. Eventually, after his father dies, a masked man hires Mozart to compose a requiem for him.
That masked man is of course a disguised Salieri. The plan is to murder Mozart once the requiem is finished so he can take the credit for writing the piece—which he will of course dedicate to Wolfie's memory.
The tragic ending of a genius
The plot works—kind of—as Mozart does die from the strain of trying to compose the requiem. However, Salieri doesn't get the completed work because Mozart dies before he can finish it. Penniless and alone. Mozart winds up buried in an unmarked grave with the other paupers on a rainy afternoon. Salieri lives on for three more decades in mediocrity—the way God intended.
Additional Film Information
Rate the Film!
Orion Pictures released Amadeus to theaters on September 19, 1984. Milos Forman directs the film which stars F. Murray Abraham, Tom Hulce, and Elizabeth Berridge.