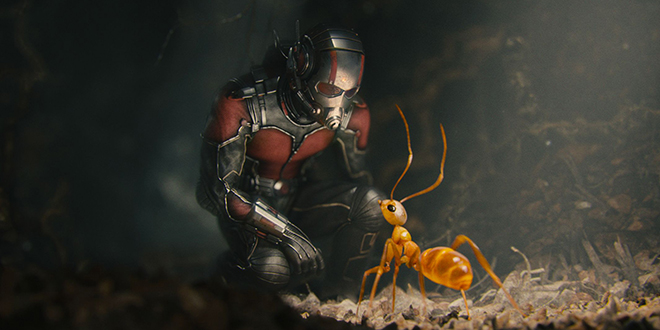 Just a few hours ago, the second theatrical trailer for Ant-Man was released by Marvel Studios and Walt Disney Pictures. The film is being directed by Peyton Reed and is based on a screenplay by Adam McKay and actor Paul Rudd.  
In the film, armed with the astonishing ability to shrink in scale but increase in strength, con-man Scott Lang must embrace his inner-hero and help his mentor, Dr. Hank Pym, protect the secret behind his spectacular Ant-Man suit from a new generation of towering threats. Against seemingly insurmountable obstacles, Pym and Lang must plan and pull off a heist that will save the world.
The film stars Paul Rudd, Evangeline Lilly, Michael Douglas, Corey Stoll, Judy Greer, Hayley Atwell, John Slattery, and Bobby Cannavale.
Ant-Man will debut in theaters on July 17, 2015.
Here is the new theatrical trailer for Ant-Man, courtesy of MOVIECLIPS Trailers.
Courtesy of MOVIECLIPS Trailers