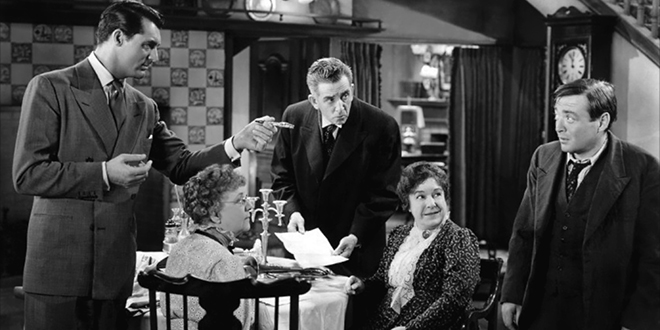 Podcast: Play in new window | Download
Subscribe: Apple Podcasts | Android | Google Play | Stitcher | RSS | More
Warner Bros released Arsenic and Old Lace to theaters on September 23, 1944. Frank Capra directed the film which starred Cary Grant, Priscilla Lane, and Raymond Massey.
Arsenic and Old Lace Movie Summary
This Halloween is full of tricks and treats for Mortimer Brewster (Cary Grant), a published bachelor. He marries the girl next door, betraying his own anti-marriage stance. He learns that his two sweet elderly aunts are the mercy killers of twelve lonely old men and their bodies are in the cellar. Mortimer also orchestrates the committal of his brother Teddy who believes that he is Theodore Roosevelt into an asylum. He also witnesses the voluntary committal of his beloved aunts. Martha and Abby.
He endures an attempt on his life from his long lost criminal brother, Jonny (Raymond Massey) and his sidekick, Dr. Einstein (Peter Lorre). Mortimer questions his marriage because of the insanity of his family. He is treated with the knowledge that he is actually the "son of a cook" and was adopted. With the rest of the family finally taken care of, Mortimer is ready to begin his honeymoon with his beautiful bride at Niagara Falls.
Disclaimer
This podcast is not endorsed by Warner Home Video, and is intended for entertainment and information purposes only. Arsenic and Old Lace, all names and sounds of Arsenic and Old Lace characters, and any other Arsenic and Old Lace related items are registered trademarks and/or copyrights of Warner Home Video or their respective trademark and/or copyright holders. All original content of this podcast is the intellectual property of Movie House Memories, the MHM Podcast Network, and Fuzzy Bunny Slippers Entertainment LLC. unless otherwise noted.
Affiliate links contained in this post will take you to Amazon.com and/or the iTunes Store. This means when you click a link, and purchase an item, the MHM Podcast Network will receive an affiliate commission. Advertisers and Affiliate Partnerships do not influence our content. See our Terms of Use about the inclusion of affiliate links on this site for more information.
---
---