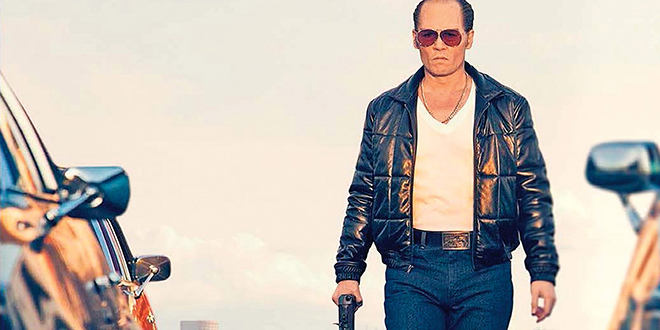 Warner Bros. Pictures has released the first trailer for their upcoming crime drama Black Mass. The film is directed by Scott Cooper and stars Johnny Depp, Dakota Johnson, Benedict Cumberbatch, Joel Edgerton, Kevin Bacon, Jesse Plemons, Juno Temple, Corey Stoll, Rory Cochrane, Peter Sarsgaard, and Adam Scott.
The film is based on the true story of Whitey Bulger (Depp), the brother of a state senator and the most infamous violent criminal in the history of South Boston. In 1970's South Boston, FBI Agent John Connolly (Edgerton) persuades Irish mobster Bulger (Johnny Depp) to collaborate with the FBI and eliminate a common enemy: the Italian mob. The drama tells the of this unholy alliance, which spiraled out of control, allowing Whitey to evade law enforcement, consolidate power, and become one of the most ruthless and powerful gangsters in Boston history.
"He could be charming. He could be ruthless. He was like a cobra—you never knew where he could strike," director Scott Cooper told EW of Bulger, who was imprisoned with two life sentences in November of 2013. "A lot of people on set knew Whitey intimately. They got chills at [Depp's] resemblance. Some of them couldn't even look at him. It's easy to be the mustache twirling villain but this performance
couldn't be further from that. He is truly gifted."
Black Mass will debut in theaters on September 18, 2015.
Here is the theatrical trailer for Black Mass, courtesy of MOVIECLIPS Trailers.
Courtesy of MOVIECLIPS Trailers