Trailers
BUFFALOED (2020) Official Trailer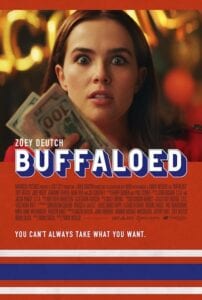 Magnolia Pictures released their official trailer for 2020's BUFFALOED. Tanya Wexler directs the film starring Zoey Deutch, Judy Greer, and Jai Courtney. John Finemore, Mason Novick, Zoey Deutch, Brian Sacca, Bannor, Michael MacGregor, and Jeffrey Katz produce the film based on Brian Sacca's screenplay.
The film opens on February 14, 2020.
'BUFFALOED' Synopsis
Peg Dahl has never run with the Buffalo pack. As a young girl obsessed with making enough cash to get out of her blue-collar existence, she's betting on her sharp mind—and even sharper mouth—to get her into an Ivy League university. But when an acceptance letter to the school of her dreams arrives, she quickly realizes the impossibility of paying tuition. One scalping scheme, stint in prison, and chance phone conversation with a debt collector later changes everything.
Director Tanya Wexler returns with a raucous comedy starring Judy Greer, Jai Courtney, Jermaine Fowler and Deutch (in a go-for-broke performance) that tracks one woman finding her calling in an ethically debatable industry. As much of an ode to the city of Buffalo, New York as it is to the millions of Americans struggling with a seemingly dead-end economic existence, Buffaloed wrings hearty laughs out of a particularly timely and honest reality.