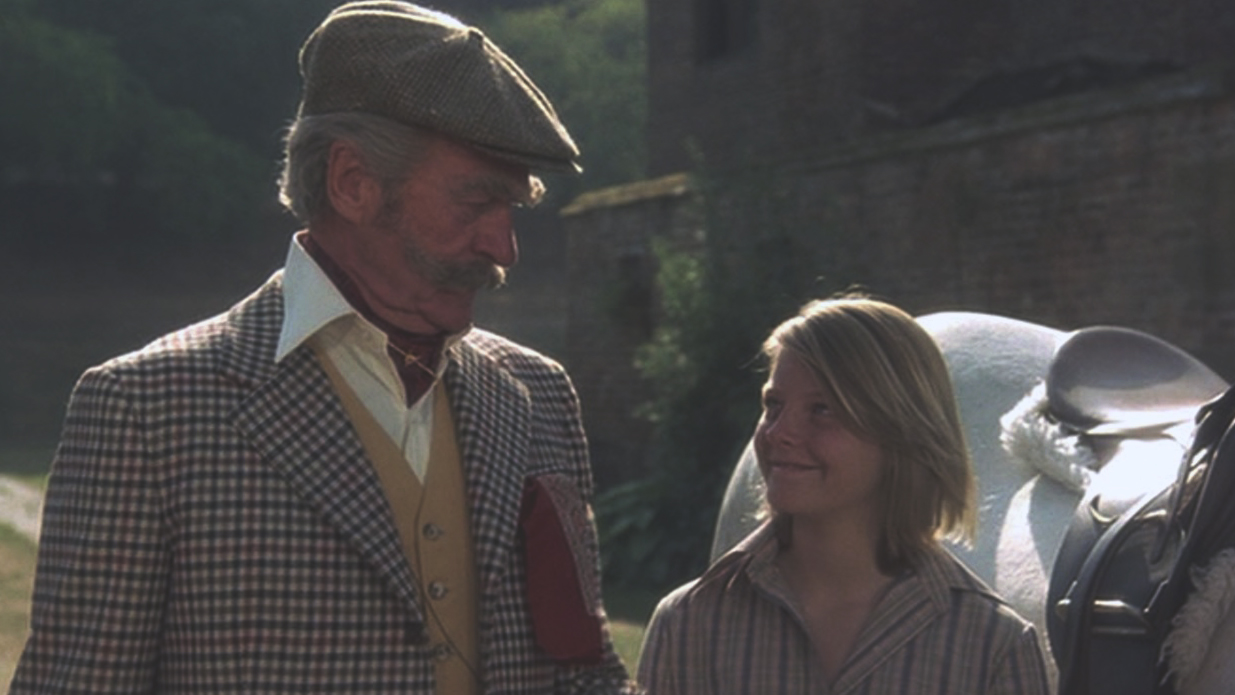 Film and Plot Synopsis
Welcome to Candleshoe, a stately English manor where a swashbuckling pirate hid a fortune in Spanish doubloons centuries ago. A young orphan named Casey and a sly con man are determined to find it. First, she must dupe Candleshoe's widowed owner into believing she's her long-lost granddaughter. Casey eventually discovers there may be an even greater treasure at Candleshoe — the love of a happy family.
Buy the Film
Candleshoe
5 new from $40.99
19 used from $8.31

as of May 26, 2022 10:36 pm
*As an Amazon Associate we earn from qualifying purchases.
'Candleshoe' Movie Summary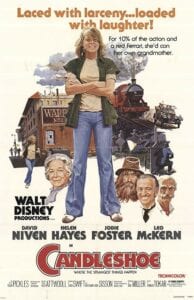 Candleshoe begins on the mean streets of Los Angeles, California. Casey Brown is a 14-year old juvenile delinquent who hangs out with some other punk kids around the same age. One night, she returns to her foster home, and finds that her foster parents sold her out to the cops.
The man takes her away to a swank hotel, where another man introduces himself as Harry Bundage. The first man delivered her to Bundage based on his description of two notable scars on her body. 

Bundage is a con man, and is going to use Casey to make himself rich. The scars on her shoulder match those of a little girl who was kidnapped in Los Angeles years ago. The girl was an English heiress named Lady Margaret in the United States with her runaway father.
Bundage wants Casey to pose as Lady Margaret so she will have unlimited access to Lady St. Edmund 's mansion named Candleshoe. Bundage thinks Lady St. Edmund's deceased husband hid treasure somewhere on the property because his equally sketchy cousin, Clara Grimsworthy used to be a housekeeper at Candleshoe. She discovered/stole his will that has the first clue of four that will lead to the treasure.

Casey agrees to help for 10% of the profit and a red Ferrari. Bundage accepts, and takes her to England to learn all about Lady Margaret from Grimsworthy.
Once they have trained her as much as they can, Bundage reaches out to Lady St. Edmund. Of course she's skeptical, but she agrees to meet Casey anyhow.

As Bundage and Casey arrive at Candleshoe, Priory the butler greets them. He promptly introduces them to Lady St. Edmund where over tea, Bundage relays his concocted story about discovering Casey. Casey is a better con that he is though, and she correctly responds to Priory's attempts to trick her into eating something Margaret didn't like or was allergic to.
What finally convinces Priory and Lady St. Edmund that Casey is Margaret is when Casey reveals she knows about a secret hiding place in the large fireplace. There, they find a hidden music box, and Casey knows it plays Greensleeves. Lady St. Edmund welcomes Margaret back home.

Now a member of Candleshoe, Casey meets four other children at the mansion who are also orphans like she is. Peter, Cluny, Bobby, and Anna all live there as family. Casey soon finds out that Priory is the only servant in the working at the mansion, and Lady St. Edmund doesn't have a clue about it.
Priory disguises himself so that Lady St. Edmund doesn't worry about no longer being financially stable enough to afford her servants. Priory has had to sell off all of the valuable art work in the mansion to keep everything afloat. Priory and the children do all the work to keep the place running. They also run tours of the place, and sell baked goods and homegrown produce in the market on Saturdays to earn extra money.

At first, Casey is very cold to the family, and focuses on finding the second clue in the library. She finds the next one written on a tombstone in a cemetery across the way.
Cluny is the only one who suspects Casey is not who she says she is, and she tries to get her to help with the chores. After Casey refuses to help, the two get in a fight over it. Although Casey wins the little fight, something in her seems to begin to change.

While Casey's tough LA exterior keeps her from getting emotionally involved and possibly hurt, she eventually warms up to everyone including Cluny; especially after Casey refused to rat her out after their fight.
Soon, Casey is seen helping with chores, and even helps Priory continue his ruse with Lady St. Edmund. She teaches the kids how to hustle to get the money they need for taxes on a Saturday of selling.
However, Bundage shows up that Saturday night during a thunderstorm while everyone is out at the market but Casey and Lady St. Edmund. After the two argue about her not helping find the treasure, Bundage steals all their money they need for taxes. If they are all evicted, it will be easier for him to find the treasure anyhow.
He leaves, and Casey chases after him, but he slams her into a tree as he pulls away in his car. Casey wakes in the hospital to find Lady St. Edmund watching over her. When the other kids later show up, Casey learns that with the money gone, Candleshoe is being put up for sale. Everyone will have to return to their respective orphanages.
Casey is a tough girl, but her experience at Candleshoe has changed her for the better. She finally tells everyone the truth which leads to everyone teaming up to find the treasure to save Candleshoe.
When Lady St. Edmund hears the last known clue, she knows it's related to a painting at her home of Captain Joshua aboard his ship. Unfortunately, Priory, sold the painting to the local antiques dealer. That dealer has now sold it to a foreigner, and it's headed out on the next train. The team hops into the car, and heads over to the station, but the train is on the way out as they arrive.
Lady St. Edmund tells Priory to put the pedal to the metal, and the thing to the floor, and catch that train; which they do. The painting reveals that the treasure is located in the Grand Hall of Candleshoe under foot.

When they return to the mansion, Bundage is there with some hired thugs, and they are tearing the hall apart. There is a crazy chase montage between them all that's straight out of Scooby Doo until a duel there between Bundage and Priory leads to the second floor that is cantilevered partially collapsing on the villains; trapping them there.
Sitting atop that floor is a bronze statue of Captain Joshua with his foot perched on a treasure chest. It breaks open revealing the lost treasure. The police finally arrive as the gold pieces pour out over our trapped villains.
With Candleshoe safe, life returns to normal. Casey packs her things and goes to the train station. As she waits for the next train in shame, Lady St. Edmund walks up to her as Priory waits in the background. Casey is leaving because she feels guilty for trying to swindle Lady St. Edmund. Only now does she fully realize that she cares for Lady St. Edmund.
Lady St. Edmund doesn't care why Casey originally came to Candleshoe, she only cares about whether Casey really wants to leave. When Casey breaks down in tears (the first time she's cried in her life), Lady St. Edmund stands, and tells Casey they are all going home together.
Casey asks, "What if your real granddaughter shows up," and Lady St. Edmund replies, "Perhaps she already has," to close out the film.
Rate the Film!
Buena Vista Distribution released Candleshoe on December 16, 1977. Norman Tokar directed the film starring Jodie Foster, David Niven, and Helen Hayes.