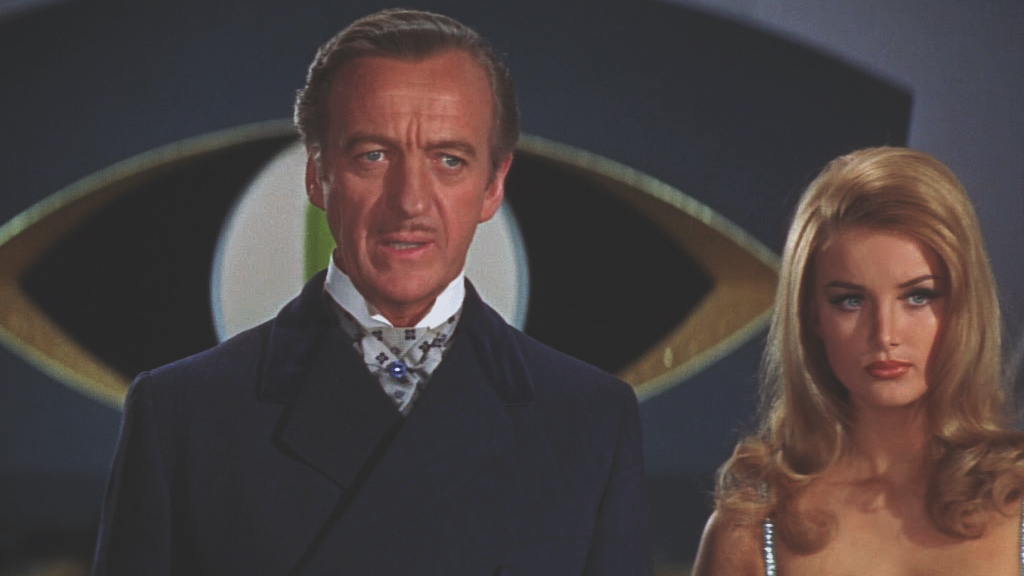 Film and Plot Synopsis
After M dies in a blast, MI6 calls Sir James Bond out of retirement to stop SMERSH. In order to trick SMERSH and a man called Le Chiffre, Bond comes up a brilliant plan—name every agent James Bond. While one of the Bonds, real name Evelyn Tremble, sets out to take on Le Chiffre in a game of baccarat, the Bonds have more than their hands full in this sloppy Bond spoof.
Buy the Film
Casino Royale (1967) [Blu-ray]
2 new from $44.00
9 used from $36.31
Free shipping
as of December 3, 2022 6:18 pm
*As an Amazon Associate we earn from qualifying purchases.
'Casino Royale' Movie Summary
The summary below contains spoilers.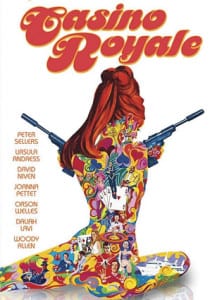 Sir James Bond has long since retired and is approached by the heads of spy agencies for several countries, including M, the chief of MI6. It seems secret agents from all the major powers have been dying due to their inability to refuse sex.
The now-celibate Bond refuses to assist and laments how his namesake was given to an incorrigible horn dog with a string of dead girlfriends. When Bond refuses, M orders a mortar strike on Bond's house, and M is killed in the blast, along with Bond's lion collection and vast robe collection.
Bond travels to Scotland to pay his respects to M's widow, who was replaced with a horny agent from spy agency, SMERSH. SMERSH replaced all of M's family with attractive women who plan to destroy Bond's image by begging for the D. And when cold water and old fashioned British resolve prove sufficient to keep Bond's zipper in the upright position, they try to kill him, and Bond escapes.
Bond is promoted to the head of MI6. He fights back against SMERSH by changing all of the spy's names to 007 and by making them all gay. He recruits a former to spy to recruit Evelyn Tremble to pose as a spy and win at baccarat against SMERSH agent, Le Chiffre. Le Chiffre stole money from some bad men, and desperately needs the winnings to pay them back before they get wise to him. When they steal Le Chiffre's cheating glasses, Tremble wins the game, and SMERSH repays Le Chiffre the only way they know how.
Meanwhile, Bond's daughter is kidnapped by SMERSH, and Bond and Moneypenny travel to Casino Royale to rescue her. Turns out Bond's sexually frustrated nephew, Jimmy Bond, played by a Woody Allen impersonator, is behind the whole plot. He plans to wage biological warfare to make women sexier and men shorter, leaving him all the ladies he desires.
Jimmy is tricked into swallowing a pill that turns him into a nuclear bomb. When an international brawl among spy agencies breaks out, Jimmy explodes, destroying Casino Royale and everyone in it. That sounds about right.
Additional Film Information
Rate the Film!
Columbia Pictures Corporation released Casino Royale to theaters on April 28, 1967. Ken Hughes directed the film starring David Niven, Peter Sellers, and Ursula Andress.