Film and Plot Synopsis
James Bond is a newly promoted 00 on his first mission out to find a terrorist known as Le Chiffre. MI6's head, known as M, sends him to Montenegro (along with Vesper Lynd) to participate in a poker game, and prevent Le Chiffre from winning. Bond then races against the clock with the help of Felix Leiter and Rene Mathis to save the world from danger.
Buy the Film
Casino Royale 4k Ultra Hd [4K UHD]
9 new from $13.00
6 used from $12.15
Free shipping
as of September 26, 2023 5:03 am
*As an Amazon Associate we earn from qualifying purchases.
'Casino Royale' Movie Summary
The summary below contains spoilers.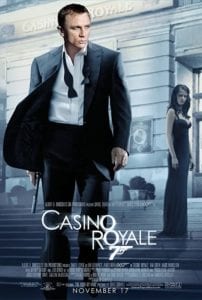 Casino Royale
begins with a young James Bond in Prague discussing his first kill with a traitorous MI6 station chief, just before Bond kills the station chief as well.
Next, in Madagascar, Bond chases a bomb-wielding suspect into an embassy and shoots him on camera. M orders Bond to disappear for a while, and Bond uses his time off to pursue some bad guys. He chases Alex Dimitrios to the Bahamas and follows him to Miami. Bond discovers that Dimitrios is connected to Le Chiffre.
Le Chiffre has invested the money of warlords by shorting the stock of an airline. Le Chiffre hired Dimitrios to blow up the airline's prototype and tank the stock. Bond, however, thwarts the attempt to destroy the prototype. This puts Le Chiffre in a tight spot, since he lost the money of the warlords.
Le Chiffre intends to win the money back by playing in a high stakes poker tournament at Casino Royale in Montenegro. M sends Bond in to win the tournament and bring Le Chiffre in. The British government send in Vesper Lynd, an accountant, to watch Bond with a strict no banging policy. Bond enters the tournament and goes bust.
After Vesper refuses to front Bond, Felix Leiter gives Bond the money to play on. With Bond on his heels, Le Chiffre's woman poisons Bond and nearly kills him.
Bond recovers and wins the tournament. Not one to give up, Le Chiffre kidnaps Vesper. When Bond pursues, he wrecks his Aston Martin and is abducted by Le Chiffre. Le Chiffre tickles Bond's balls a little, but a mysterious man breaks in and murders Le Chiffre over the poorly invested money.
Bond and Vesper go free and destroy the no banging policy. They decide to run away together to Florence. But when Vesper goes off on a mysterious meeting, M informs Bond that the money from the poker tournament is missing. Bond pursues Vesper to find her handing the cash off to the goons. Bond attacks, and ends up sinking the building, trapping Vesper in an elevator shaft, where she drowns.
Additional Film Information
Rate the Film!
Sony Pictures Releasing released Casino Royale on November 11, 2006. Martin Campbell directed the film starring Daniel Craig, Eva Green, and Judi Dench.