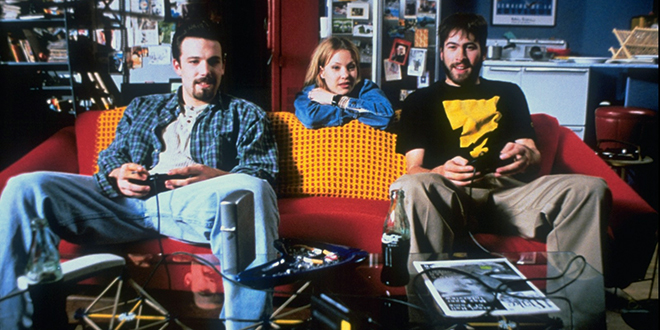 Podcast: Play in new window | Download
Subscribe: Apple Podcasts | Android | Google Play | Stitcher | RSS | More
Miramax released Chasing Amy to theaters on April 18, 1997. Kevin Smith directed film which starred Ben Affleck, Joey Lauren Adams, and Jason Lee.
Chasing Amy Movie Summary
Comic book artists and BFFs, Holden McNeil and Banky Edwards promote their book, Bluntman and Chronic, at a comic book convention in NYC. There, they meet Alyssa Jones; another comic book artist.
Holden has the hots for Alyssa, but she's lesbian, and Holden is immeditely friend-zoned. Holden eventually tells Alyssa that he's in love with her. Although this angers Alyssa, she eventually calms down, and the two start dating.
Their relationship makes Banky jealous, and he does his best to sabotage the two by digging up dirt on Alyssa. He learns that Alyssa had a threesome in high school with two guys. This news irks Holden it breaks his fantasy that he is the only man she's slept with.
After Holden and Alyssa get in a big argument, Holden has lunch with Jay and Silent Bob. Silent Bob inspires Holden to not give up. He invites Alyssa and Banky to his place where he tells Alyssa that he still wants to be her boyfriend, and tells Banky that he knows he's in love with him. Holden says the only way to set things straight is for them all to have a threesome of their own. Both Banky and Alyssa end their relationship with Holden.
A year passes, and Banky, Holden, and Alyssa each promote their own books at the comic book convention in NYC. The two share a moment before Holden goes to say hi to Alyssa. After a brief conversation, Holden gives her a copy of his new book based on their failed relationship titled Chasing Amy.
Disclaimer
This podcast is not endorsed by The Criterion Collection, and is intended for entertainment and information purposes only. Chasing Amy, all names and sounds of Chasing Amy characters, and any other Chasing Amy related items are registered trademarks and/or copyrights of The Criterion Collection or their respective trademark and/or copyright holders. All original content of this podcast is the intellectual property of MHM Podcast Network, Movie House Memories and Fuzzy Bunny Slippers Entertainment LLC. unless otherwise noted.
Affiliate links contained in this post will take you to Amazon.com and/or the iTunes Store. This means when you click a link, and purchase an item, the MHM Podcast Network will receive an affiliate commission. Advertisers and Affiliate Partnerships do not influence our content. See our Terms of Use about the inclusion of affiliate links on this site for more information.