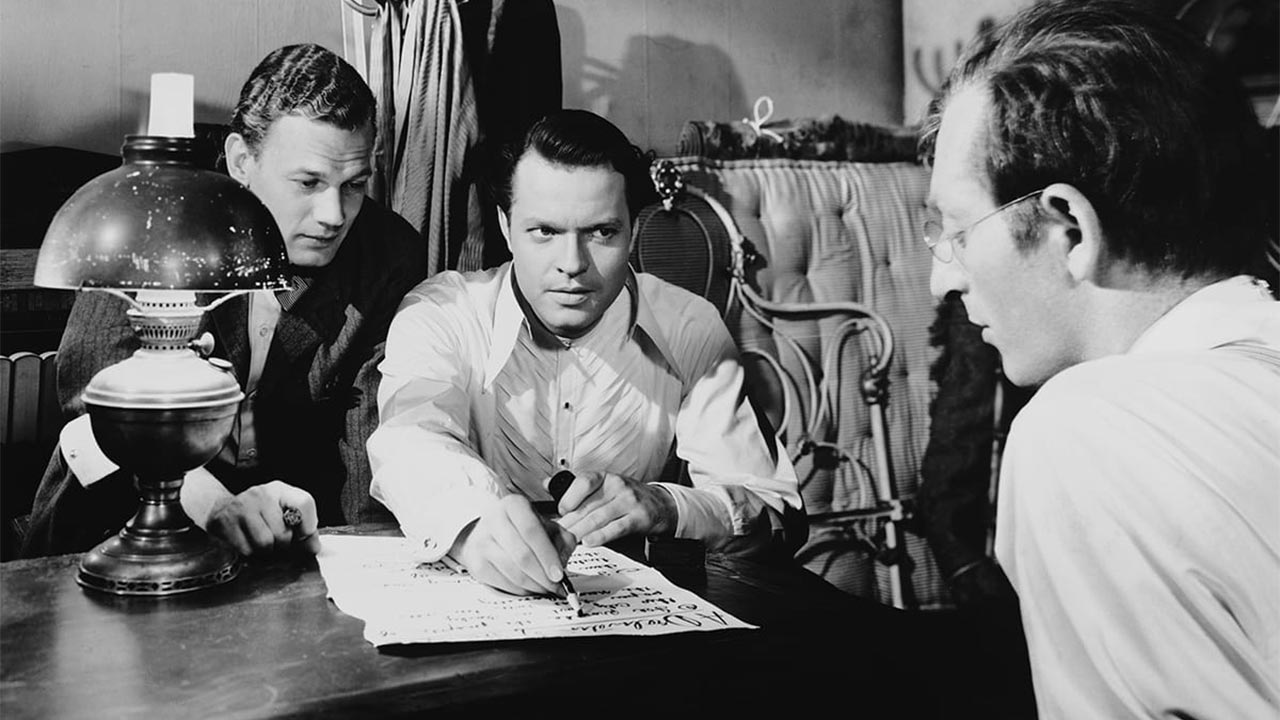 MHM Mart
Citizen Kane (1941) Gets a 4K Criterion Release
Citizen Kane (The Criterion Collection) [4K UHD + Blu-ray]
2 new from $65.98
5 used from $49.97
Free shipping
as of August 10, 2022 8:13 pm
The Criterion Collection releases Citizen Kane to 4K Blu-ray on November 23, 2021. Orson Welles directed the film starring Orson Welles, Joseph Cotten, and Dorothy Comingore.
'Citizen Kane' Criterion Synopsis
In the most dazzling debut feature in cinema history, twenty-five-year-old writer-producer-director-star Orson Welles synthesized the possibilities of sound-era filmmaking into what could be called the first truly modern movie. In telling the story of the meteoric rise and precipitous fall of a William Randolph Hearst–like newspaper magnate named Charles Foster Kane, Welles not only created the definitive portrait of American megalomania, he also unleashed a torrent of stylistic innovations—from the jigsaw-puzzle narrative structure to the stunning deep-focus camera work of Gregg Toland—that have ensured that Citizen Kane remains fresh and galvanizing for every new generation of moviegoers to encounter it.
Read the full summary, and listen to our Movie House Memories film review.
SPECIAL FEATURES
New 4K digital restoration, with uncompressed monaural soundtrack
In the 4K UHD edition: One 4K UHD disc of the film presented in Dolby Vision HDR and three Blu-rays with the film and special features
Three audio commentaries: from 2021 featuring Orson Welles scholars James Naremore and Jonathan Rosenbaum; from 2002 featuring filmmaker Peter Bogdanovich; and from 2002 featuring film critic Roger Ebert
The Complete "Citizen Kane," (1991), a rarely seen feature-length BBC documentary
New interviews with critic Farran Smith Nehme and film scholar Racquel J. Gates
New video essay by Orson Welles scholar Robert Carringer
New program on the film's special effects by film scholars and effects experts Craig Barron and Ben Burtt
Interviews from 1990 with editor Robert Wise; actor Ruth Warrick; optical-effects designer Linwood Dunn; Bogdanovich; filmmakers Martin Scorsese, Henry Jaglom, Martin Ritt, and Frank Marshall; and cinematographers Allen Daviau, Gary Graver, and Vilmos Zsigmond
New documentary featuring archival interviews with Welles
Interviews with actor Joseph Cotten from 1966 and 1975
The Hearts of Age, a brief silent film made by Welles as a student in 1934
Television programs from 1979 and 1988 featuring appearances by Welles and Mercury Theatre producer John Houseman
Program featuring a 1996 interview with actor William Alland on his collaborations with Welles
Selection of The Mercury Theatre on the Air radio plays featuring many of the actors from Citizen Kane
Trailer
English subtitles for the deaf and hard of hearing
PLUS: Deluxe packaging, including a book with an essay by film critic Bilge Ebiri
New Cover by Mike McQuade
Disclaimer: Please note that this post contains affiliate links. This means when you click a link and purchase an item, Movie House Memories may receive an affiliate commission at no additional cost to you. This bit of compensation helps keep content on our site free of charge to its readers. Advertisers and Affiliate Partnerships do not influence our content. See our
Terms of Use
about the inclusion of affiliate links on this site for more information.
Rate the Film!
RKO Radio Pictures released Citizen Kane on September 5, 1941. Orson Welles directed the film starring Orson Welles, Joseph Cotten, and Dorothy Comingore.