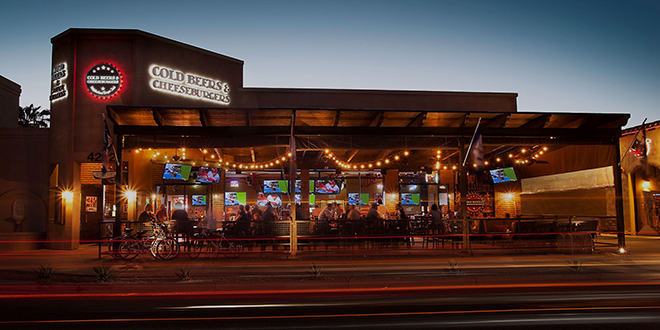 "You know what's good about this place? Nothing." I was thinking to myself as I was walking out of those overpriced double doors.
The pros:
If every other bar was closed and I couldn't buy liquor from the store, I might consider coming back here.
The cons:
First of all…I mean…come on…the ridiculously bright lights. Where's the subtlety?
A possible homophobic bartender/bar back. He snickered when Jurgs and I ordered an app and said we were sharing it. Then condescendingly said, "oh you're splitting it?" Well the joke's on him because, gay or straight, I suffer from crippling loneliness.
Now the big one: $8 for a well gin. Eight dollars….that's shitty gin and ice. That's 2.66 units of Four Peaks gin to 1 unit of Cold Beers gin. What a joke.
So I've resorted to drinking parking lot gin with the carpenters that are doing the floor while Four Peaks is closed. Made good friends with some of them. Ok. See you soon.
Guest Review by Anthony Tellez.
What do you think of Cold Beers and Cheeseburgers? Let us know in the comments below.
Cold Beers and Cheeseburgers Website
Disclaimer: Opinions expressed are solely Anthony Tellez's and do not express the views or opinions of the MHM Podcast Network and Fuzzy Bunny Slippers Entertainment LLC.