Film and Plot Synopsis
Prince Akeem Joffer is the crown prince of Zamunda who leads an extremely pampered lifestyle where everything is done for him, including the selection of his bride. After turning 21, Akeem asks his family to allow him to travel the world so that he can secretly find a woman that he loves to marry. Akeem and his servant Semmi travel to Queens, New York and pretend to be poor international students so that Akeem can find a woman that loves him for him, and not for his title or fortune.
Buy the Film
Coming to America (4K UHD + Digital Steelbook)
4 new from $48.95
1 used from $16.99

as of September 23, 2023 6:04 am
*As an Amazon Associate we earn from qualifying purchases.
'Coming to America' Movie Summary
The summary below contains spoilers.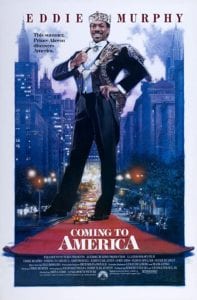 Prince Akeem Joffer (
Eddie Murphy
) is the prince of the fictitious land of Zamunda and the heir to the throne. Akeem is pampered and taken care of by many servants, but when he turns 21 years old, he announces to his family and friends that he wishes to do more things for himself. The prime example of his lack of independence is his arranged marriage to Imani Izzi (
Vanessa Bell
). Imani has been raised to serve the future king and displays no independent thought or desires. Akeem approaches his father and mother, King Jaffe Joffer (
James Earl Jones
) and Queen Aoleon Joffer (
Madge Sinclair
), and tells them that he wishes to explore the world before settling down.
His father approves of his son's desire to "sow his royal oats" and allows him to travel to the United States with Akeem's loyal man servant Semmi (Arsenio Hall). Akeem's true purpose is to live like a common person and find a woman to marry that stimulates his intellect as well as his loins. Akeem's plan is to hide his true heritage and wealth so that his status does not influence his future wife's decisions.
Akeem and Semmi travel to Queens, New York with the belief that will be the perfect place to find a future Queen. They rent a run down apartment from a slumlord (Frankie Faison) and take up menial jobs at a McDonald's knockoff restaurant named McDowell's. McDowell's is owned and operated by widower Cleo McDowell (John Amos) who hires both Akeem and Semmi to clean and mop the restaurant. Akeem becomes attracted to Cleo's eldest daughter Lisa (Shari Headley), who runs the finances of the restaurant.
Akeem is impressed by her intelligence and generous spirit and decides that she is to be his future queen. Unfortunately, Lisa has an obnoxious boyfriend named Darryl Jenks (Eric La Salle), who is heir to his father's Jheri curl-like hairstyling aid business named Soul Glo. Nevertheless, Akeem persists in his attempts to learn more about Lisa while trying to attract her attention. Akeem is inadvertently successful in drawing the attention of Lisa's younger sister Patrice (Allison Dean) who consistently attempts to have sex with Akeem.
A short time later, Cleo hosts a party for his friends and has Akeem and Semmi work the party as servants. At the party, Darryl announces his engagement to Lisa although she has never agreed to marry him. Lisa storms out of the party in anger and Akeem follows her. They have a conversation together and Lisa tells Akeem that she wants to be in control of her own life, much as Akeem does. Akeem lies to her in this conversation and tells her that he is from a family of poor goat herders. Lisa begins to show some interest in Akeem due to his generous spirit and positive attitude.
Back in their cheap apartment, Semmi and Akeem argue about their living conditions. Semmi grows tired of living in squalor, and Akeem tells him to fix up the apartment. Semmi furnishes the apartment with expensive electronics and furniture, which interferes with Akeem's plan to make Lisa a simple dinner at the apartment. Akeem is forced to alter his plans and takes Lisa out to dinner after he relieves Semmi of all his petty cash. Akeem gives this petty cash to two homeless men in the park who happen to be Mortimer and Randolph Duke (Don Ameche and Ralph Bellamy) from Trading Places. The date with Lisa goes well and the couple begin a relationship.
Semmi is forced to send a telegram to Akeem's parents in Zamunda requesting more money after his petty cash is taken. The telegram alarms the King and Queen and they fly to New York to help their son. Their arrival in New York reveals Akeem's true identity to Cleo, who now wishes for his daughter to marry Akeem because of his money.
Akeem desperately tries to hide his identity from Lisa, but ultimately, he fails. Lisa feels betrayed by Akeem's enormous deception and ends their relationship. Akeem pleads with Lisa that he only wanted her to love him for who he is and not his family or title. He even offers to renounce the throne so that they can be together. Lisa is still devastated and refuses Akeem's marriage proposal.
Akeem returns to his family and resigns himself to his arranged marriage to Imani. The Queen recognizes the disappointment in her son's eyes and reprimands her husband for clinging to outdated traditions instead of being concerned about his son's happiness. The film ends with a wedding ceremony in Zamunda. The heartbroken Akeem waits for his bride next to the throne. When he lifts the bride's veil, Akeem is surprised to see Lisa's smiling face looking back at him. Akeem looks to his father who smiles back with Cleo standing by his side.
After the wedding ceremony, Akeem and Lisa ride in a carriage together to the cheers of thousands of Zamundans. Lisa is overwhelmed by the splendor and adoration. She asks Akeem if he would have truly given up his title to marry her. When Akeem tells her that he would still give up the throne, Lisa playfully declines wishing to live happily ever after with her prince.
Additional Film Information
Rate the Film!
Paramount Pictures released Coming to America on June 29, 1988. John Landis directed the film starring Eddie Murphy, Paul Bates, and Garcelle Beauvais.