Film and Plot Synopsis
When a playwright with writer's block receives play one of his students wrote, he thinks it's so good that he'd kill for it. He then devises an elaborate scheme to lure the would-be playwright to his home, kill him, and market script as his own. However, once the student arrives, things are not what they seem.
Buy the Film
Deathtrap [Blu-ray]
9 new from $18.61
5 used from $13.93
Free shipping
as of May 29, 2023 11:54 am
*As an Amazon Associate we earn from qualifying purchases.
'Deathtrap' Movie Summary
The summary below contains spoilers.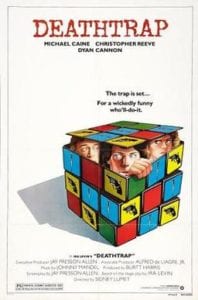 After Sidney Bruhl's latest play flops on Broadway, he returns home to Long Island with his wife, Myra. Sidney's in the midst of a series of flops, and is desperate for another hit. One of his students, Clifford Anderson, lets Sidney read his play called Deathtrap so he can have some feedback on it.
Sidney loves the play, and considers it to be near-perfect. So much so, he dreams up a plan to kill Clifford in order to produce the play as his own. When Sidney invites Clifford to his home covered with weapons, Myra realizes that Sidney might just be serious about his plan.
When Clifford arrives, Myra tries to convince Sidney not to go through with the murder, but she fails. Sidney strangles Clifford to death with a chain. The perfect crime, right?
A psychic named Helga, who's visiting neighbors, suddenly shows up, and senses death in the house. She then leaves with an ominous warning to Sidney that a man in boots will attack him.
Later that night, Myra hears a noise downstairs, and fears they have an intruder. Sidney proves to her there's nobody in the house, and they return to bed. Suddenly, Clifford breaks into the room, and attacks Sidney with a log. He then chases Myra through the house until her heart gives out, and she dies. Sidney reappears uninjured, and greets Clifford with a tender kiss over Myra's dead body.
Clifford moves in with Sidney as his partner in life and in playwriting. Unfortunately for Sidney, he has writer's block, but Clifford has no such issues. He writes away on a new play which he keeps under lock and key in a desk drawer.
One day, Sidney swaps Clifford's draft with a fake one, and reads it. He learns that Myra's death is the basis for Clifford's new play he calls Deathtrap. When Sidney angrily confronts Clifford about the manuscript, Clifford says he will write it with or without Sidney's approval.
Without any better ideas, Sidney agrees to collaborate with Clifford until he can come up with something. Helga mysteriously pops up again, and when she meets Clifford, she warns Sidney that he's the man in boots from her vision.
Later, Sidney asks Clifford to grab an ax for a demonstration. When he does, Sidney pulls a gun on him with the plan to shoot Clifford in "self defense", and then dispose of the manuscript.
Clifford is two steps ahead, and emptied Sidney's gun earlier in the day, so the plan backfires. This only gives Clifford more material for his play, and he ties up Sidney so he can prepare to leave.
Unfortunately for Clifford, the handcuffs he uses on Sidney are trick handcuffs, and Sidney quickly frees himself. He grabs a crossbow, and shoots Clifford with it. Clifford passes out from the wound.
A thunderstorm hits, and knocks out the electricity in the home. Through the flashes of lightening, you can see someone scurry in the room. It's Helga, who's returned to help Sidney because she thinks he's in danger.
When she realizes Sidney is, in fact, the danger, she grabs a gun to defend herself. Sidney grabs a knife to take her out. Clifford regains consciousness in time to trip Helga. Her gun flies out of her hand, and there's a struggle for it. Clifford picks up the ax, and takes a swing at Sidney.
The movie suddenly transforms into a stage version of the film with actors playing the parts of Sidney and Clifford. Clifford stabs Sidney, and both men die; leaving Helga as the lone survivor.
The audience stands up, and applauds to the debut of a play called Deathtrap. The play's author, Helga Ten Dorp, proudly stands to take in their ovation.
Additional Film Information
Rate the Film!
Warner Bros. released Deathtrap on March 19, 1982. Sidney Lumet directed the film starring Michael Caine, Christopher Reeve, and Dyan Cannon.