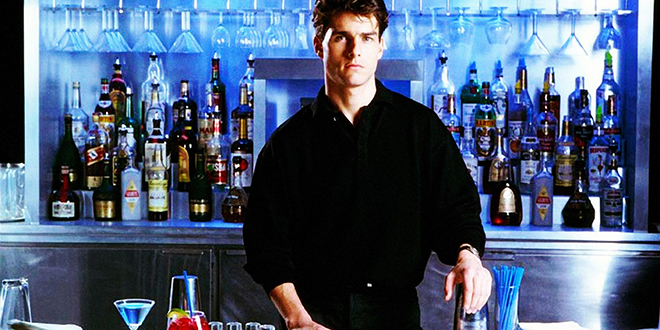 MHM Mart
Disney To Release Cocktail (1988) & The Color Of Money (1986) On Blu-ray
Earlier this week, Walt Disney Studios revealed its plans to release two of Tom Cruise's hit films from the 1980's.  Disney announced that they will release Cocktail and The Color of Money from their Touchstone Pictures catalog on June 5th.
Cocktail is the story of Brian Flanagan, an ambitious bartender looking to get rich and start his own bar.  Brian quickly learns that success comes at a price higher than his bartending skills can provides, and he finds himself compromising his own morals.  Torn between two extremes – the honest, sweet woman he loves (Elizabeth Shue) and the negative influence of his amoral mentor (Bryan Brown), Brian must decide what kind of man he truly wants to be.  Cocktail was released in July of 1988, and grossed over $78 million at the box office.
The Color of Money was director Martin Scorsese's follow-up to The Hustler.  The film saw the return of Paul Newman as "Fast" Eddie Felson, a former pool hall pro-turned-cynical liquor salesman.  Always on the lookout for a new con, Felson begins schooling brilliant-yet-naïve pool player Vincent Lauria (Cruise) in the art of the hustle, hoping to mold the younger man into a ruthless pool shark.  In the process of corrupting Vincent, however, Felson begins to rediscover his long-dormant enthusiasm for the game, a complication that puts his and Vincent's personal and professional relationships at risk.  The Color of Money was released in October of 1986, and grossed over $52 million at the box office.
$9.99
in stock
13 new from $6.00
7 used from $9.91
as of February 6, 2022 9:38 am
$14.99
in stock
9 new from $10.45
5 used from $10.46
as of February 6, 2022 9:38 am
Last updated on February 6, 2022 9:38 am
Also available on iTunes: Cocktail and Color of Money
Disclaimer: Affiliate links are contained in this post. This means when you click a link, and purchase an item, the MHM Podcast Network will receive an affiliate commission. Advertisers and Affiliate Partnerships do not influence our content. See our
Terms of Use
about the inclusion of affiliate links on this site for more information.