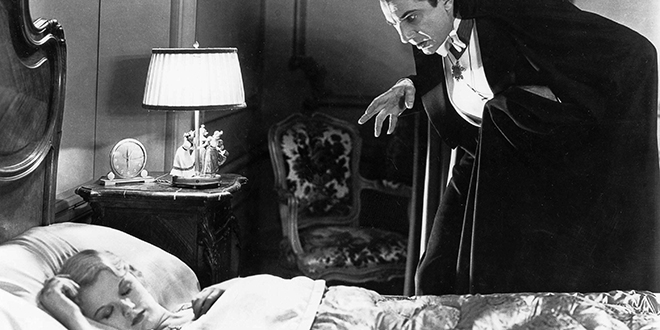 MHM Mart
Dracula (1931) Turns From Bat Into Blu-ray Release
Dracula (1931) [Blu-ray]
10 new from $13.98
8 used from $6.46
Free shipping
as of March 9, 2022 3:17 am
Universal Pictures Home Entertainment has announced that addition of the classic horror film Dracula to their upcoming slate of Blu-ray releases. The film was directed by Tod Browning and starred Bela Lugosi, Helen Chandler, David Manners, Dwight Frye, and Edward Van Sloan. Dracula will be available for purchase online and in stores beginning on September 17th.
The original Dracula was released in 1931 and launched the Hollywood horror genre and defined the iconic look and frightening character of the famed vampire. Towering ominously among the shadows of the Carpathian Mountains, Castle Dracula strikes fear in the hearts of the Transylvanian villagers below. After a naive real estate agent succumbs to the will of Count Dracula, the two head to London where the vampire hopes to stroll among respectable society by day and search for potential victims by night. The inspiration for hundreds of subsequent remakes and adaptations is the signature adaptation of Bram Stoker's story with its eerie passion, shadowy atmosphere and thrilling cinematography.
The Blu-ray edition of Dracula features a DTS-HD Master Audio 2.0 Mono track and the following extras:
Drácula (1931) – Spanish Version: Introduction by Lupita Tovar Kohner
Feature Commentary with Film Historian David J. Skal
Feature Commentary with Steve Haberman, Screenwriter of Dracula: Dead and Loving It
Alternate Score by Philip Glass – Performed by the Kronos Quartet
The Road to Dracula
Lugosi: The Dark Prince
Dracula: The Restoration
Monster Tracks
Dracula Archives
Trailer Gallery
Disclaimer: Affiliate links are contained in this post. This means when you click a link, and purchase an item, Movie House Memories will receive an affiliate commission. Advertisers and Affiliate Partnerships do not influence our content. See our
Terms of Use
about the inclusion of affiliate links on this site for more information.