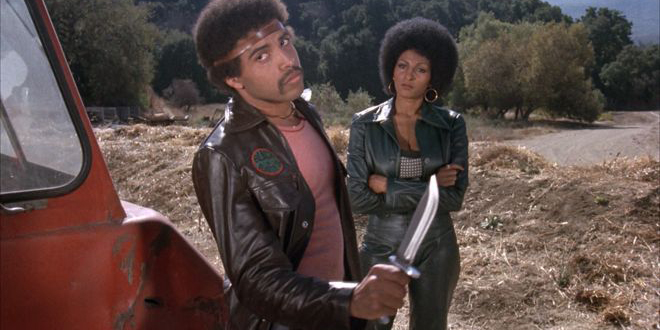 Olive Films has announced that they are releasing Foxy Brown (1974) onto Blu-ray. The film is written and directed by Jack Hill and stars Pam Grier, Antonio Fargas, Peter Brown, and Terry Carter. Foxy Brown will be available online and in stores on June 9, 2015.
She's brown sugar and spice…and if you don't watch it, she'll put you on ice! Delivering a performance worthy of "the Queen of the genre" (Los Angeles Times), Grier portrays one of the screen's first action heroines with humor, sensitivity and steely determination. This electrifying revenge thriller explodes with all the sex appeal and cooler-than-cool attitude of its irresistible leading lady. Foxy Brown (Grier) has found her soul mate in an undercover narcotics investigator, but when he is brutally murdered, she swears vengeance against the crime ring responsible. Posing as a call girl to gain access to the ring's inner circle, Foxy discovers just how high the corruption extends, igniting a blistering war that takes her from the city streets to a remote drug laboratory to a breathtaking mid-air battle behind the controls of an airplane! But the most startling confrontations are yet to come, as she schemes to bring down her boyfriend's killers in ways they never could have imagined.
Foxy Brown was released in the United States on April 5, 1974 and grossed over $2 million at the box office.
Olive Films has not released any information concerning special features and technical specifications:
Here is the theatrical trailer for Foxy Brown, courtesy of MOVIECLIPS Classic Trailers.
Source: Blu-ray.com
---
---