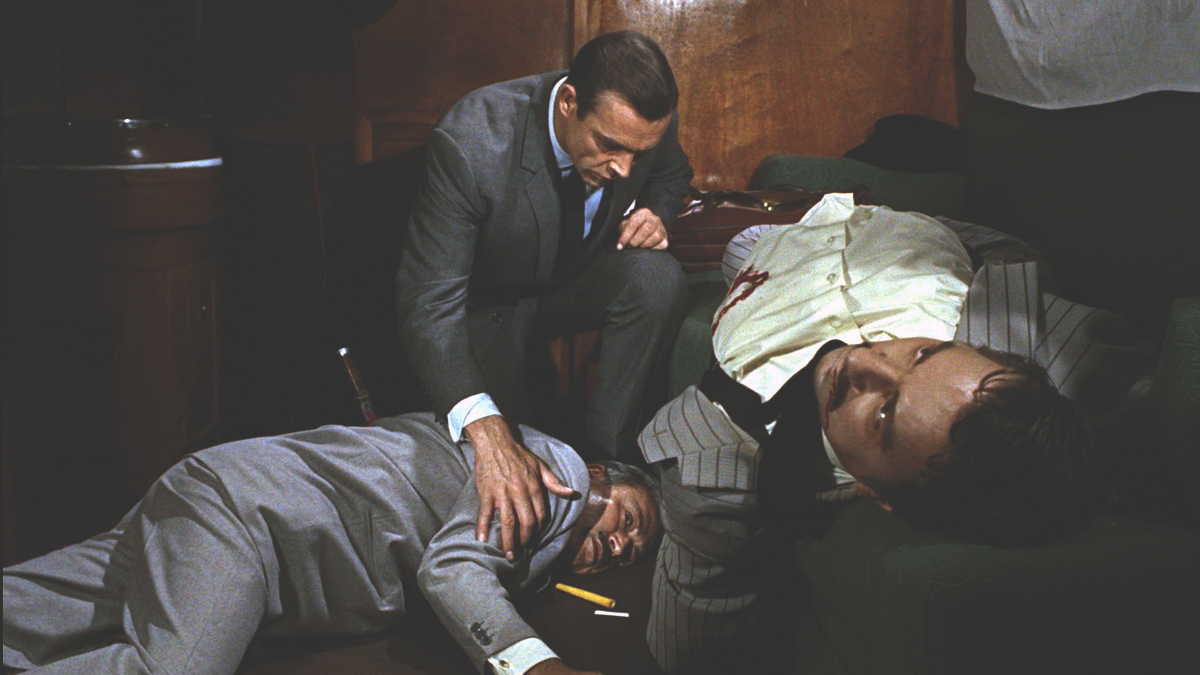 Film and Plot Synopsis
In From Russia with Love, the crime organization S.P.E.C.T.R.E. plans to steal a decoder that can access Russian state secrets to irrevocably unbalance the world order. It is up to James Bond to seize the device first, but along the way, he must confront the likes of Red Grant and a former K.G.B. Agent with poison-tipped shoes. Bond even makes the ultimate sacrifice romancing a beautiful Soviet defector, but quickly finds its a deadly trap. 007 will need to muster all of his courage, ability, and gadgetry to triumph over these sinister forces that seek to destroy him… and the world.
Buy the Film
From Russia with Love [Blu-ray]
5 new from $16.98
19 used from $2.72

as of December 3, 2022 7:25 am
*As an Amazon Associate we earn from qualifying purchases.
'From Russia with Love' Movie Summary
The summary below contains spoilers.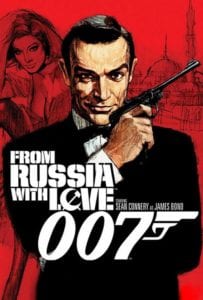 Spectre is at it again with another evil plot. This time, they're going to steal a gadget from the Soviets and sell it back to them. Former Soviet, Rosa Klebb, is in charge. She recruits a Russian stud, Red Grant, and Russia hottie, Tatiana Romanova, to lure Bond in and kill him.
Bond finds himself in Istanbul with MI6 man, Kerim Bey. Bond's shenanigans lead to Kerim Bey's office getting bombed by the Russians. So they do some spying and head out to party with the gypsies. The Russians attack the gypsies, and a ferocious firefight breaks out. Kerim Key is wounded, and Bond barely escapes with his life and his hair. When he returns Romanova is waiting for him in his hotel room. Spectre secretly records their sexy encounter.
Bond sneaks into the Russian consulate to steal the gadget that Spectre wants, not knowing that Romanova is playing him for a chump. They steal the device and escape on a train. Red Grant is on the train, pretending to be a chummy MI6 agent, and he gets the drop on Bond. But Bond manages to stab and strangle Grant. He and Romanova end up fleeing on a powerboat.
The bigwigs at Spectre are unhappy with the mission. Klebb is given one last chance to do Bond. She uses that chance to disguise herself as a maid and get shot by Romanova while trying to kick Bond with a poisoned boot. They escape on a speedboat, what with shooting and explosions and whatnot. Bond ends the film by uncharacteristically destroying his sex tape with Romanova, and quite characteristically giving Romanova a move he likes to call, "the double agent," if you know what I mean.
Additional Film Information
Rate the Film!
United Artists released From Russia with Love to theaters on May 27, 1964. Terence Young directs the film which stars Sean Connery, Robert Shaw, and Lotte Lenya.