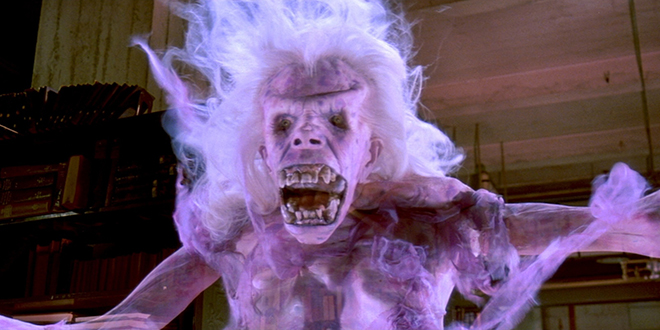 Trivia Source: Wikipedia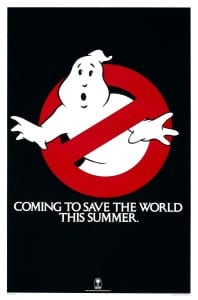 The Ghostbusters concept was inspired by Dan Aykroyd's own fascination with the paranormal and it was conceived as a vehicle for himself and friend John Belushi, fellow Saturday Night Live alumnus.  The original story, as written by Aykroyd, was very different from what was eventually filmed; in the initial version, a group of "Ghostsmashers" traveled through time, space, and other dimensions combating huge ghosts (of which the Stay-Puft Marshmallow Man was one of many).  Also, the Ghostbusters wore SWAT-like outfits and used wands instead of proton packs to fight the ghosts.  Ghostbusters storyboards show them wearing riotsquad-type helmets with movable transparent visors.  In addition to a similar title, the movie shares the premise of professional "exterminators" on a paranormal mission with The Bowery Boys slapstick comedy Spook Busters (1946, directed by William Beaudine).
Aykroyd pitched his story to director/producer Ivan Reitman, who liked the basic idea but immediately saw the budgetary impossibilities demanded by Aykroyd's first draft.  At Reitman's suggestion, the story was given a major overhaul, eventually evolving into the final screenplay which Aykroyd and Harold Ramis hammered out over the course of three weeks in a Martha's Vineyard bomb shelter in May–June 1982.  Aykroyd and Ramis initially wrote the script with roles written especially for Belushi, Eddie Murphy, and John Candy; but Belushi died during the writing of the screenplay, and neither Murphy nor Candy would commit to the movie, so Aykroyd and Ramis made some changes and polished a basic, science-fiction-oriented screenplay for their final draft.
In addition to Aykroyd's high-concept basic premise, and Ramis' skill at grounding the fantastic elements with a realistic setting, the film benefits from Bill Murray's semi-improvisational performance as Peter Venkman, the character initially intended for Belushi.
Here is the original teaser trailer for Ghostbusters.
Courtesy of Ghostbusters.org