Film and Plot Synopsis
Sharp-shooter newspaper editor, Walter Burns, gets a visit from his ex-wife and star reporter, Hildy Johnson. On this occasion, she visits the news office to report she's forsaking journalism, and marry a boring insurance salesman the very next day. They plan to move to upstate New York for the quieter life. Burns uses broad scope, cunning, tricks and sabotage to halt her newlywed plans; offering her a scoop she can't refuse. Against the unlikely backdrop of a cop killer's execution hilarity ensues! It's on for young and old with an ending you may or may not see coming a kilometer away. Rapid fire comedic quips manipulate the ears; triggering my hard to tap sense of humor, and going straight to the heart. Essentially His Girl Friday is a true-love romp.
Buy the Film
His Girl Friday (The Criterion Collection) [Blu-ray]
5 new from $24.99
6 used from $18.35
Free shipping
as of May 23, 2023 1:04 pm
*As an Amazon Associate we earn from qualifying purchases.
'His Girl Friday' Movie Summary
The summary below contains spoilers.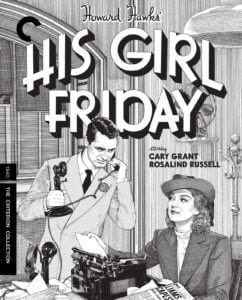 In
His Girl Friday
, the hard-boiled editor for The Morning Post, Walter Burns is a hard-boiled editor for The Morning Post who learns his ex-wife (and star reporter), Hildegard "Hildy" Johnson is about to marry a boring insurance man named Bruce Baldwin. They plan on settling down to the quiet life in Albany, New York.
Jealous, Walter decides to sabotage their plans. He requests Hildy cover one last story on the upcoming execution of Earl Williams. Earl is a shy bookkeeper convicted of murdering an African-American policeman. To convince her, Walter invites Hildy and Bruce join him for lunch.
At the restaurant, Hildy reveals she and Bruce will leave in two hours to take a night train to Albany where they will marry the following day. Walter does his best to convince Bruce that Hildy is the only one who can write the story to save Earl Williams. He uses lies, deceit, and charm to get Hildy to stay…only on the condition that Walter buys a $100,000 life insurance policy from Bruce so he will receive $1,000 in commission.
Meanwhile, Hildy bribes the jail warden so she can interview Earl Williams in jail. Williams explains the shooting was accidental. Hildy uses economic theory to explain away the policeman's death. He shot the gun because it was made to be shot.
Back at the office, Walter has nothing better to do than try to keep Hildy from leaving. He accuses Bruce of stealing a watch which gets him arrested, and forces Hildy to bail him out. Hildy is pissed, and she retires from journalism.
However, when Williams manages to escape from the town's bumbling sheriff, and Hildy finds she can't pass up this big scoop. So, she's back on the story. Meanwhile, Walter frames Bruce again. Bruce goes to jail again, but Hildy can not bail him out again. She is on to Walter's evil now though.
When Williams comes to the press room, he holds Hildy at gunpoint. The gun accidentally goes off, and he shoots an innocent pigeon. Hildy takes the gun from him before he hurts anyone else.
Bruce calls, but she makes him wait, because she has Earl Williams all to herself in the press room. Williams's friend Mollie finds him there too, and she knows he's innocent. Some reporters knock on the press room door, and she hides Williams from them and the police who have also arrived.
They question and harass Millie over Williams' whereabouts. Flustered, Mollie jumps out the window, but doesn't die from the fall. Hildy's stereotypically stern mother-in-law-to-be shows up, and berates Hildy for abusing her son, but that's supposed to be her job!
She annoys Walter, but then most people do. He has Diamond Louie remove Mrs. Baldwin from his sight, but Hildy wants to try getting Bruce out of jail,. Walter convinces her that it's more important to focus on her scoop.
The folks back in Albany bail Bruce out of jail, and he arrives to the press room looking for his mommy while Hildy ignores him. She's quickly typing her big story, and can't be bothered. Bruce realizes they will miss their train.
Diamond Louie returns. He hit a police car while driving away with Bruce's mom. In a daze, Louie doesn't know if Mrs. Baldwin was killed or not. The town's crooked mayor and his inept sheriff need Williams executed so they can use the publicity in an upcoming election for votes. They bribe the messenger who brings a reprieve from the governor to come back later when it will be too late.
Walter and Hildy learn of the bribe, and save Williams from death. They also use that information to blackmail the mayor and sheriff from arresting Walter in the kidnapping of Mrs. Baldwin.
Bruce calls Hildy again. He's in jail…again due to Hildy and Walter transferring counterfeit money to him. Hildy has a break down where she admit that she was afraid Walter was going to let her marry Bruce without a fight. Walter and Hildy then bail Bruce out of jail (hopefully for the last time).
Walter and Hildy plan to remarry, and he promises to take her on a honeymoon in Niagara Falls. However, Walter hears of a newsworthy strike in Albany. Knowing Walter will never change, she agrees to a honeymoon there. Walter escorts her out of the press room; making her carry her own suitcase.
Additional Film Information
Rate the Film!
Columbia Pictures Corporation released His Girl Friday on January 18, 1940. Howard Hawks directed the film starring Cary Grant, Rosalind Russell, and Ralph Bellamy.