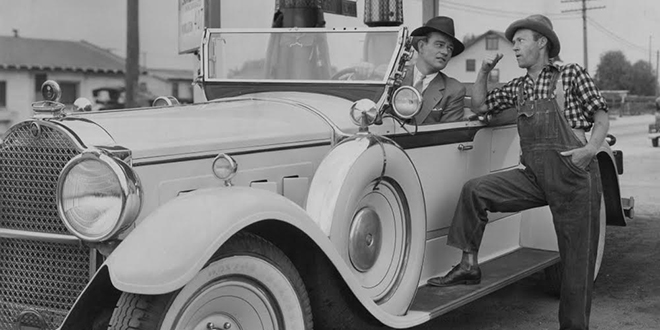 Podcast: Play in new window | Download
Subscribe: Apple Podcasts | Android | Google Play | Stitcher | RSS | More
Marcy Pictures Corporation released His Private Secretary to theaters on June 10, 1933. Phil Whitman directed the film which starred Evalyn Knapp, John Wayne, and Reginald Barlow.
His Private Secretary Movie Summary
Spoiled playboy, Richard Wallace, comes home drunk. His grumpy father gives him a job in his business in an attempt to get him to grow up. On his first day, Richard sets out to a small town where he meets a preacher's daughter named Marion.
Richard pursues Marion and marries her without his father's knowledge or blessing. When Richard finally returns home, he tries to tell his father he's married to a wonderful woman, but his dad insists he end it, or he will be disinherited.
Marion lands a job working as Richard's father's secretary, but he doesn't know she's Richard's wife. Marion ends up proving herself to Mr. Wallace, but Richard screws things up when Marion finds Richard drunk in a state of undress and assumes he's had a fling with Polly.
Richard tells his father the truth about Marion, and that he lost her. Richard begins working for his father, and proves to Marion he's a changed man. When he rejects Polly, Marion reconciles with him while his father happily looks on.
Theme Song "God Bless John Wayne" by Lowell Shyette
Buy Song On Amazon.com  Buy Song On iTunes
Disclaimer
This podcast is not endorsed by Synergy Entertainment, and it is intended for entertainment and information purposes only. His Private Secretary, all names and sounds of His Private Secretary characters, and any other His Private Secretary related items are registered trademarks and/or copyrights of Synergy Entertainment or their respective trademark and/or copyright holders. All original content of this podcast is the intellectual property of Sunday Seconds with the Duke, The MHM Podcast Network, and Fuzzy Bunny Slippers Entertainment LLC unless otherwise noted.
Affiliate links contained in this post will take you to Amazon.com and/or the iTunes Store. This means when you click a link, and purchase an item, the MHM Podcast Network will receive an affiliate commission. Advertisers and Affiliate Partnerships do not influence our content. See our Terms of Use about the inclusion of affiliate links on this site for more information.