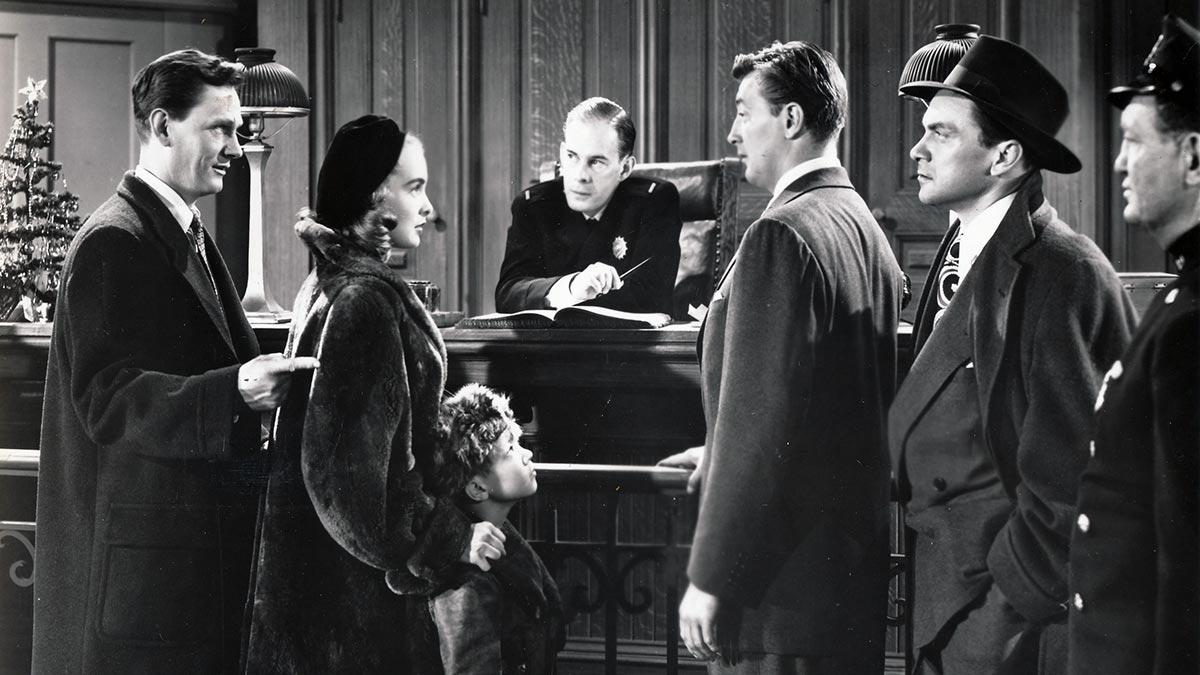 Film and Plot Synopsis
Connie Ennis is a widow with a young son, Timmy, who works as a comparison shopper. She meets salesman Steve Mason after she buys – and then returns – an expensive model train set. Steve knows that what she does for a living but decides not to report her but gets fired himself. He likes Connie but she has been dating Carl Davis for two years and he is waiting for her answer to his marriage proposal. Timmy certainly takes a liking to Steve and Connie is not quite sure what she thinks of him. In the end, she realizes the choice she must make and takes a leap of faith.
Buy the Film
Holiday Affair [Blu-ray]
14 new from $17.99
6 used from $18.68
Free shipping
as of November 29, 2022 6:27 am
*As an Amazon Associate we earn from qualifying purchases.
'Holiday Affair' Movie Summary
The summary below contains spoilers.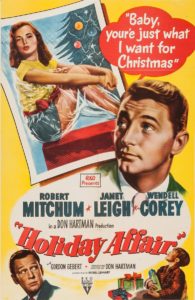 Connie Ennis (
Janet Leigh
) is a widow and a single mother to her young son Timmy (
Gordon Gebert
). She works as a comparative shopper, a person who buys items from competing stores to see how they compare to her employers. She encounters Steve Mason (
Robert Mitchum
), a clerk working in the toy division of a New York department store. Steve is a veteran and drifter, who dreams of owning a business that builds boats. Connie purchases a rather expensive electric train set without asking any questions about it from Steve, who suspects her of being a comparative shopper.
That night, she takes the train set back home, where Timmy sneaks a peek at it and presumes that it is will be his. Connie is in a relationship with lawyer Carl Davis (Wendell Corey), who wishes to marry Connie, but she has yet to accept his proposal. However, Timmy does not want his mother to remarry and still idolizes his deceased father who died during World War II.
The next day, Connie returns the train to Steve's store while Steve is working. Steve confronts Connie about being a comparative shopper and threatens to report her. Knowing that she will be fired for being discovered, Connie asks him not to. The generous Steve refunds her money, a gesture that results in him being fired from the store. When Connie learns of his termination, she invites Steve to have lunch with her where the couple gets to know each other better. Steve assists Connie with some of her additional comparative shopping, allowing them to pose as a married couple. After making multiple purchases, the pair are separated by the Christmas shopping crowds. Connie ends up on a bus, while Steve is pushed into another store.
Connie heads home, where she finds Timmy and Carl trimming the Christmas tree. Steve arrives unexpectedly a short time later with some of Connie's purchases. Carl becomes jealous of Steve and acts rather stoic. When Timmy misbehaves, Carl acts territorial and attempts to discipline him. Connie tells Carl to take his hands off her son. Embarrassed, Carl leaves the house without saying a word. After Carl leaves, Steve tells Connie that maybe they should not see each other again due to Connie wishing for things to remain the status quo.
Before he leaves, Steve has a conversation with Timmy who tells him that the thing he really wants for Christmas is the electric train set. Steve tells him to set his sights high and to wish hard for the train and maybe he will get it. Before Steve leaves, he passionately kisses Connie and wishes her a Merry Christmas. A short time later, Connie has dinner with Carl where they make amends. In response to Steve's accusation to maintain the status quo, Connie tells Carl that they should get married on New Year's Day. Carl is taken back by Connie's sudden urgency to marry but agrees.
On Christmas morning, Timmy discovers the train set outside the department door and assumes that it came from his mother despite the tag identifying it from Santa. Connie realizes that Steve has purchased the train for Timmy and is disturbed by Steve's expensive gift. She tells Carl about the gift who suggests paying Steve back for it so that she will not be in his debt. Connie finds Steve eating his breakfast in Central Park. Steve has checked out of his hotel room and plans on moving back to California as soon as he can raise the funds.
Connie gives him one of Carl's Christmas gifts, a necktie. Steve takes his necktie off and gives it to a nearby homeless man. Steve refuses Connie's offer to pay him back for the train, telling her that he wants to encourage Timmy's optimism. Connie tells Steve that she is going to marry Carl in a few days, to which he states is a mistake. A little girl on roller-skates rides up and gives Steve a Christmas present from the homeless man, which is a salt and pepper shaker set. Connie leaves, annoyed that Steve continues to judge her relationship with Carl.
A short time later, a police officer arrives at Connie's apartment and requests that she come with him down to the station. She, Timmy, and Carl go to the station where they are informed that Steve has been arrested for the theft of the salt and pepper shakers that the little girl gave to him. Apparently, the homeless man robbed someone in the park. Carl agrees to represent Steve for the appearance in front of the police captain (Harry Morgan).
Connie offers her explanation of the events in the park, and despite the captain's skepticism, he releases Steve with no charges. Carl and Connie invite Steve to dinner at Connie's apartment with Connie's former in-laws, Mr. and Mrs. Ennis (Griff Barnett and Esther Dale). At the dinner, Steve is coerced into giving a Christmas toast by Timmy, to which Steve announces his affections for Connie and asks her to marry him instead. Connie responds by asking Steve to leave her apartment immediately.
A few days later, Timmy goes to the department store to return the train so that he can give the money to Steve. He encounters several obstacles before he meets with the owner of the department store, Mr. Crowley (Henry O'Neill). Mr. Crowley is sympathetic to Timmy's plight and agrees to give him the money back. At home, Carl and Connie are in panic over the disappearance of Timmy. When he shows up with the money, he tells them that he wants to give it to Steve because he does not enjoy the train set any longer knowing that Steve needs the money.
Connie and Carl drive to Steve's hotel to return the money to him. Connie asks Carl to see Steve by himself. Carl realizes that Connie has feelings for Steve and that she does not want to marry him. He tells her that she needs to follow her feelings and graciously bows out of their engagement. Connie goes up to see Steve alone. She tells Steve her engagement is off, but he tells her that he is not going to propose to her again. When he insists that she needs to stop grieving for her dead husband, she leaves again.
On New Year's Eve, Connie prepares to go to party, alone. Timmy expresses his fear that when he gets married and moves away, she will be all alone. Steve has sent Connie a farewell telegram to tell her that he is leaving for California that night. Connie decides to change her life dramatically and takes Timmy to the train station. She boards the train Steve is taking and finally goes after the man she wants. The couple kiss with Timmy standing by their side.
Additional Film Information
Rate the Film!
RKO Radio Pictures released Holiday Affair on December 24, 1949. Don Hartman directed the film starring Robert Mitchum, Janet Leigh, and Wendell Corey.