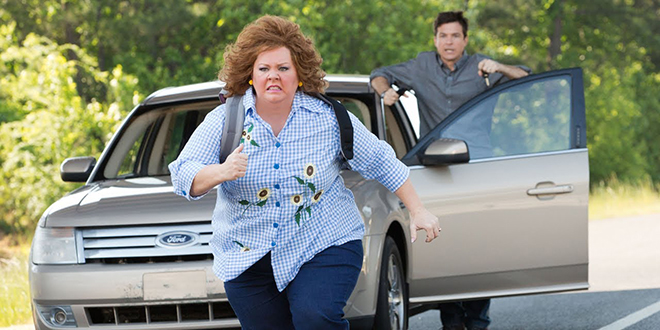 MHM Mart
Identity Thief (2013) Comes To Blu-ray In June
Identity Thief [Blu-ray]
14 new from $8.79
80 used from $2.11
Free shipping
as of December 8, 2022 5:40 am
Universal Studios Home Entertainment has announced and detailed the Blu-ray/DVD/UltraViolet Combo Pack release of Identity Thief. The film is directed by Seth Gordon and stars Jason Bateman and Melissa McCarthy. Identify Thief will be available in stores and online beginning on June 4, 2013.
In the film, unlimited funds have allowed Diana (McCarthy) to live it up on the outskirts of Miami, where the queen of retail buys whatever strikes her fancy. There's only one glitch: the ID she's using to finance these sprees reads "Sandy Bigelow Patterson"… and it belongs to an accounts rep (Bateman) who lives halfway across the U.S. With only one week to hunt down the con artist before his world implodes, the real Sandy Bigelow Patterson heads south to confront the woman with an all-access pass to his life. And as he attempts to bribe, coax and wrangle her the 2,000 miles to Denver, one easy target will discover just how tough it is to get your name back. The film also stars Jon Favreau, Amanda Peet, Genesis Rodriguez, Morris Chestnut, John Cho, Robert Patrick, and Eric Stonestreet.
Identity Thief was released in theaters in January of this year and has grossed over $146 million in worldwide box office.
The Blu-ray edition features the film's theatrical cut and unrated, extended version, as well as several exclusive extras, including: The Making of Identity Thief featurette; Scene Stealing: Capturing the Humor of Identity Thief featurette; The Skiptracer's Van – An in-character Robert Patrick and his most beloved possession; alternate takes; and a gag reel.
Disclaimer: Affiliate links are contained in this post. This means when you click a link, and purchase an item, Movie House Memories will receive an affiliate commission. Advertisers and Affiliate Partnerships do not influence our content. See our
Terms of Use
about the inclusion of affiliate links on this site for more information.