Film and Plot Synopsis
Set against an interview for a Life magazine story, Jackie delves into the chaotic in the days of the First Lady following the assassination of her husband, President John F. Kennedy, in 1963. We witness her struggles of balancing her husband's burial, her eviction from the White House, and her desire to protect her children.
Buy the Film
Jackie (BD+DVD+DHD) [Blu-ray]
8 new from $8.20
15 used from $4.04

as of September 16, 2023 3:03 pm
*As an Amazon Associate we earn from qualifying purchases.
'Jackie' Movie Summary
The summary below contains spoilers.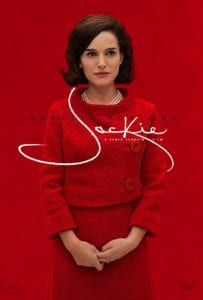 T
he film begins a week after the assassination of John F. Kennedy. A journalist visits Jacqueline Kennedy in Hyannis Port regarding her thoughts on her husband's legacy. Jackie starts off by giving her thoughts on her 1961 televised tour of The White House. Our journalist then turns to the assassination inquiries and how the aftermath of his death affects Jackie and her family.
She recounts the events right before the assassination, and describes her horrifying reaction to it. We see members of the White House, and the newly sworn-in President Lyndon Johnson with his wife Lady Bird comforting Jackie onboard Air Force One. Robert F. Kennedy shares her grief, and then escorts her back to Washington. She expresses concern for her children's well-being after the brutal loss of their father.
Robert balances his support for Jackie with his remorse over losing his brother. He helps her plan Jack's funeral, and also looks after her family. Jackie struggles to sleep, and is already becoming reliant on medications and alcohol. She also confides regularly with her priest.
Robert Kennedy, President Johnson, and members of the White House witness Lee Harvey Oswald's murder on live television. Robert insists on he being the one to tell Jackie about his death when the time is right, but Jackie finds out about it immediately. She yells at Bobby for not telling her right away. During John F. Kennedy Jr.'s 3rd birthday, Robert tells Jackie that he fears Jack's short time as President will not be remembered.
Once JFK's funeral is over, Jackie reveals to her priest that she contemplated suicide following the assassination. She tells him that she clearly remembers everything that happened during it, and has unbearable pain and guilt over the fact she did not act to protect her husband.
The interview with the journalist ends, and Jackie makes it clear to him that she maintains the right to control which parts of the interview will be printed, and which will not. The film ends with Jacqueline moving her miscarried and stillborn children's coffins next to John F. Kennedy's at Arlington National Cemetery.
Additional Film Information
Rate the Film!
Fox Searchlight Pictures released Jackie to theaters on December 2, 2016. Pablo Larraín directed the film starring Natalie Portman, Peter Sarsgaard, and Greta Gerwig.