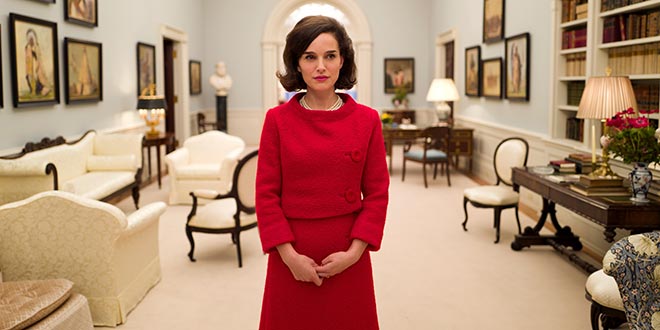 Podcast: Play in new window | Download
Subscribe: Apple Podcasts | Android | Google Play | Stitcher | RSS | More
Fox Searchlight Pictures released Jackie to theaters on December 2, 2016. Pablo Larraín directed the film starring Natalie Portman, Peter Sarsgaard, and Greta Gerwig.
Jackie Movie Summary
Set against an interview for a Life magazine story, Jackie delves into the chaotic in the days of the First Lady following the assassination of her husband, President John F. Kennedy, in 1963. We witness her struggles of balancing her husband's burial, her eviction from the White House, and her desire to protect her children.
Disclaimer
This podcast is not endorsed by Fox Searchlight Pictures, and is intended for entertainment and information purposes only. Jackie, all names and sounds of Jackie characters, and any other Jackie related items are registered trademarks and/or copyrights of Fox Searchlight Pictures or their respective trademark and/or copyright holders. All original content of this podcast is the intellectual property of Movie House Concessions, the MHM Podcast Network, and Fuzzy Bunny Slippers Entertainment LLC unless otherwise noted.
Affiliate links contained in this post will take you to Amazon.com and/or the iTunes Store. This means when you click a link, and purchase an item, the MHM Podcast Network will receive an affiliate commission. Advertisers and Affiliate Partnerships do not influence our content. See our Terms of Use about the inclusion of affiliate links on this site for more information.