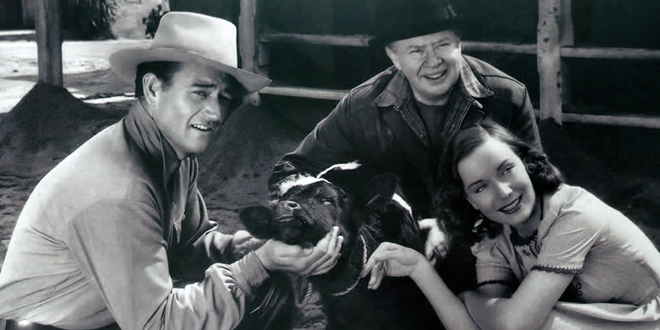 MHM Mart
John Wayne's Three Faces West (1940) Coming To Blu-ray
Three Faces West [Blu-ray]
2 new from $22.99
1 used from $31.89
Free shipping
as of February 22, 2022 8:08 pm
Olive Films has announced that they are adding the John Wayne film Three Faces West to its April slate of Blu-ray releases. The film is directed by Bernard Vorhaus, and stars Wayne, Sigrid Gurie, Spencer Charters, and Charles Coburn. Three Faces West will be available in stores and online beginning on April 30th.
Wayne stars in this romantic drama packed with action, suspense and intrigue. He plays John Phillips, an upstanding American guiding an Austrian family to Oregon. The family, consisting of the eminent surgeon, Dr. Karl Braun (Coburn), and his lovely daughter, Leni (Gurie), are refugees fleeing from the Nazis in Austria and resettling in an American dust-bowl community. Leni is hopelessly in love with the romantic vision of Eric, the soldier who helped her and her father escape from a Nazi concentration camp. John romances Leni and eventually as they plan to marry word is received that Eric is alive and well. Who will Leni choose – John or Eric? Three Faces West will keep you in suspense wondering what will happen until the last possible moment.
Three Faces West was released in July of 1940, shortly after Wayne had hit it big with Stagecoach.
Olive Films has not released any details concerning the exact tech specs and special features that will be included with the disc.
Disclaimer: Affiliate links are contained in this post. This means when you click a link, and purchase an item, Movie House Memories will receive an affiliate commission. Advertisers and Affiliate Partnerships do not influence our content. See our
Terms of Use
about the inclusion of affiliate links on this site for more information.