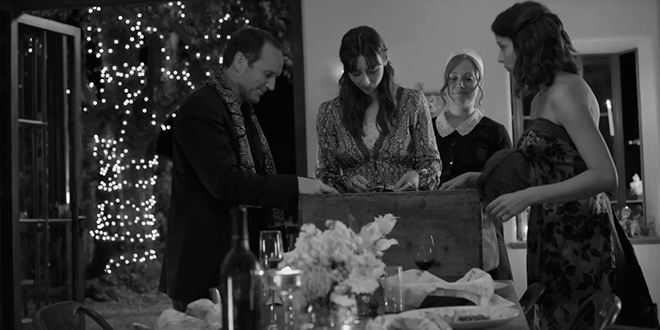 MHM Mart
Joss Whedon's Much Ado About Nothing (2012) Comes To Blu-ray
Much Ado About Nothing [Blu-ray + Digital]
8 new from $9.33
26 used from $2.22

as of December 4, 2022 6:25 pm
Lionsgate Home Entertainment has announced the addition of the romantic comedy Much Ado About Nothing to their upcoming slate of Blu-ray releases. The film is a modern version of Shakespeare's classic comedy adapted and directed by Joss Whedon. Much Ado About Nothing stars Amy Acker, Alexis Denisof, Nathan Fillion, Clark Gregg, Fran Kranz, Ashley Johnson, and Reed Diamond. The film is currently available for pre-order online and will be available in stores everywhere beginning on October 8th.
Filmed in just 12 days entirely on location in exotic Santa Monica, the film features a cast of beloved (or soon to be beloved) actors – some of them veterans of Shakespearean theater, some completely new to the form. But all dedicated to the idea that this story bears retelling, that this dialogue is as fresh and intoxicating as any being written, and that the joy of working on a passion project surrounded by dear friends, admired colleagues and an atmosphere of unabashed rapture far outweighs their hilariously miniature paychecks.
Shot in glorious black and white by Jay Hunter, the film stars Acker and Denisof as Beatrice and Benedick, the world's least likely lovers headed for their inevitable tumble into love. As Joss Whedon puts it: "The text is to me a deconstruction of the idea of love, which is ironic, since the entire production is a love letter – to the text, to the cast, even to the house it's shot in." The supporting cast includes Nathan Fillion as Dogberry, Clark Gregg as Leonato, Fran Kranz as Claudio and Reed Diamond as Don Pedro.
The Blu-ray release of Much Ado About Nothing features 1080p video, DTS-HD Master Audio 5.1 surround, an UltraViolet digital copy of the film, and the following extras:
"Much Ado About Making Nothing" featurette
"Bus Ado About Nothing" featurette
Audio commentary with screenwriter/director Joss Whedon
Audio commentary with screenwriter/director Joss Whedon and cast
"Sigh No More" music video
Disclaimer: Affiliate links are contained in this post. This means when you click a link, and purchase an item, Movie House Memories will receive an affiliate commission. Advertisers and Affiliate Partnerships do not influence our content. See our
Terms of Use
about the inclusion of affiliate links on this site for more information.