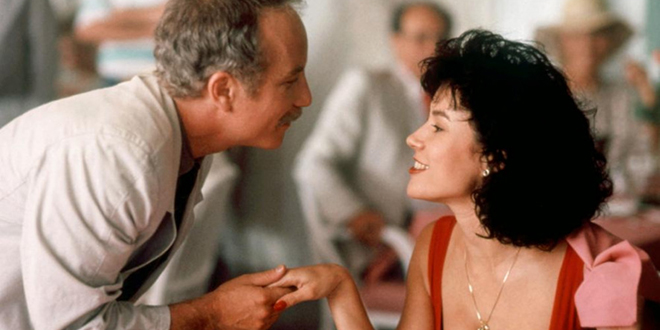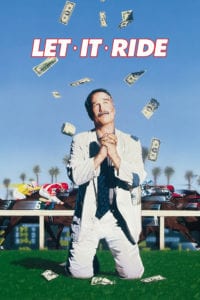 This is one of my favorite "forgotten" comedies from the late-80s. It has a wonderful cast of character actors who perfectly back up the true star of the film, Richard Dreyfuss ("Trotter"), who pulls out all the stops in his comic repertoire to exhibit quality humor throughout this little film. This movie starts slow then builds up steam and doesn't let up until the exciting climax that mirrors the real-life feeling of betting on a horse race.
The story of a down-and-out "loser" who has just sworn off gambling, boozing, and is returning to his estranged wife on the exact day his life changes with a "tip" on a horse that literally changes his fortunes for the better. Dreyfuss infuses humor, desperation and good luck into a comic transformation from lovable sap to the luckiest man walking within the matter of nine horse races during the day.
The joy I get from watching this is all the interactions with the minor characters throughout the day. The "Looney" character is the perpetual failure as the best friend who can't catch a break, even though it kicks him square in the teeth. When Trotter wins on the sure-thing bet in the opening then asks Looney, who didn't bet the sure-thing, who he likes in the next race – then promptly scratches that horse off as a failure right in front of the guy… It makes me laugh out loud even though I've watched the movie over a dozen times.
The rest of the interactions – from the dive bar across the street, standing trackside during the race, the betting window (with the hilarious Robbie Cochrane), or even at the upper-class Jockey Club – we are treated to a feast of quirky characters that not only keep the action moving, but creates new ways for Trotter to marvel at the luckiest day of his life.
This movie was forgotten because it's target audience was the exact people who bypass the movie theater and head straight for the racetrack. What a shame. This movie deserves a place in our comedy landscape for the charm, simplicity, and fun it creates along the way as Dreyfuss breathes life into a loser who realizes, while it's happening, what it feels like to hit a winning streak and enjoy the ride the entire time. This is a comedy classic. There's a reason it's so hard to find on DVD. Not because it was in limited release. It's because the people who own the out-of-print DVDs never want to part with them. This movie is a joy. Let it ride indeed!!!
What do you think of the film? Let us know in the comments below.
Disclaimer: Affiliate links contained in this post will take you to Amazon.com and/or the iTunes Store. This Means when you click a link, and purchase an item, the MHM Podcast Network will receive an affiliate commission. Advertisers and Affiliate Partnerships do not influence our content. See our Terms of Use about the inclusion of affiliate links on this site for more information.
MHM's Rating
Best horse-racing movie that isn't about the horse. What a ride!!! 🙂