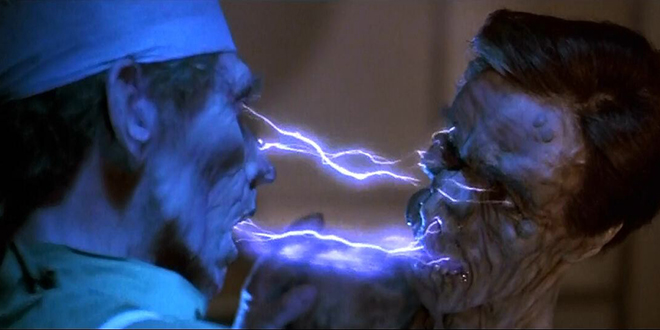 MHM Mart
Lifeforce (1985) Gets a Screaming Blu-ray
Lifeforce (Collector's Edition) [Blu-Ray/DVD Combo]
11 used from $39.99

as of May 22, 2022 1:20 pm
Scream Factory has announced the Collector's Edition Blu-ray/DVD Combo Pack release of director Tobe Hooper's Lifeforce this April.  The film stars Steve Railsback, Peter Firth, Mathilda May, Frank Finlay, and a pre-Star Trek: The Next Generation, Patrick Stewart.  The sci-fi horror cult classic arrives on Blu-ray on April 30, 2013, and features both the film's original theatrical version and longer international cut in high definition.  The film features special effects by Academy Award-winner John Dykstra (1977 Best Visual Effects, Star Wars) and a script by Dan O'Bannon and Don Jakoby.
'Lifeforce' Film Summary
Lifeforce follows a mission to investigate Halley's Comet, where an even stranger phenomenon is discovered: an alien spacecraft.  Following a deadly confrontation, the aliens arrive on Earth, where their seductive, and very naked, leader (May) begins a terrifying campaign to drain the lifeforce of everyone she encounters.  Her victims, in turn, continue the cycle, and soon the entire planet is in mortal danger.  When the mission's sole survivor (Railsback) sets out to destroy her, he comes face to face with the most charming – and horrifying – being he's ever known.  Will he be able to destroy the lovely vampiress… or will he become yet another victim of her fatal allure?
Lifeforce was released in theaters in June 1985 and grossed over $11 million at the box office.
Bonus Features
Audio Commentary with Director Tobe Hooper
Audio Commentary with Makeup Effects artist Nick Maley
New interviews with Mathilda May, Steve Railsback and Director Tobe Hooper
Theatrical Trailers
TV Spot
Still Gallery
Also available on iTunes
Disclaimer: Affiliate links are contained in this post. This means when you click a link, and purchase an item, the MHM Podcast Network will receive an affiliate commission. Advertisers and Affiliate Partnerships do not influence our content. See our
Terms of Use
about the inclusion of affiliate links on this site for more information.
Rate the Film!
TriStar Pictures released Lifeforce on June 21, 1985. Tobe Hooper directed the film starring Steve Railsback, Mathilda May, and Peter Firth.