Film and Plot Synopsis
After someone kills several British agents, James Bond heads to New Orleans to investigate the mysterious deaths. He learns of a man named Mr. Big who who's into making heroin with his pals. Along Bond's journey he runs afoul of Tee Hee, who has a claw for a hand; Baron Samedi, the voodoo master; and Solitaire, a tarot card reader. As Bond races against the clock, he finds Sheriff Pepper there with a helpful hand deep in the Blue Bayou.
Buy the Film
Live and Let Die (BD) [Blu-ray]
13 new from $9.70
8 used from $4.86
Free shipping
as of September 25, 2023 8:18 pm
*As an Amazon Associate we earn from qualifying purchases.
'Live and Let Die' Movie Summary
The summary below contains spoilers.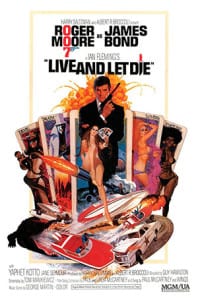 Three agents are mysteriously assassinated on the same day. It seems all of these agents were investigating the tinpot dictator Dr. Kananga. They send Bond to New York to investigate.
On his bar ride from the airport, Bond's driver is assassinated by a fat man, and Bond follows the assassin to a soul food restaurant, and then follows him again to the lair of Mr. Big, a local thug and restaurateur. Mr. Big has a few henchmen and a henchwoman, Solitaire, whose power of virginity lets her read tarot cards and tell the future. Mr. Big orders Bond killed, but he escapes and chases Mr. Big to San Monique, the small island nation run by Dr. Kananga.
Once there, Bond tracks Solitaire down and schtoops the clairvoyance out of her. She agrees to cooperate with Bond to bring Dr. Kananga down. They do the unexpected and escape to New Orleans but are captured by Kananga again. Bond learns that Kananga and Mr. Big are the same person, just with a slightly smaller afro. It seems Kananga has a plan to sell free heroine from his soul food franchises until the mafia goes out of business and then exploit his monopoly on the newfound addicts. Apparently he got his doctorate in English.
Since Solitaire can't see the future anymore, Kananga hands her over to be sacrificed. Bond saves her and kills Kananga and some guards. All that's left is a relaxing train ride with Solitaire. But they are attacked by Tee Hee Johnson, Kananga's one-armed henchman. Bond gives Johnson the bum's rush, and turns his attention to Solitaire.
Additional Film Information
Rate the Film!
United Artists released Live and Let Die to theaters on June 27, 1973. Guy Hamilton directs the film which stars Roger Moore, Yaphet Kotto, and Jane Seymour.