Trailers
Lupin III: The First (2019) Opening Scene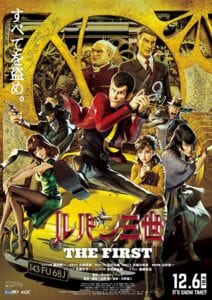 Toho Company has released the opening scene for 2019's Lupin III: The First. Takashi Yamazaki directs the film stars the voice work of Kururuda Kanichi, Kobayashi Kiyoshi, Namikawa Daisuke, Sawashiro Miyuki, Yamadera Koichi and many others. The Toho Company will release Lupin III: The First on December 6, 2019 in Japan.
'Lupin III: The First' Film Synopsis
Lupin the Third was first serialized in 1967. Manga artist, Monkey Punch, helped grow the series' popularity with his drawings of Lupine and the rest of his gang. In 1971, Part one of Lupin III aired on television. With Part 2, Monkey Punch added Lupin's red jacket which started a trend with many people with his cool, messy, comical appearance; solidifying his popularity.
In Lupin III: The First, Lupin III goes on a grand adventure to uncover the secrets of the Bresson Diary, which is tied to the legacy of his famous grandfather.