Film and Plot Synopsis
When the comic book obsessed Brodie and his best friend T.S. find themselves dumped by their girlfriends, the boys a trip to the local mall for a cookie. They soon discover the mall is being used as the venue for a dating show which T.S.'s girlfriend Brandi is the star. The boys hatch a plan to hijack the game show in a bid to win back Brandi with the help of Jay and Silent Bob. Meanwhile, Brodie is on a mission of his own to get Rene back who has now attracted the attentions of his nemesis named Shannon Hamilton.
Buy the Film
Mallrats [Blu-ray]
8 new from $10.99
9 used from $4.99

as of March 24, 2023 9:35 am
*As an Amazon Associate we earn from qualifying purchases.
'Mallrats' Movie Summary
The summary below contains spoilers.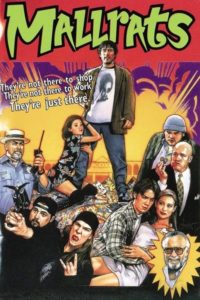 Mallrats takes place in the New Jersey suburbs. We meet T.S. Quint (
Jeremy London
) as he arrives at his girlfriend Brandi Svenning's (
Claire Forlani
) house to pick her up for a road trip to Florida. In the driveway, she tells him she won't be able to go because T.S. made an offhand comment to a friend of theirs the previous night. He told her that the camera adds 10 pounds to a person on TV the night before she was scheduled to be on Brandi's father's Dating Game ripoff called Truth or Date. Since she's struggled with weight issues in the past, T.S.'s comment caused her to obsessively swim 700 laps at YWCA, and as a result, she died from a brain embolism.
Now Brandi's father, Jared (Michael Rooker), needs a last-minute bachelorette to question three bachelors on his show. Since he already hates T.S., he asks Brandi to fill in, and she agrees. T.S. is pissed because he thinks Brandi's bending to the will of her overbearing father yet again. Also, T.S. was planning on proposing marriage to Brandi at Universal Studios in the Jaws spectacular. Brandi, in turn, gets angry at T.S. because helping her dad will save both his ass and T.S.'s who is being blamed for her friend's death. She dumps T.S. on the spot.
Next we meet T.S.'s BFF, Brodie Bruce (Jason Lee). He lives in his mom's basement, and is currently asleep at 9:30AM. His girlfriend Rene Mosier (Shannen Doherty) is still there, and annoyed he's still sleeping. So she wakes him. It seems Brodie is lazy and thinks nothing of Rene's needs. This leads to another argument, and she dumps him once and for all. Because Brodie has never introduced Rene to his mother, she has to drag his dresser over to the basement window and hop up on it to leave through the window. She tosses a break-up letter down to him on her way out.
Soon T.S. arrives at Brodie's house to tell him the bad news, and Brodie tells T.S. about his. Not knowing what to do, Brodie drags T.S. down to the local mall that he always hangs out at to get a cookie from the cookie store.
Once they arrive, Brodie immediately bumps into his arch nemesis, Shannon Hamilton (Ben Affleck). They almost get in a fight, but Shannon has to get back to the mens store he manages. The boys then see that some workers setting up a large stage for Jared's dating game. A couple of big shot television executives will be present, so Jared wants everything perfect to help further his career.
Annoyed, Brodie decides that he and T.S. will sabotage the show out of revenge. Brodie heads over to fellow mall rats and troublemakers, Jay and Silent Bob (Jason Mewes and Kevin Smith). These two agree to help; mostly because they are already planning to mess with the show for the fun of it. They say it should be easy as long as they can get past the mall's main security guard named LaFours (Sven-Ole Thorsen).
Silent Bob has already drawn up elaborate plans to take down the stage, but their two separate attempts end in slapstick failure. Meanwhile, Brodie and T.S. come across Tricia Jones (Renee Humphrey) as she looks over her notes on a bench. She's a 15-year-old senior who is writing a book on the sex drive of men aged 14–30. As part of her research, she has sex with men of various ages and films every encounter. The previous night, she had sex with good ole Shannon (who's 25). She says he told her he hates Brodie because of his lack of a shopping agenda.
Unfortunately for Brodie, Shannon preys on naive women who have recently broken up with their boyfriends. He uses their vulnerably so he can have sex with them in a place very uncomfortable—no, we are NOT talking about a place like the back of a Volkswagen—and now Shannon's moved on to Rene.
The boys soon find Shannon and Rene getting ready to enter an elevator, so T.S. distracts Shannon while Brodie gets in the elevator alone with Rene instead. The two argue, and when Rene says Brodie has a low libido, he takes her to Pound Town right there to prove her wrong. However, that's still not enough for her to take Brodie back.
Since Shannon is standing outside the elevator doors, he immediately knows something is up when the two walk out of it with a glow on their faces. He gets a hold of Brodie in one of the mall's back corridors where he takes Brodie to a different kind of Pound Town. He taunts Brodie as he beats him down; telling him Rene's no longer interested that he's only using her for sex…you know, in a very uncomfortable place.
T.S. also fails to reconcile with his ex when she shows up at the mall to dress for the dating show. When Jared sends his assistant to bring T.S. to him, he takes the time to tell T.S. how worthless he is. Brodie then joins the conversation, and he stinkpalms Jared (shaking his hand after he'd shoved his thumb up his own ass and not washing it). He then gives Jared some tainted chocolate-covered pretzels. While Jared munches down on a few, the boys find he was only stalling the two so that the Mall Cops can have them arrested on false drug charges. Jay and Silent Bob quickly save the day when they knock out the mall cops, free the boys, and then escape Batman style.
Brodie has T.S. drive them to a nearby flea market to hide out for a bit. While there, they seek the advice of a psychic named Miss Ivannah (Priscilla Barnes). She's a topless fortuneteller with three nipples—two are on her right breast. That extra nipple completely grosses Brodie out as Ivannah tells T.S. that the two should work together to win their girlfriends back.
The boys head back to the mall, but Brodie cannot admit he loves Rene. Since Brodie is a huge comic book nerd and since comic book God, Stan Lee is in the mall signing autographs, T.S. gets him to advise Brodie in the matters of love. The trick works and Brodie is all in on getting the girls back.
They find Jay and Silent Bob hiding out in a bookstore and ask them for help getting their final revenge. As part of this plan, Brodie asks Tricia if he can borrow the tape of her having sex with Shannon. Even though she's not old enough to drive, he gives her T.S.'s keys and has her drive home to get it.
We next cut behind the scenes of Jared's dating show. Jay uses two bags of marijuana and a ton of Scooby Snacks to take out two of the male contestants. Brodie and Quint can now take their places on the show. Since Jay missed the third contestant, Gill Hicks (Brian O'Halloran), he will still join them on stage. By now, Jared is in no condition to stop the boys as Brodie's stinkpalm prank has made him violently ill. He spends most of the show's taping vomiting next to the TV execs.
The TV show begins with T.S., Brodie, and Gill competing for a date with Brandi. A few questions and f-bombs later, Brandi figures out that T.S. and Brodie are two of the contestants on the other side of the wall separating them. T.S. wins her over and asks her to marry him. She says yes; much to her father's dismay.
Brodie then gets hold of host Bob Summers' (Art James) microphone to talk directly to Rene who's in the audience sitting next to Shannon. He tells her what a sleeze ball Shannon really is as a bunch of cops charge the stage to arrest him. Silent Bob, who's previously wired a VCR into the stage's monitor, plays Tricia's tape of Shannon having sex with her. Brodie announces to everyone that Tricia is a 15-year-old underaged girl. The cops instead arrest Shannon for statutory rape. Rene admits to loving Brodie and the two reconcile. Now he's finally going to let her meet his mother. Thanks Stan Lee!
While the TV execs aren't terribly impressed with Jared's run-of-the-mill show, they think Brodie is funny. They ask him if he's ever thought of hosting his own talk show to which he replies, "Yes!"
As the credits roll, we get a Fast Times at Ridgemont High style montage that shows Brodie as host of the Tonight Show; Rene is his show's drummer; Brandi and T.S. marry at the Jaws spectacular in Florida after graduation; Shannon is in prison with a boyfriend; Tricia is now a successful under-aged author with LaFours as her body guard; and Jay and Silent Bob set out West with an orangutan named Suzanne.
Additional Film Information
Rate the Film!
Gramercy Pictures released Mallrats on October 20, 1995. Kevin Smith directed the film starring Shannen Doherty, Jeremy London, and Jason Lee.