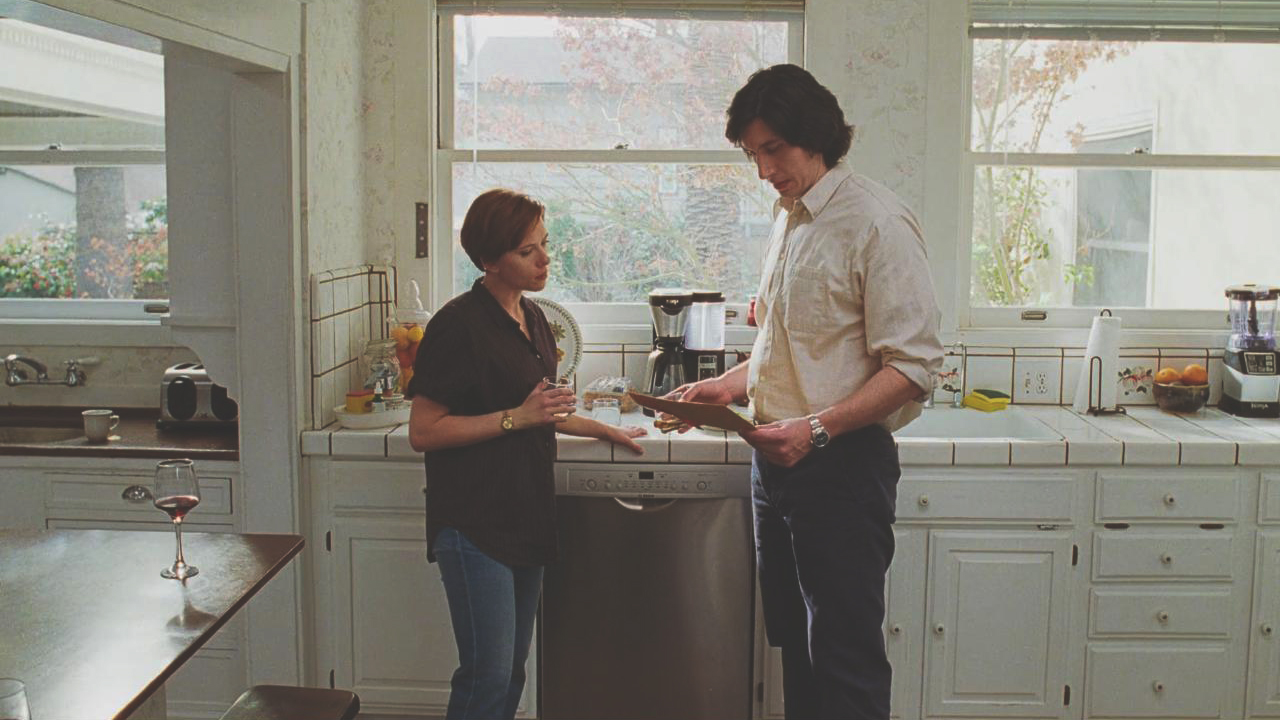 Film and Plot Synopsis
Marriage Story is Noah Baumbach's incisive and compassionate look at a marriage breaking up and a family staying together.
Buy the Film
Marriage Story (The Criterion Collection) [Blu-ray]
11 new from $21.59
10 used from $18.78
Free shipping
as of November 13, 2022 7:11 pm
*As an Amazon Associate we earn from qualifying purchases.
'Marriage Story' Movie Summary
The summary below contains spoilers.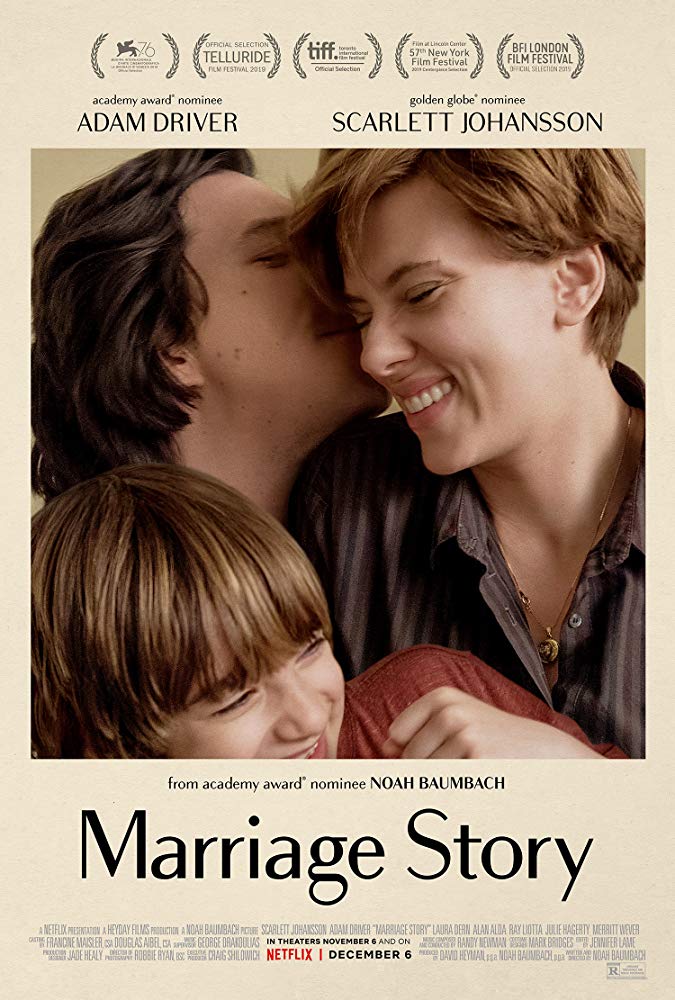 In
Marriage Story
, Charlie (
Adam Driver
) and Nicole Barber (
Scarlett Johansson
) are a couple going through the process of divorce. When the film begins, they are meeting with a mediator who is trying to get the couple to read statements that each of them has written about things that they liked about the other. Filled with anger and resentment, Nicole refuses to read hers and the counseling session ends.
Nicole is a successful actress who has built a career appearing on stage in Charlie's theater company in New York. Nicole has been offered a starring role in a television pilot in Los Angeles and decides to leave the theater company to pursue the opportunity. She takes the couple's young son, Henry (Azhy Robertson), and moves to her mother's house in Hollywood. Charlie decides to stay in New York to help the transition of one of his plays to Broadway. Despite the couple's agreement to split amicably and without the assistance of lawyers, Nicole hires family lawyer Nora (Laura Dern).
Nicole tells Nora about her relationship with Charlie, and how she felt neglected in the couple's relationship. Nicole expresses that Charlie was always very controlling in the relationship and that he often rejected her ideas and desires. Nicole also expresses that she thinks that Charlie has been unfaithful to her with the stage manager of the theater company, which he has.
When Charlie comes out to Los Angeles to visit Henry, Nicole serves him with the divorce paperwork. Reluctantly, Charlie meets with family law attorney Jay Marotta (Ray Liotta) even though he wishes to still finalize the divorce without attorneys. Jay informs Charlie that the divorce is inevitably going to get nasty and expensive and pushes Charlie to start fighting dirty. Turned off by Jay, Charlie returns to New York without retaining Jay or filing a response.
Once in New York, Charlie receives a call from Nora who informs him that if he doesn't file a response by the end of the week, that she will file for a default divorce that would award Nicole full custody of Henry and much of Charlie's assets. Charlie is surprised that Nicole would go to this effort, and reluctantly flies back to Los Angeles to find a divorce attorney. He eventually finds Bert Spitz (Alan Alda), a retired entertainment and family law attorney. Bert urges Charlie to try to resolve the case amicably because he doesn't think that Charlie will do well in front of a California judge.
On the urging of Bert, Charlie rents an apartment in Los Angeles to be closer to Henry and to strengthen his custody arguments. Charlie continues his desire to avoid going to court, so Bert arranges a meeting with Nicole and Nora. During the meeting, Charlie believes things are going poorly for him and becomes displeased with Bert. When Bert privately advises Charlie to drop his New York residency and move to California, Charlie becomes frustrated and fires Bert.
Upon returning to New York, Charlie wins the prestigious MacArthur Fellowship grant and uses a portion of the money to hire Jay on retainer. Charlie and Nicole's case moves to court, where things begin to become nasty. Nora highlights Charlie's infidelity and emotional distance from Henry and Nicole, and Jay argues that Nicole has issues with alcohol and even threatens criminal action against Nicole for hacking into Charlie's email account. The Court orders that a court appointed evaluator will visit with both parties and Henry to document observations and make recommendations to the Court. However, Charlie and Nicole remain friendly out of court and share time with Henry as best they can.
With the appointment of the evaluator, Nicole becomes concerned about the case and meets privately with Charlie without the lawyers. Initially, the couple are having a friendly discussion about the divorce, but eventually, the conversation turns to an argument, with all the pent-up bitterness and frustration exploding out. Nicole finally expresses her view that Charlie is selfish and controlling, while Charlie accuses Nicole of being indecisive and smothering towards Henry. Ultimately, Charlie becomes so angry that he punches a hole in the wall and tells Nicole that he wishes she would just die. Charlie then collapses on the floor in disgust, embarrassment, and sadness as to what his relationship with the woman he once loved has devolved to. Nicole comes to him and tries to console him with little effect.
Soon after, the court appointed evaluator monitors a night in with Charlie and Henry which ends with Charlie accidentally cutting himself with his own knife. Shortly thereafter, Nicole and Charlie agree to relax their demands and reach an equal agreement to finalize the divorce, although Nora negotiates slightly better terms for Nicole to maintain her tough reputation as a divorce attorney.
A year later, Charlie is returning to Los Angeles to visit Henry after his play has had a successful run on Broadway. Nicole has a new boyfriend who appears to get along with Henry and Nicole's family, much like Charlie used to. Additionally, Nicole has been nominated for an Emmy Award for directing an episode of her show. Charlie informs Nicole that he has accepted a residency at UCLA for a year and will be living in Los Angeles full-time, so he can be closer to Henry. Charlie finds Henry reading Nicole's list of things she likes about Charlie that she wrote down during counseling at the beginning of the film. Henry asks Charlie to finish reading the letter aloud to him, and Charlie becomes emotional while doing so. Silently, Nicole watches from the doorway, moved by her ex-husband's display of emotion.
That night Nicole, Charlie and Henry attend a Halloween party together. Henry is extremely tired from the festivities, and Nicole tells Charlie to take him home with him, even though it is her night. Charlie picks up Henry and begins walking slowly to his car from with his exhausted son. Nicole stops Charlie to tie his shoe for him. Charlie smiles and thanks her, and the couple go their separate ways.
Additional Film Information
Rate the Film!
Netflix released Marriage Story on November 6, 2019. Noah Baumbach directed the film starring Adam Driver, Scarlett Johansson, and Julia Greer.