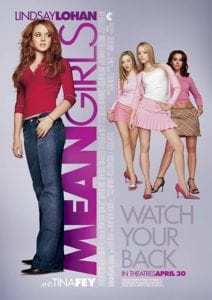 2004's Mean Girls starring Lindsay Lohan, Rachel McAdams, Daniel Franzese, Tim Meadows, Ana Gasteyer, Amy Poehler, and Tina Fey is one of the decade's most quoted films. The film is about Cady Heron who gets in tight with The Plastics; an A-list girl clique at her new school…that is until she falls for the dreamy Aaron Samuels who is the ex-boyfriend of alpha Plastic Regina George. She better watch her back!
Read the full movie summary, and add the film to your collection today!
Here's MHM's List of Mean Girl's Top Film Quotes
Regina: Get in loser, we're going shopping.
Karen: On Wednesdays we wear pink!
Damian: Taylor Zimmermann, two for you. Glenn Coco? FOUR for you, Glenn Coco! You go, Glenn Coco. And uh…Caddy Heron. Do we have a Caddy Heron here?
Ms. Norbury: Raise your hand if you have ever been personally victimized by Regina George?
Crying Girl: I wish we could all get along like we used to in middle school…I wish I could bake a cake filled with rainbows and smiles and everyone would eat and be happy…
Damian: She doesn't even go here!
Coach Carr: Don't have sex, because you will get pregnant and die! Don't have sex in the missionary position, don't have sex standing up, just don't do it, OK, promise? OK, now everybody take some rubbers.
Gretchen: That is so fetch!
Regina: Gretchen, stop trying to make fetch happen! It's not going to happen!
Gretchen: I'm sorry that people are so jealous of me…but I can't help it that I'm popular.
Damian: Oh my God – Danny DeVito! I love your work!
Karen: If you're from Africa, why are you white?
What is your favorite Mean Girl film quote? Tell us in the comments below.