Film and Plot Synopsis
In Meatballs, a shy boy named Rudy arrives to Camp North Star full of rowdy teenagers. The head counselor is a prank-pulling, girl-seducing, man child named Tripper. Across the lake is a camp for rich kids called Camp Mohawk. They've dominated the yearly Olympiad through cheating for 12 years straight, and it's up to Rudy to help change that.
Buy the Film
Meatballs [Blu-ray]
2 new from $10.01
4 used from $4.76
Free shipping
as of September 27, 2023 2:46 pm
*As an Amazon Associate we earn from qualifying purchases.
'Meatballs' Movie Summary
The summary below contains spoilers.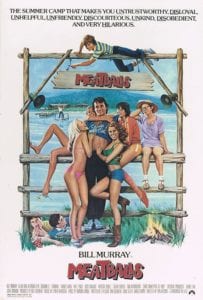 Meatballs
begins in the early morning at Camp North Star with an alarm clock waking head counselor, Tripper Harrison (
Bill Murray
) from his cot. He turns on a bagpipe version of the National Anthem before informing his camp's counselors-in-training (CITs) to get out of bed and report to for their assigned duties. He then forgets to turn the microphone off as he takes it into the bathroom with him for his morning whiz. The sound of a toilet flushing booms across the camp's speakers. We then get a '80s montage of the other counselors landscaping, painting, replacing windows and checking out the other sex.
In a K-mart parking lot, the season's campers arrive. Tripper and team herd the kids on to the buses. As one of the nerdy counselors named Spaz (Jack Blum) leaves the store, some counselors from North Star's rival summer camp, Mohawk, greet him. They steal his milkshake from his hand, and pour it over his head when he demands they give it back.
Elsewhere in the lot, a news reporter does a story on rival Mohawk because even though they charge $1000 a week per camper, there's a long waiting list. Tripper butts in on the reporter's broadcast, when he introduces himself as Jerry Aldini, Mohawk's program director. He gives him a bullshit story about the goings on at the camp, including alleged visits from world dignitaries, and a Sexual Awareness Week that culminates with prostitutes at the camp and the campers earning prizes for schtupping as many whores as they can.
Next, a workaholic (maybe absent) father drops off his shy son named Rudy (Chris Makepeace). Completely lacking in any self-confidence, he doesn't want to go to camp, but his father doesn't give him a choice. The buses bring the campers to North Star where they meet their assigned CIT. The head of the camp, Morty (Harvey Atkin), greets everyone as he hands Tripper a list of rules of the camp for the summer. Tripper assembles his CITs, tears up the rules in front of them before throwing the shreds into a trash bin. He then informs his boys that they can read the rules if they want.
We cut to the camp's cafeteria, and everyone demands to hear gossip instead of Morty. Our camp gossip expert informs everyone that several counselor romances have either ended over the last year, are currently developing, or continuing; much to many counselor's embarrassment. We learn that Candace (Sarah Torgov) has the hots for Crockett (Russ Banham). Wheels (Todd Hoffman) broke up with A.L. (Kristine DeBell) over the previous summer, and Spaz has a little crush on Jackie (Margot Pinvidic)… and really any girl that he spots.
There's next a soccer game where Rudy plays the sport for the first time ever. When he accidentally scores on his own team, the other kids make fun of him and tell him he sucks. Rudy walks off, packs his things, and walks to the nearby town to catch a bus home. However, Tripper shows up, and the two share some fries as he talks to Rudy. He tells him he doesn't need to make all the kids like him. He just needs to find one friend, and his summer will be just fine.
As Rudy and Tripper become friends, he joins Tripper on his morning runs and stays up late to play cards. When Tripper and Roxanne (Kate Lynch) take all the CITs on an overnight camping trip, Tripper puts Rudy in charge of PA announcements. The night of that trip, after some campfire horror stories, Tripper and Roxanne, share some history and have a skinny dip despite Tripper's previous terrible advances for the last three years; one of which borders on sexual assault.
Now it's time for the annual basketball game between North Star and Camp Mohawk at the Mohawk's court. North Star always loses to Mohawk because they cheat to win. As the game progresses, North Star finds themselves overmatched, and Mohawk handing their asses handed to them. Tripper gives the boys a court-side pep talk where he says they have the choice to lose with self-respect. So next play, the boys pull the Mohawk's shorts down before running off. The North Star kids hightail it with the team and Tripper back to the bus as camp Mohawk takes chase. Tripper drives the bus off while everyone cheers. Tripper proclaims this day as "the proudest day in North Star history!"
When Parent's Day comes, Morty wakes to find Tripper and his CITs tied his bed and nightstand up in a tree near the camp's entrance. Horns from arriving cars wake him. Of course, Rudy's father doesn't come to the event, so Rudy spends the day jogging with Tripper in the woods.
The film culminates with the annual two-day summer Olympiad between Mohawk and North Star which North Star has lost for the last 12 years straight. Of course Mohawk cheats a lot during the first day, and they build a seemingly insurmountable lead in points. That night, Tripper gives his rousing, "IT JUST DOESN'T MATTER!" speech, and it turns the tide.
The next day, North Star matches Mohawk in cheating attempts, and they start to make their comeback. They win a swimming event, a wrestling match, a teacup-carrying contest, and a hot dog eating contest to pull within 20 points of beating Mohawk..
However, when Morty lets the CITs know that they must win the final cross-country race things look grim. Jackie, North Star's best runner, Jackie, suffered a broken ankle from a rough foul during the field hockey event, and there's no one to replace her. Tripper decides to volunteer Rudy because the boy's prepared for such an event after running with him all summer.
Rudy doesn't want to run the event due to his low self-confidence issues, but Tripper tells him he all his confidence in him. Rudy agrees before Tripper advises him that he most likely can't beat Mohawk's runner on the open stretches. When the course enters the woods, he can overtake him there because he's smaller and better suited to avoid foliage, fallen trees, etc.
As the race begins, Rudy mostly keeps pace with his opponent. When the two enter the woods, Rudy finds he is better in this stretch and begins to put distance between himself and his opponent. However, after he falls, the Mohawk runner is nearly able to catch him. As the two hit the homestretch, Rudy keeps his narrow lead to win the event and the Olympiad for North Star. The camp cheers Rudy as their champion.
That night, after Tripper and Roxanne escort Rudy back to his cabin, the two join Morty and the CITs to a final campfire. They toast champagne to celebrate their victory before singing a song. Tripper asks Roxanne to move in with him back home, and she says yes.
The next morning, as everyone leaves, one of the campers asks Rudy to come to his dad's camp he's opening next year. Rudy politely turns him down because he wants to return to North Star.
Roxanne and Tripper say goodbye to Morty who is asleep in the middle of the lake after the CITs final prank. They placed him on a raft with his bed and nightstand; leaving him to drift aimlessly until he wakes up. Tripper and Roxanne leave on his motorcycle with the busses as they all head back to the K-mart parking lot to return the kids to their parents.
As the credits roll and the music plays, Morty wakes up to fall into the lake.
Additional Film Information
Rate the Film!
Paramount Pictures released Meatballs on June 29, 1979. Ivan Reitman directed the film starring Bill Murray, Harvey Atkin, and Kate Lynch.