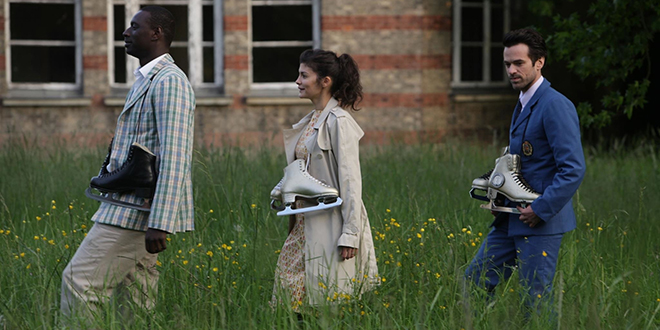 StudioCanal has released the new trailer Mood Indigo ("L'écume des jours"). The film is directed by Michael Gondry and stars Audrey Tautou, Romain Duris, Omar Sy, Gad Elmaleh, Philippe Torreton, Aïssa Maïga, and Charlotte le Bon. Mood Indigo is scheduled to be released in Hungary and the Netherlands on May 23, 2013.
Luc Bossi's screenplay is an adaptation of Boris Vian's international bestseller and is described as follows:
In a world where you can travel around on a pink cloud or literally be swept off an ice-skating rink into a hole, Colin, a wealthy young man and inventor of the cocktail-mixing piano, wants to fall in love. With the help of his cook Nicolas and best friend Chick, he meets Chloe, the incarnation of a Duke Ellington tune. But soon after their wedding, Chloe falls ill. She has a water lily growing in her chest. Ruined by medical expenses, Colin resorts to increasingly desperate methods to save his beloved's life…
Here is the theatrical trailer for Mood Indigo ("L'écume des jours"), courtesy of MovieClips TRAILERS.
Source: StudioCanal