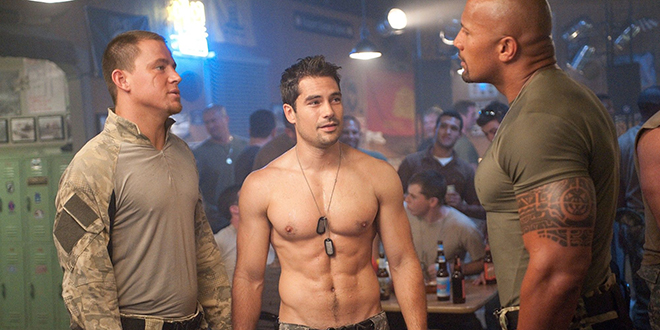 Source: Yahoo! Movies
Paramount Pictures has released a third trailer for the long delayed G.I. Joe: Retaliation via Yahoo! Movies.  The trailer includes many scenes not included in the previous trailers.  G.I. Joe is a film series based on the popular Hasbro toyline and 80's cartoon series that ran for 85 episodes from 1985-1986 and spawned one animated film.
Set for release on March 29, 2013, the G.I. Joes are not only fighting their mortal enemy Cobra; they are forced to contend with threats from within the government that jeopardize their very existence.  The sequel is directed by John Chu (Step Up 3D, Never Say Never), and continues the toy-inspired world depicted in 2009's G.I. Joe: The Rise of Cobra with a primarily new cast (except for the returning Ray Park as Snake Eyes, Channing Tatum as Duke, and Byung Hun-lee as Stormshadow).  Newcomers include Bruce Willis as Joe Colton, Dwayne Johnson as Roadblock, Elodie Yung as Jinx, Adrianne Palicki as Lady Jaye, DJ Cotrona as Flint, RZA as The Blind Master, Ray Stevenson as Firefly, and Joseph Mazzello as Mouse.
Here is the new trailer for G.I. Joe: Retaliation.
Courtesy of MovieclipsCOMINGSOON