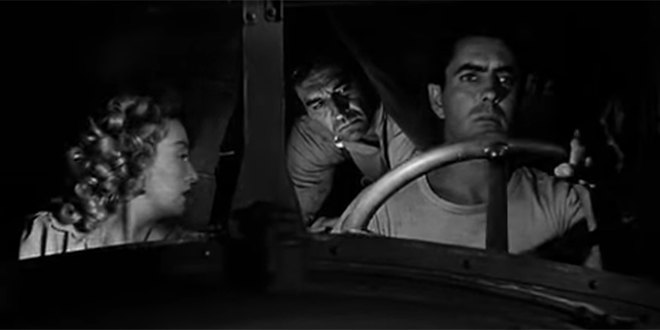 Podcast: Play in new window | Download
Subscribe: Apple Podcasts | Android | Google Play | Stitcher | RSS
Twentieth Century Fox released Nightmare Alley to theaters on October 28, 1947. Edmund Goulding directed the film which starred Tyrone Power, Joan Blondell, and Coleen Gray.
'Nightmare Alley' Movie Summary
Stanton Carlisle is a hustler working for a traveling carnival. He tricks the vaudevillian Zeena into teaching him a series of codes that makes people think he is a super mentalist after her alcoholic husband dies from alcohol poisoning—due in part to Stanton.
Stanton marries Molly, a coworker at the carnival. Together, the two rise in the nightclub circuit of Chicago. Even with this success, Stanton is still guilt ridden over Pete's death.
Psychologist Lilith Ritter counsel's Stanton with his emotional issues. Eventually, the two con Chicago's elites; making them think Stanton can talk to their dead loved ones, but the plan fails. Stanton turns to the bottle and the carnival where he may or may not live so happily ever after.
Disclaimer
This podcast is not endorsed by 20th Century Fox Home Entertainment, and it is intended for entertainment and information purposes only. Nightmare Alley, all names and sounds of Nightmare Alley characters, and any other Nightmare Alley related items are registered trademarks and/or copyrights of 20th Century Fox Home Entertainment or their respective trademark and/or copyright holders. All original content of this podcast is the intellectual property of the Golden Age of the Silver Screen, the MHM Podcast Network, and Fuzzy Bunny Slippers Entertainment LLC unless otherwise noted.
Affiliate links contained in this post will take you to Amazon.com and/or the iTunes Store. This means when you click a link, and purchase an item, the MHM Podcast Network will receive an affiliate commission. Advertisers and Affiliate Partnerships do not influence our content. See our Terms of Use about the inclusion of affiliate links on this site for more information.